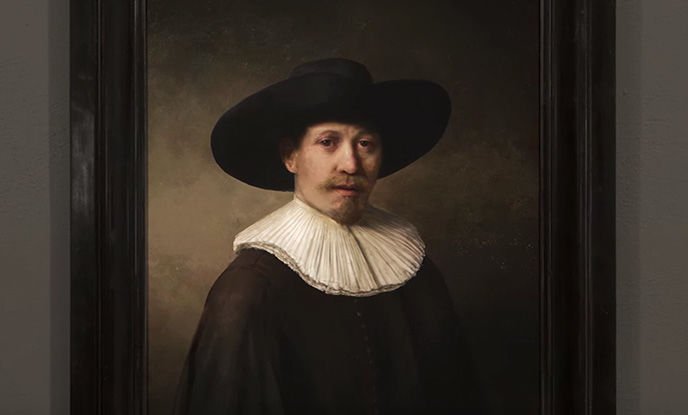 A new 'Rembrandt' painting unveiled in Amsterdam is not the work of the Dutch master Rembrandt van Rijn at all, but rather the creation of a combination of technologies including facial recognition, AI, and 3D printing.
Essentially, a deep-learning algorithm was trained on Rembrandt's 346 known paintings and then asked to produce a brand-new one replicating the artist's subject matter and style. Dubbed The Next Rembrandt, the result is a portrait of a caucasian male, and it looks uncannily like the real thing.
One particularly interesting detail about The Next Rembrandt project, which was a collaboration among several organizations including Dutch bank ING and Microsoft, is how the algorithm chose the subject for its painting, since it had to be entirely new.
An analysis of the master's own works led the algorithm to conclude that the new piece should be a portrait featuring a Caucasian male with facial hair who is between 30 and 40 years old and is wearing dark clothing with a hat and a collar. He should also be facing toward the right, the software determined.
From there, the algorithm began to analyze specific facial features matching that profile with the aim of creating a "typical" Rembrandt eye, nose, mouth, and ear, for example. Also considered were the facial proportions, or the distances separating those features.
With the subject decided, all that remained was to bring the painting to life, and that's where 3D printing came in. The project used a 3D printer that works with a special paint-based UV ink to replicate the layers of paint and brushstrokes Rembrandt himself might have used. With 13 layers of ink, the final portrait consists of more than 148 million pixels based on 168,263 painting fragments from Rembrandt's oeuvre.
The 18-month project was the brainchild of Dutch advertising firm J. Walter Thompson. The resulting portrait will be placed on public exhibition at some point, but details are not yet available.
[Source:- Indian Express]