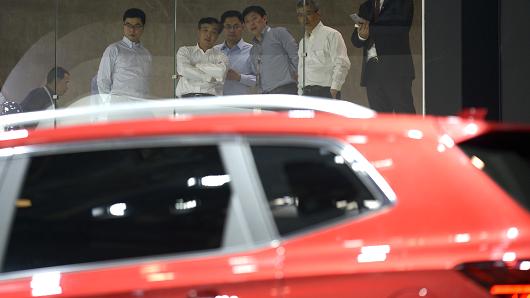 Two of China's biggest household brands have teamed up to create what they call "the world's first mass-produced car on the internet."
E-commerce giant Alibaba and SAIC Motor, the country's biggest car manufacturer, will launch the Roewe RX5 on Wednesday, a sports utility vehicle (SUV) featuring smart technology from Alibaba's operating system YunOS. First unveiled at the Beijing Auto Show in April this year, the RX5 is reportedly YunOS' first auto partnership.
YunOS was created in 2011 and is used by several prominent Chinese smartphones brands, including Meizu and Duowei.
In April, Alibaba said YunOS was the third-biggest operating system (OS) in the world with 40 million users as of 2015, adding that it would soon replace Apple's iOS as the second biggest in the mainland, according to local media reports at the time. Google's Android remains China's most popular OS.
Connectivity, electric power and autonomous driving were the three principal themes for the auto market as it increasingly merged with the internet industry, Bill Russo, managing director at Gao Feng Advisory Company, told CNBC's "The Rundown".
The RX5 is a clear example of how car makers are employing big data to improve driver's daily needs and mobility habits.
SAIC and Alibaba have promised that the car's data capabilities would transform stressful driver experiences, such as negotiating traffic or undertaking maintenance, into enjoyable moments.
"The RX5 will be able suggest alternate routes in the case of road closures or traffic as well as a more personalized experience in the car," Russo said.
Already the world's largest car market, China is set to become a key adopter of these trends, but there's already heavy competition to win the hearts of mainland consumers.
Apple's recent $1 billion investment into ride-hailing app Didi Chuxingled many to question whether the two companies would produce an internet-based vehicle, while South Korea's Kia Motors has partnered with Google to tap the latter's Android Auto operating system. Meanwhile, Chinese online video firm LeEco has developed a self-driving concept car, called the LeSEE.
In fact, the real rivalry in the car market was no longer between car makers, Russo said.
"It's a battle for the connected-car operating system," he said, pointing to YunOS, iOS and Android Auto as examples.
When it came to China, Alibaba and SAIC's biggest competitor was Apple, he added.
Apple's investment in Didi was a strategic move to position a potential Apple car in China, Russo continued, noting that while Google had invested in Uber, it was not a threat because the search engine remains blocked in the mainland.
[Source:- CNBC]