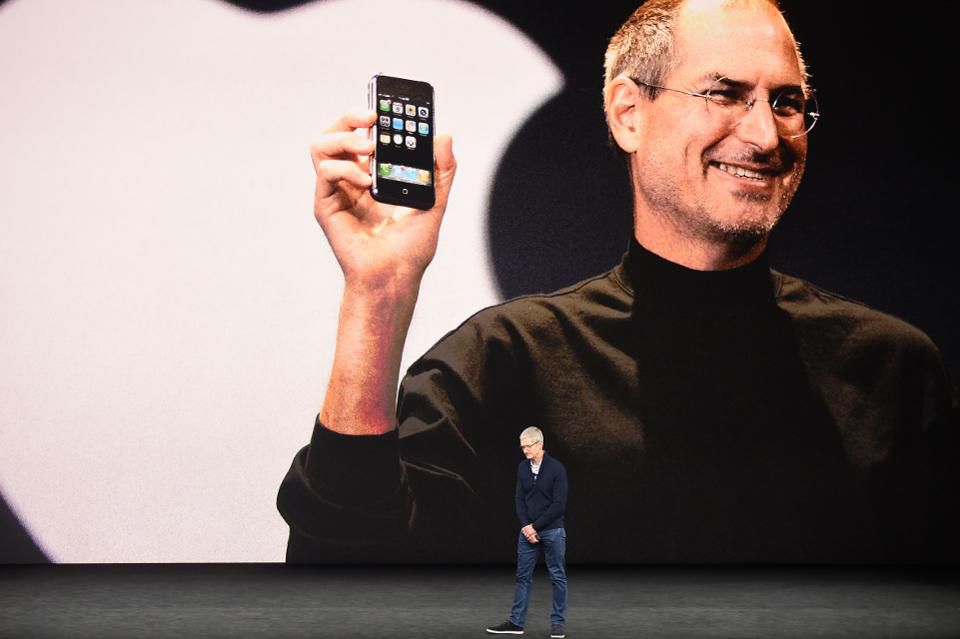 Taking a look back at another week of news and headlines from Cupertino, this week's Apple Loop includes the latest details of the iPhone's wireless charging adventures, Apple's new FaceID technology, updates to the iPad Air and iPad Mini, a tweak to the AirPods, the potential for a new iPod Touch, and a closer look at the iPhone prototype.
Apple Loop is here to remind you of a few of the very many discussions that have happened around Apple over the last seven days (and you can read my weekly digest of Android news here on Forbes).
New iPhone Wireless Charging Revealed
Tucked away on Apple's Australian website are details on the interaction between the wireless charging of the latest iPhones and Apple's oft-rumored AirPower charging system. Perhaps it is not vaporware after all…
Hidden in the Apple Australia's AirPods page under the reference

, the new AirPower image shows both an iPhone XS and AirPods wireless charging case (only announced yesterday) charging simultaneously on the mat. The mat can also wireless charge the Apple Watch, but both iPad and iPod touch ranges are yet to include wireless charging support.

For all its flexibility, however, the arrival of AirPower is the biggest news for iPhone owners. Right now iPhones are limited to wireless charging of just 7.5W, despite the Qi specification it is based on working at up to 15W.
More here on Forbes.
iPhone FaceID Upgrade 
The latest Apple patent has revealed an update to FaceID which will be looking for veins in your face to improve accuracy and prevent spoofing (say by a 3D printed copy of your face). Unfortunately this technology is unlikely to make it into Apple's 2019 handsets, so those hoping for new technology to boost sales – especially in markets such as China that demand new 'gee-whizz'; every year – are going to be disappointed with 2019's iPhone offering. Forbes' Gordon Kelly reports:
This may all sound like science fiction, but it's not. Earlier this year, LG unveiled its G8 ThinQ smartphone which has "Hand ID" – a fingerprint reader which also recognises the vein structure in your fingertips. The G8 ThinQ goes on sale next month.

Does this mean you can expect Apple's 2019 iPhones to read the veins and blood vessels in your face? It's certainly possible, but I suspect we're in for a longer wait. This year Apple's new iPhones look more modest…
More here on Forbes.
The iPad Refresh
Business has the iPad Pro range, the entry-level has the regular iPad (and iPad Mini), and isolated in the middle is the iPad Air. Apple updated the Air (and the iPad Mini) this week with a handful of press releases and strategically placed review units. Let's start with Matt Swider and his look at the iPad Air:
The new iPad Air (2019) has serious horsepower hidden behind its laminated screen and uses Apple's excellent Smart Keyboard for proper 2-in-1 for productivity. Its traditional design and first-gen Apple Pencil compatibility make it look dated, but it doubles the performance of the entry-level iPad 9.7. The 'Air' revival is a potential Back to School winner this year.
Read more at TechRadar. Meanwhile Nilay Patel has a look at the update to the iPad Mini:
You're still looking at the exact same external design, which is now nearly seven years old. If you secretly replaced any previous iPad mini with the new one, there's a chance you might not even notice the difference. All the changes to this new mini are on the inside, and they're significant — which they should be, given the amount of time since it was last refreshed.
More at The Verge.
A Subtle AirPods Update
This week also saw Apple release the next iteration of its wireless headphones. The 2019 AirPods feel more like a spec bump to the originals, rather than a brand new unit. There are no design changes, audio quality is similar, but they do come with a Qi-compatible case for wireless charging. David Carnoy takes a closer look:
 The big change is on the inside, with the addition of Apple's new H1 chip, which the company says "features custom audio architecture to create a revolutionary audio experience and improved synchronization." According to Apple, the new chip allows for twice-as-fast connection times between all the Apple devices you own and 50 percent more talk time — 1 hour more — compared to first-generation AirPods. The battery life rating for music listening remains the same at 5 hours, however. A 15-minute recharge in the case gives you 3 hours of listening time and 2 hours of talk time, which helps mitigate any battery life concerns.
More on the hardware release at CNet. Presumably the excited chatter about biometric features, soft-touch coating, and noise cancelling, are still under development.
When Will We See A New iPod Touch?
With all of the product launches from Apple this week, there was one that I was hoping to see that has not materialised, an update to the iPod Touch. Not only would it refresh a four-year-old product line, but it would also provide a cheaper 'on ramp' to Apple's software and services business… the business units Tim Cook and his team look to for the future of Apple:
If Cook is looking to build up Apple's services business (with a view to doubling revenue between 2016 and 2020) you need a much wider addressable base. That's hard to do with a $1500 smartphone. It's a lot easier with mid- and low-range smartphones. Apple has never had a low-end smartphone, and it killed the mid-range iPhone SE.

But it does have the iPod Touch. Okay it's missing the cellular circuitry, but it is wi-fi enabled, can access all of Apple's services, is significantly cheaper than the iPhone options, and attracts a younger audience… a younger audience that could potentially stay with Apple for a lifetime.
More of my thoughts here.
And Finally…
Before a new iPhone is manufactured, everything has to be tested and coded. And of course that means prototyping on a larger board to get things right. Tom Warren does a bit of digital archaeology with one of the prototypes of the first iPhone (with lots of pictures) on a tour of Steve Jobs' personal golem:
At first glance, the red iPhone M68 prototype board looks like a motherboard you'd find inside a PC from more than 10 years ago. It's roughly the same size, but the components are a little different. Apple developed this particular board, an engineering validation test (EVT) sample, for engineers working primarily on the software and radio portions of the original iPhone. These developers wouldn't know the final form of the iPhone, and sometimes these boards were even supplied without the screen you'll see attached in our exclusive photos. Apple only uses red printed circuit boards for its prototype iPhone hardware, favoring blue, green, and other colors for production units.
["source=forbes"]