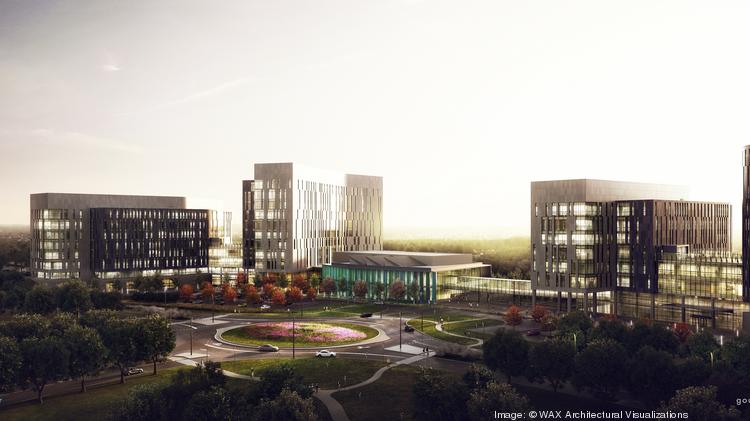 Cerner Corp. is giving a familiar name to its huge new campus springing up in south Kansas City.
COO Mike Nill said the company will call the massive development in the former Bannister Mall area its Innovations campus. The announcement means ditching the project's former Trails Campus moniker and adopting the name Cerner had bestowed upon its operations in the former Marion Laboratories headquarters. Those operations will be called the Realization campus.
Nill said the name fits the new campus, which will focus on developing ideas for the future; the Realization campus will focus on turning those ideas into products.
The first two buildings on the Innovations campus are to be completed late this year and house, among other things, space for Cerner software engineers. In all, plans call for Cerner to construct more than 4.7 million square feet of space by 2025 — room to accommodate more than 16,000 new associates.
During a recent tour of the construction site, Nill pointed out several features that play to the "innovations" theme.
The Founder's Staircase, leading into the main entry between the first two towers, will feature metal perforated in binary code. He said the 1s and 0s of the code will spell out quotes from Cerner's founders.
Also in the entryway is what Nill called the patent wall. Metal plaques on the wall will be inscribed with patents awarded to Cerner employees (344 to date) as a reminder of the company's mission to advance health information technology.
Nill said the building design, by Gould Evans, also gives a nod to Cerner's mission. The first two floors emphasize health and wellness, with more earthy materials, he said, and the remainder of the building exteriors are covered in stainless steel with windows arranged in a DNA-inspired pattern.
Several features help promote a healthy lifestyle for Cerner associates and their families. There is an indoor fitness center and 1.5 miles of walking trails outside that will be dotted with stations for various exercises. Associates and their families will have access to a wellness center, where they can schedule and receive basic care and tests. Nill said a cafeteria is even designed to give the most prominence to healthier foods.
[source:- Kanas city ]