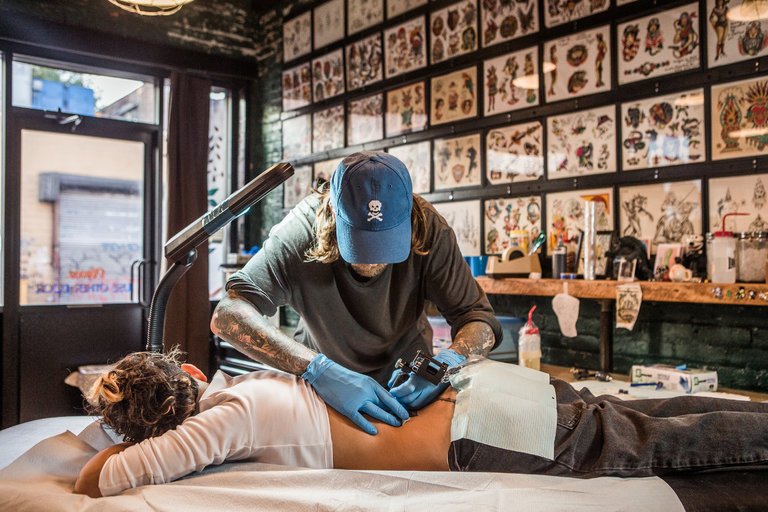 Jo Galvis was 15 years old when she got a tattoo on the center of her lower back. She had been fighting with her family and living at a friend's house. What better way to infuriate her parents?
Ms. Galvis, who now is 29 and lives in Queens, grew up in Colombia, where she just walked into a tattoo parlor in Bogotá and glanced at a sheet of paper crammed with popular design choices that hung on the wall.
She liked one design of a Japanese character (the meaning of which she did not know) and a tribal tattoo with a black curvy design (the cultural meaning of which she did not know). She chose the latter and had it placed at the center of her lower back. "I didn't think very much about what I was getting," Ms. Galvis said.
Fifteen years later, Ms. Galvis is the exhibitions and administrative assistant at the Leslie-Lohman Museum of Gay and Lesbian Art in SoHo. She is no longer a rebellious teenager.
She now finds herself embarrassed by the original tattoo, in part because she doesn't want to be a party to the cultural appropriation of an aborigine symbol and because lower-back tattoos have come to take on a derogatory name: the tramp stamp.
"In the past year, it really bothered me," Ms. Galvis said. She considered removing the tattoo, but she had heard that removal was painful and expensive. Through a friend, she met Henric Nielsen, a traveling tattoo artist currently working at Allied Tattoo in Brooklyn.
Mr. Nielsen and Ms. Galvis discussed a new, larger design — an oversize, intricately drawn rose — that would change the entire scope of the tattoo. "I feel really happy about it," she said of her cover-up tattoo, which she had done last month at a cost of $900.
Some people in their 30s and 40s are having their out-of-favor tattoos refreshed (through a process referred to as blasting over) or reimagined altogether. The new design tends to be better thought-out and researched than that which lies beneath it.
Melissa Haims, 44, a sculptor who lives in Philadelphia, had not realized until she glimpsed a photograph of herself in a bikini how pregnancy had changed the shape of a star tattooed on the small of her back when she was 21.
"With the expansion and contraction of my skin throughout my pregnancy and life, the tattoo really looked horrible," she said. So last year, Ms. Haims decided on a lotus to cover up the original tattoo.
Her tattoo artist, Eric Eaton of the Electric Temple in Philadelphia, designed a blastover so that a purple heart covered most of the original brittle star; the lotus petals rise up from the base of the heart. Ms. Haims liked the symbolism. "A lotus grows in the mud, and so you have something beautiful that grows out of something generally ugly," she said.
Clients seeking reimagined designs are giving tattoo artists new avenues for creativity. When a client came to Sarah Gaugler, the owner of Snow Tattooin New York, seeking help with a faded tribal armband tattoo, Ms. Gaugler designed a Victorianesque woman, utilizing the old tribal design to appear as if it were a lace collar around the woman's neck.
"You get something when you're younger and it means something to you then," she said. "But then you can't relate to it anymore."
Ms. Gaugler's feminine tattooing style and skill at covering up was why Kate Horgan, 52, who lives in Dublin, went to her studio while on vacation in New York last month. Ms. Horgan had picked a tiny flower tattoo from a flash sheet some 30 years ago. Over the years, it became smudged and distorted. "People would ask me what it was, and it became really annoying," she said.
After a lengthy conversation with Ms. Gaugler, Ms. Horgan chose a black-inked sunflower cover-up with three small waves trailing behind it. "The three waves represent three very personal things to me," Ms. Horgan said.
Amanda Wachob, a tattoo artist in Brooklyn who has been in the business for more than a decade, attributes the rise in tattoo refreshers to a higher quality of artwork. "When tattooing evolves in the way that it has," she said, "it opens up the possibility for people to sort of get more creative than what was available in tattoo trends five or 10 years ago."
 [Source:- The New Yourk Times]