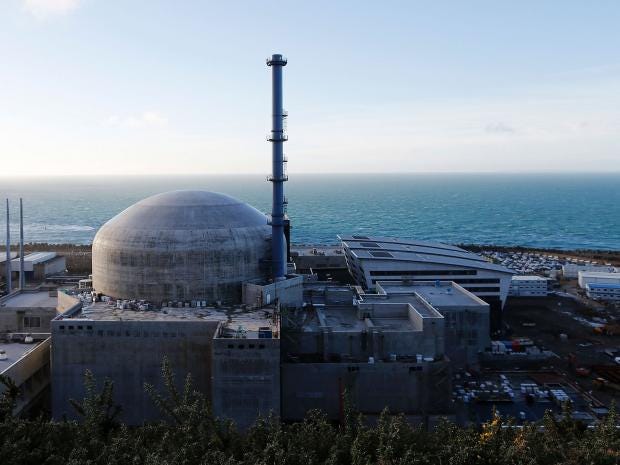 Several people are being treated for smoke inhalation after an explosion and fire at a nuclear power plant in France.
Authorities said there was "no nuclear risk" following the blast in Flamanville shortly before 10am local time (9am GMT) on Thursday.
"It is a significant technical issue but does not constitute a nuclear accident," Olivier Marmion, director of the prefect's office, told AFP, adding that the explosion occurred outside the nuclear zone.
Officials said the blast took place in the turbine hall and confirmed there was no radioactive leak.
Five people were treated by paramedics for smoke inhalation, with no serious injuries reported.
The Flamanville nuclear power plant is run by EDF Energy, which is the main contractor on the new £18bn Hinkley Point C station in Somerset.
It said there were no casualties in the incident or "consequences for safety at the plant or for environmental safety".
"A fire resulting in a minor explosion broke out in the turbine hall on the non-nuclear part of unit one at the Flamanville nuclear power plant," a spokesperson said.
"The fire was immediately brought under control by the plant's response team. As per normal procedure, the fire brigade went to the affected location and confirmed that the fire had been extinguished."
No information was given by EDF on the cause of the fire, which caused the number one reactor to be disconnected from the power grid.
The French Nuclear Safety Authority (ASN) said the fire originated in a fan underneath an alternator, which converts mechanical energy into electricity.
"The ASN will ask EDF to provide a full analysis of the causes and consequences of the event," a spokesperson added.
Barry Marsden, professor of nuclear graphite technology at the University of Manchester, said: "Explosions in turbines, usually related to oil in bearings overheating, are not uncommon and occur from time to time in conventional coal, oil or gas plants.
"Another possibility is that the explosion could have been an onsite emergency generator for use if power is lost for somereason. Either way there should be no release of radiation."
Neil Hyatt, professor of radioactive waste management at the University of Sheffield, said the incident was "very serious", regardless of the lack of a leak.
"International and international regulators will want to undertake a thorough investigation to understand the cause and lessons to be learned," he added.