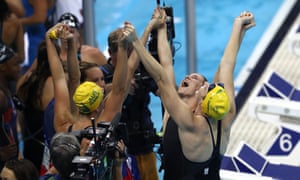 That's about all from Australia – as the United Kingdom awakes it only seems fair to hand over to Nick Ames, in London, continuing the 24/7 cycle of Olympics coverage: all the time, all the sports, forever.
You can follow all the action from day two, here.
To recap on the medals that have been awarded so far:
There have been twelve gold medals handed out (four in swimming, two for judo and shooting, one each for cycling, archery, fencing and weightlifting), with thirty-eight of any hue finding beaming new owners.
But before you crow or fret about your country's relative performance, ponder this – there will be 2,102 medals awarded before these games are concluded. Yikes.
And for those among you whose outlook is more regional, the official Rio Olympics site even has a breakdown by continent. Asia has won 47% of the medals thus far, ahead of Europe (24%) and the Americas (21%). Don't hold you breath for Antarctica.
Updated at 6.44am BST
Facebook
Twitter
Google plus
8h ago06:23
That final beach volleyball game has now finished, with the US duo Kerri Walsh-Jennings and April Ross making short work of Australian pair Nicole Laird and Mariafe Artache del Solar, winning in two sets, 21-14, 21-13.
Walsh-Jennings and Ross were opponents in the London 2012 gold medal match, but have now combined their powers at Rio. With that pedigree, and in this kind of form you would argue they're probably one of the favourites. Watch this space.
Facebook
Twitter
Google plus
9h ago06:05
Hungary are eighth in the all-time Summer Olympics medal count and while Katinka Hosszu's record-breaking 400m individual medley swim may have set tongues wagging, it wasn't the only gold the European nation picked up on day one.
Emese Szasz stunned two-time world champion, Italian Rossella Fiamingo, in the women's epee after trailing at one stage by four points, marking what my colleagues inform me was a day of big surprises at the fencing-drome.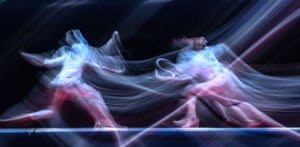 Incidentally, Szasz is one of the more satisfying last names to type. Go on, try that one at home.
Facebook
Twitter
Google plus
9h ago05:45
Some impressive upsets over in the field hockey, with 5th ranked USA defeating gold medal contenders and world no2 Argentina, 2-1. That was the same score elsewhere as 7th ranked Great Britain upset the highly fancied and world no3 Australian side, with Lily Owsley and Alexandra Danson grabbing the goals.
In the mens, Argentina played out a thrilling 3-3 draw with the Netherlands, while favourites Australia edged antipodean rivals New Zealand 2-1.
But it was Belgium with arguably the shock result of the day, putting Great Britain to the sword, 4-1, while India survived a scare from Ireland, and Spain and Germany were comfortable winners.An interesting development over at the official Team USA twitter account, where silver appears to have risen in the precious metal stakes.
Amid one of the bleakest years for human migration the Refugee Olympic Team has already buoyed the hearts of many around the world.
You've no doubt already seen the sparkling smile of Yusra Mardini, but as Robert Kitson reports poolside, her remarkable swimming story just continues.
Facebook
Twitter
Google plus
10h ago05:07
And if you missed the latest at the football, a remarkable result to close the day's play in the women's competition.
Five-times world player of the year Marta may have carried the Olympic flag for Brazil, but she's also continued to carry the hopes of the host nation, with a brace during her side's emphatic demolition of Sweden, 5-1.
No slouches, the Scandinavians, they're ranked 6th in the world – two above Brazil – but that might very well change after this result.
Brazil, USA and Canada are the teams to have confirmed their passage to the knockout rounds at this stage.
Updated at 5.18am BST
Facebook
Twitter
Google plus
10h ago04:39
And from the boards to the beach, China have beaten Switzerland in the women's beach volleyball, two sets to one, after earlier wins to the Netherlands, Brazil, Spain and Australia.
Good coastline nations, those.
In the men's, Spain have overcome a first set hammering to best Austria, joining Poland, the Netherlands, USA, Brazil and Italy as today's winners.
I've not trod the beaches from Swinoujscie to Gdansk – can anyone confirm there is sand and not pebbles there? Unless perhaps that's what gives the Polish their edge. Rugged business.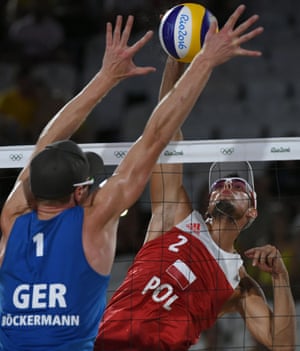 There is of course one last game happening in the beach volleyball where the US duo Kerri Walsh-Jennings and April Ross currently lead Australian pair, Nicole Laird and the excellently named Mariafe Artache del Solar, 1-love.
Updated at 4.54am BST
Facebook
Twitter
Google plus
10h ago04:27
Some results in the basketball, Serbia have accounted comfortably for Venezuela in the men's Group A match 86-62, joining Australia and USA as first round winners.
In the women's Group A, Japan have edged Belarus 77-73, to join France and Australia in the winner's circle. An upset there? I'd hazard perhaps, yes.
Facebook
Twitter
Google plus
11h ago04:09
Hello Stockholm, this is Australia calling, and what a time to pick up the liveblog.
Two golds in quick succession in the pool, courtesy Mack Horton and the women's 4x100m freestyle relay team, has catapulted Australia to the head of the medal tally – drink it in, fellow antipodeans, it may not remain like that.
And as the beaming smiles of sisters Cate and Bronte Campbell, alongside team-mates Emma McKeon and Brittany Elmslie smile down upon us from the dais, there was also another salvo in the ongoing Mack Horton-Sun Yang war of words.
Updated at 4.28am BST
Facebook
Twitter
Google plus
11h ago03:59
Day one so far
I'll be handing over to Richard Parkin now, but here's a round-up of some of the day's top stories:
Thrasher wins first gold medal of Games for USA in 10m air rifle
All Russian athletes to be banned from Paralympics
Peaty sets world record in 100m breaststroke heat
Van Avermaet grabs gold amid the carnage in road race
Carli Lloyd's goal gives USA 1-0 victory over France
US men's basketball team crush China 119-62
Mack Horton stars as Australia win two golds in the pool
Katinka Hosszu smashes world record in women's 400 individual medley
And here's the medal table
Updated at 4.48am BST
Facebook
Twitter
Google plus
11h ago03:50
Here's more on that Venus Williams exit:
Facebook
Twitter
Google plus
11h ago03:43
Away from the pool, something for the hosts to cheer: in the women's soccer, Brazil have just scored a fifth against Sweden. Jogo bonito!
Facebook
Twitter
Google plus
11h ago03:38
So that's it for the swimming this evening. Gold medals for Japan, Hungary, and Australia (twice). Three silvers for USA, and new world records in the 400m women's IM and the 4x100m women's freestyle relay.
[Source:- Guardian]