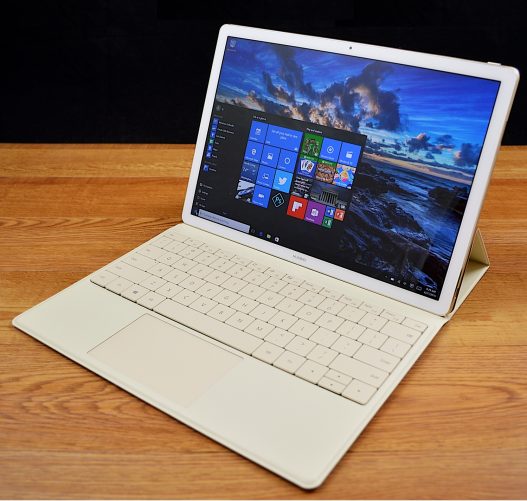 A computer that can be both a tablet and a laptop is a smart purchase for many people. The Huawei MateBook is one of these, thanks to Windows 10, a 12-inch screen, and an Intel Core m processor. At $699, it costs less than some of its 2-in-1 rivals, though that doesn't include a clip-on keyboard.
Is this the computer you need for your personal or professional life? Read on to find out.
Build and Design
The MateBook is one of a new generation of very slim and light Windows tablets. At 11 x 7.5 x 0.25 inches (28 x 19 x 0.7 cm) and 1.4 pounds (640g) this is an exteremely portable computer, about as slender as the Samsung Galaxy TabPro S and even thinner than theMicrosoft Surface Pro 4. The days when Windows computers had to be bulky are long gone.
With its all-metal back and all-glass front, the MateBook looks quite professional, whether buyers choose the grey or golden version. That coloration extends over the back and sides, but the area around the display is always white. This isn't ideal, as we prefer black screen bezels. They are easier to ignore.
At least these screen bezels are all quite slim, with the viewable area taking up about 81% of the front.
Display
Huawei put a 12-inch IPC LCD in the MateBook. Its 2160 x 1440 resolution gives it a density of 216 pixels per inch, which is equal to the pixel density of the TabPro S but less than that of the Surface Pro 4.
We found that this screen looks quite good in an office environment, with sharp text and vivid colors. It's usable outdoors in the shade with the backlight at 100%, but like all traditional LCDs, it really isn't meant to be used in direct sunlight.
Our real-world use of this MateBook showed that the display is well suited for a wide range of professional and personal tasks, from watching video to word processing. That said, a 12-inch screen is a bit small to use all day every day, so users will probably want to connect an external monitor when working at the office.
Huawei offers a pressure sensitive stylus for this tablet called the MatePen, but this is sold separately for $59. We'll cover that in a future review.
Ports
To get this computer's super-slim shape, Huawei's designers had to make some sacrifices. Most notably, almost every type of port except USB-C and 3.5mm audio was left out. This single port on the right edge is used to charge the device and connect to any wired accessories, including keyboards, mice, monitors, etc. This means that just about everyone who uses a MateBook is going to need a USB hub so they can charge their tablet while connecting it to non-wireless peripherals.
At least an adapter to convert this USB-C port to a full-size USB-A one is bundled with this computer, so users can connect to standard thumb drives, printers, mice, and other accessories. However, we couldn't get this tablet to charge by hooking a USB-A cable to this adapter. It's for accessories only
There's a smart connector on the bottom for the Huawei keyboard folio. There's also a fingerprint scanner on the right edge. In our testing we found this to be reliable, and handy way to sign into Windows without having to type in a password or PIN.  The MateBook's 5MP front-facing camera isn't up to Microsoft's facial recognition security system.
A power button is at the top right, while physical volume control buttons are on either side of the fingerprint scanner, on the right edge.
A pair of stereo speakers are located on the MateBook's top edge. These put out a decent amount of sound, certainly enough for a person sitting a few feet away to hear a movie.
Portfolio Keyboard
Although this tablet is available without the Huawei MateBook Portfolio Keyboard, we recommend that anyone who plans to use this computer for work invest in this $129 accessory. However, that doesn't mean this is a great mobile keyboard. It's adequately useful, but there's definite room for improvement.
Converting this tablet into a 2-in-1 by adding this keyboard case brings the overall bulk up to 11 x 7.8 x 0.7 inches (28 x 20 x 1.8 cm) and 2.6 pounds (1180g), so it's still much smaller than most laptops.
The portfolio portion of this accessory is available in either black or brown imitation leather. In addition to providing a bit of extra protection for the MateBook, it functions as a stand to hold up the tablet's screen when typing. It offers two angles: one about 110 degrees and the other about 120 degrees. This stand is easily usable on a desk or table in either configuration, but when set at the 120-degree arrangement and held in the lap, the folio can easily collapse backward.
The keyboard's actual key area is 10.3 x 4 inches, and a majority of the keys are 0.7 x 0.7. There's no space in between them, making mis-keying easier than it should be. Keyboards are easier to use when there's some room between keys.
In front of the keyboard is a 3.8 x 2.4-inch touchpad, which functions as an occasionally handy backup for the touchscreen. Tapping or pressing down hard almost anywhere on the pad is a left-mouse click, and pressing down on the lower-right corner is a right-mouse click.
The keyboard can be flipped around to the back of the tablet to get it out of the way. It can also be flipped behind the tablet when the folio is being used as a stand, providing a better experience when watching video.
Performance
The Huawei MateBook is powered by a dual-core sixth-generation Intel Core m processor. The company currently offers it with a 2.2 GHz Core m3 or a 2.7GHz Core m5 chip, and has plans to release a 3.1GHz Core m7 version.
The Core m series offers better performance than the Intel Atom processors found in tablets like the Dell Venue 8 Pro 5855, but not as good as the Core i series chips used in 2-in-1s like the higher-end Microsoft Surface Pro 4 models.
In the wPrime and PCMark 8 benchmark tests, our Core m5 MateBook review unit consistently out-performed the Core m3-powered Samsung Galaxy TabPro S and Surface Pro 4. However, it didn't do as well on the 3DMark 11 test.
In short, Huawei's offering can handle day-to-day tasks, but isn't really up to more demanding jobs like HD video editing or high-end gaming. A good way to indicate its performance is that Windows 10 boots in under 15 seconds.
This tablet doesn't need a fan when doing processor-intensive tasks, but the aluminum back plate on our test Core m5 model will get warm when playing video.
The base model MateBook has a Core m3 chip, 4GB of RAM, and a 128GB SSD. Other configurations include m5/4GB/128GB, m5/8GB/256GB, and m5/8GB/512GB. We feel that 4GB is a marginal amount of RAM for a Windows computer, and 8GB gives a noticeably better performance. And at least 256GB of built-in storage might be wise, as this computer doesn't have a memory card slot and requires an adapter to access standard flash drives.
Software
Our Huawei MateBook review unit came running 64-bit Windows 10 Home, but Windows 10 Pro is also an option. This is a Windows 10 Signature Edition device so most of the typical bloatware is left off. The only exception is Microsoft Office, which comes pre-loaded.
For those who haven't tried the latest version of Microsoft's operating system, it is very well suited to run on 2-in-1 devices like this one. It has a laptop mode that's similar to Windows 7 and a tablet mode that functions like Windows 8. In short, it combines the best of these two.
Specs
12-inch IPS TFT LCD display (2160 x 1440 resolution)
Windows 10 Home 64-bit
Intel Core m5-6Y54 (4M Cache, up to 2.70 GHz)
Intel HD 515 integrated graphics
8GB LPDDR3 RAM (non-expandable)
256GB SSD
802.11 a/b/g/n/ac MIMO dual-band (2.4/5 GHz) Wi-Fi
Bluetooth 4.1
USB 3.0 Type-C, 3.5mm headset
Ambient light sensor, fingerprint, accelerometer, gyroscope, hall sensor
5-megapixel front camera, dual array mics
Dual speakers
33.7Wh battery (4430mAh @ 7.6V)
Dimensions: 11 x 7.64 x .27 inches (tablet only)
Weight: 1.41 pounds (tablet only)
Ships with power adaptor, USB-C data charger cable, USB-C to micro-USB cable, micro USB to USB-A adaptor
Available in gold or silver
Price as configured: $999
Benchmarks
wPrime processor comparison results (listed in seconds – lower scores mean better performance):
PCMark8 Home (Accelerated) measures overall system performance in Windows 8 for general activities from web browsing and video streaming to typing documents and playing games (higher scores mean better performance):
PCMark8 Work (Accelerated) measures overall system performance in Windows 8 for work-related productivity tasks (higher scores mean better performance):
3DMark 11 measures the overall gaming performance of the GPU (higher scores mean better performance):
Geekbench 3 is a cross-platform benchmark that measures overall system performance (higher scores mean better performance):
CrystalDiskMark storage drive performance test:
Battery
Another area Huawei had to sacrifice to get the MateBook's svelte shape is battery life. The 33.7Wh (4433mAH) battery is not quite enough to keep this device going a full workday without needing a recharge.
In Benchmark tests, our review unit lasted just 3 hours and 15 minutes in the strenuous Powermark battery benchmark.
It lasted just 4 hours and 1 minute streaming Netflix in Chrome over Wi-Fi with the display brightness set to 100%.
Both of these demanding tests measure the near minimum a user can expect from the MateBook. Still, notice that it couldn't last as long as most of its rivals in the same test.
That said, one of the advantages of USB Type-C is that it can recharge a computer quite quickly. In our testing, Huawei's device got a 30% charge in half an hour even using either Huawei's standard wall charger or a third-party one from iClever. A handy LED next to the USB-C plug changes color to show when the tablet is charging or fully charged.
Value
The base model MateBook is $699, and comes with a Core m3 processor, 4GB of RAM, and a 128GB SSD. The Samsung Galaxy TabPro S with this same configuration is $899, about 30% more (though recent sales have put it $799 as of this writing). But that's an apple-to-oranges comparison because Samsung bundles a keyboard with its model, and buyers have to pay $129 to get Huawei's. MateBook buyers will still come out $70 ahead, but Samsung's offering has a much longer battery life.
The m3/4GB/128GB Surface Pro 4 is also $899. Like the MateBook, Microsoft's Type Cover keyboard is an optional $129.99 extra, but the SP4 has a larger, higher-resolution display, more ports, and comes with a stylus.
Buyers can save a bit of money by going with the MateBook, but will have to give up some features to do so.
Conclusion
The Huawei MateBook has a lower price than many rival Windows 2-in-1s, while still offering a slim design, a decent screen, and quite respectable performance.
That said, its battery life could be better, and the minimalist design will require most users to bring a USB hub with them. Its keyboard folio is an optional extra, and could stand some improvements.
The MateBook is a good choice for people looking for a Windows tablet or laptop for personal or office tasks.  Just don't try to use it and the keyboard on the train or to play hardcore games.
[Source:-Tablet Pc Review]