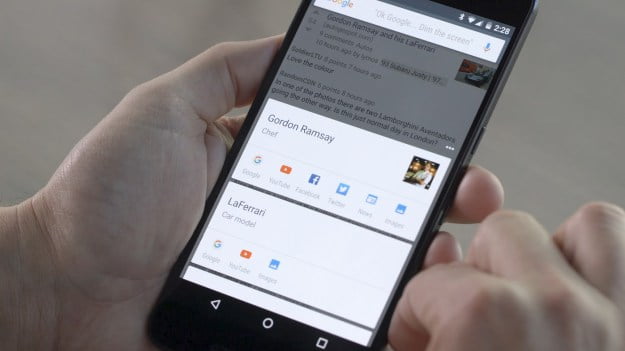 Google Now is arguably one of the best features Google invented. The voice-enabled virtual assistant will completely change your mobile experience, should you choose to trust Google with even more personal data than you already do. And Google keeps updating Google Now to add more and more features with each year that goes by. In fact, chances are that novice Google Now users aren't even aware of all the marvelous things Google Now can do.
Luckily, there's a huge cheat sheet that will show you all of the great "OK Google" commands hiding in your Android phone.
Compiled by CNET and separated into handy categories, the list reveals the true versatility of Google's virtual assistant. Google Now is not as powerful as the operating system in the sci-fi movie Her, but at this rate it's probably going to get there soon enough. In the meantime, here are just a few of the useful Google Now commands as listed by the tech site. For the full, extensive list of things you can say using the "OK Google" voice command, head over to CNET.
The basics
Open [app name]. Example: "Open Gmail."
Call [contact name]. Ex.: "Call Mom."
Email or Send email. Ex.: "Email Wife subject Hi message I'm running late, sorry." You can also add CC and BCC recipients.
Show me my calendar.
When's my next meeting?
Post to Twitter.
Search
When is [special event]. Ex.: "When is the next eclipse?" or "When is Easter in 2018?"
What is [phrase]? Ex.: "What is YOLO?"
What's the phone number of [business name]?
What's the weather like? Alternative phrases such as "Do I need an umbrella?" or "Is it going to be hot tomorrow?" will return weather forecasts.
Math calculations. Ex.: "What is 2.65 percent of 2,045?"
How do I [task]? Ex.: "How do I make an Old Fashioned cocktail?" or "How do I fix a hole in my wall?"
Navigation
Take me home.
Take me to work.
What's the traffic like on the way to work?
Directions or Navigate to [address, name, business name, type of business, or other destination].
How do I get to [destination] by [walking, bike, bus, train, etc.]?
Where is the nearest [business type? Ex.: "Where is the nearest fast-food restaurant?" or "Nearby gas stations."
Entertainment
Sports updates. Ex.: "Who are the Broncos playing next?" or "Did the Nuggets win last night?"
Show me the trailer for [movie title].
Find out what song is playing. What is this song? or Who is this?
Listen to [type of music, playlist, song, artist, album]. Ex.: "Listen to workout playlist."
Random tips and tricks
Show me gift ideas for [holiday, special occasion].
Give me a love quote.
What does the fox say?
How many calories are in [insert food item]?
When will my package arrive? (This assumes a tracking number is found in your Gmail account.)
Do a barrel roll.
Control phone and adjust settings
Take a selfie.
Take a picture.
Turn on my flashlight.
Travel
Translate [phrase or word] to [language]. Ex.: "Translate where is the bathroom to German."
Looking for [food type, restaurant name].
What time is it in [city]?
Is my flight on time? Assuming your flight information is in your Gmail account.
Show me my flight info. Again, assuming your flight information is in your Gmail account.
What does flight [airline and flight number] land/take off?
To learn more about your surroundings, you can ask things like "What is the name of this place?" or "Show me movies at this place" or "Who built this bridge?"
[Source:- BGR]