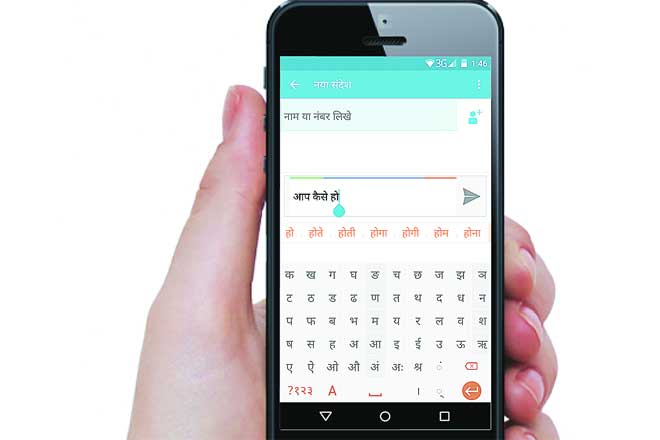 So what is the second most popular operating system in India? Well, it shouldn't be such a tough question to answer given the size of Android and the state of Windows phones in India. But no, the answer is not Apple's iOS. In fact, according to Counterpoint market research, that accolade goes to homegrown operating system IndusOS, which though based on Android, caters primarily to the regional audience. Indus OS had 5.6% market share in India in Q1 2016, says the research firm.
For those unfamiliar with Indus OS, the operating system launched first as Firstouch, arguably the world's first regional-language smartphone operating system. Founded by IIT graduates Rakesh Deshmukh (CEO), Akash Dongre (head of product) and Sudhir B (head of technology), Firstouch started in the form a mobile OS with a Gujarati interface. Earlier this year, when the company rebranded itself as Indus OS and raised $5 million Series A funding led by Omidyar Network, it was was supporting 12 Indic languages.
Deshmukh says that Android does not offer choice for users who are not comfortable with English. "This type of audience is different and so are their needs. This consumer is coming from a feature phone background and our idea is to reduce their friction and learning curve."
So when Firstouch launched its own mobile phone brand in Saurashtra region as a pilot project, the thought was that people will buy it for the differentiation and not the cost. Deshmukh says the target was buyers below the age of 35, who had studied Gujarati medium.
"The day 1 sales were spectacular and it was completely word of mouth," he adds.
Firstouch also went about increasing the number of languages to six in May 2014 and 10 in February 2015. And it was not a simple language OS, as users could receive a message in English and translate it to their native language in a swipe and do the same while replying. Also, the company had mastered 25 lakh Mathra predictions across languages. "With our OS, the phone could let the users consume everything in their own language," he informs.
However, there was soon realisation that to reach a larger audience in India this product had to be licensed to mobile brands. Micromax was the first to come in and till now has run the OS in about 25 models, which explains the numbers the OS has garnered so far. In fact, Indus OS was the power behind the Unite series of phones which did fairly well for Micromax. However, Deshmukh does not want to stay brand exclusive and is already in talks with other Indian brands. The company is already making inroads in Bangladesh where it will be available in multiple brands.
The 70-man team is based in Mumbai, Delhi and Dhaka at the moment, but has its strength in technology. Deshmukh plans to cover all Indian languages over a period of time and be available in other geographies too. "We don't want to limit ourselves to menu text. We want to go more deeper and that is why it takes us time to add new languages."
Now, Micromax has launched a new series of phones with the latest version of Indus OS 2.0. But don't be surprised if other Indian brands too jump on this regional bandwag on soon.
[Source:- The Financial Express ]