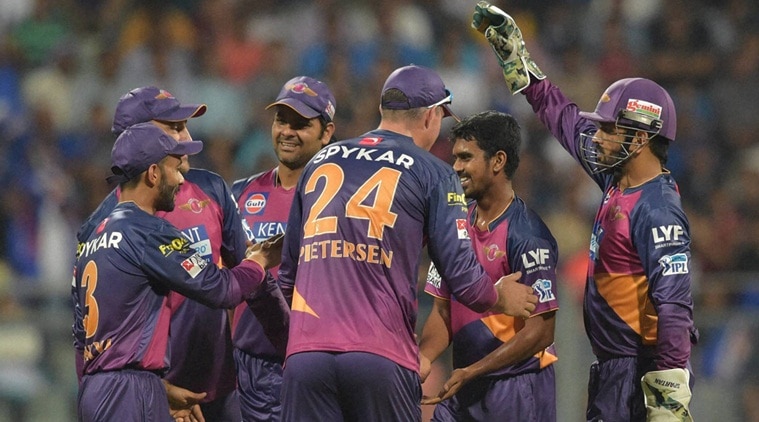 Synopsis: The absent aces at the World T20 and a new name came to the party on the opening night of IPL9 as a new Pune rose to the occasion. A pony-tailed Ishant, a canny Bhatia, eager-to-prove Harbhajan, redemptive Rahane and the fresh-faced M Ashwin were the heroes of the night.(Fixtures | Squads)
Pony-tailed Ishant
Ishant bowled like a man who missed cricketing action. The pony tail bobbed here and there, and he steamed in at 140 kph, and not only bowled with intensity but celebrated energetically. He knocked out Rohit Sharma off his first delivery with a ball that cut back in and boy did he roar. Ishant triggered a trend of sorts on opening night with it — he was the first of four bowlers who took wicket off their first delivery; Mitchell Marsh, Rajat Bhatia and R Ashwin followed him. Ishant then took care of India's nightmare on the semi-final night, Lendl Simmons, with a delivery that came in, went past the attempted flick to hit the stumps. But one of the many reasons Ishant is considered a liability in the shorter format for India is his listlessness in death overs and that continued when Harbhajan Singh carted him around for two fours and a six in the final over of the innings.
Also Read: I don't think we could have had a better start, says Dhoni
Eager-to-prove Harbhajan
Harbhajan has been waging a Twitter battle with his trollers these days but he won the best battle possible for a cricketer — on the field. He came in a tricky situation, settled in with few pushes here and there before he started to dream bigger. A cutesy late cut off R Ashwin set him up for the violence that he unleashed. He crashed and pulled RP Singh for fours, smashed M Ashwin over his head, and walloped Ishant for three boundaries in the last over in the arc between extra cover and the sight screen. He didn't stop there but also claimed a wicket in his first over — he slowed up the pace on a delivery on the leg stump line and Faf du Plessis was too early with his sweep shot, and the ball just about winked past the bat to fall on the stumps.
Also Read: Who said what about SuperGiants' win
Canny Bhatia
All's well with the IPL and the world when Rajat Bhatia is ambling down and rolling his arm over like nothing's changed. Around him, bats are getting bigger, batsmen are getting stronger, bowlers are getting more inventive and jerseys are getting flashier — the Mumbai Indians one anyway. But Bhatia's canniness remains entrenched in its simplicity. There's something comforting about watching Bhatia bowl. It's like soaking in the charm of an old trusty moped in a world of fast cars, superbikes and bullet trains. It's the reason why he still remains as relevant as every big-hitter and every mystery spinner in the IPL world, even at the ripe age of 36.
On Saturday, he turned up for his fourth franchise in nine years, and he showed his worth with the very first delivery he bowled for Rising Pune SuperGiants as he trapped Kieron Pollard in front with a typical Bhatia delivery, that pitched on a length and moved gently off the wicket, striking the Trinidadian in front of his stumps. The celebration as always was muted from Bhatia. It was just another day in the office. He then continued to keep the Mumbai batsmen under check, giving nothing away. He even managed to slip in a maiden to finish with remarkable figures of 1/10 in his four overs.
Fresh-faced M Ashwin
It's an interesting bowling action for a leg-spinner. Murugan Ashwin starts off very much like his off-spinning namesake — R Ashwin of course — flipping his hands in the air, but then finishes with a whippy release reminiscent of Bangladesh seamer Rubel Hossain as strange as it sounds. But what followed after the release was impressive and traditional as Ashwin dished out a mixture of leg-breaks and googlies. He lured Gopal to hole out at long-off while finishing with figures of 1/16 in four overs. His father, a script-writer for Tamil movies, would have appreciated the script his son wrote for himself in his first IPL outing.
Redemptive Rahane
It was here at Wankhede that Ajinkya Rahane played a slow-ish innings that cost India in the semi-final of the World T20. Back then, thrust into the big game, he couldn't get going on a track that was slightly sluggish to start off with. On Saturday night though it was a different story. He was served a full toss first ball up by McClenaghan which he duly punched to the straight boundary. He even pulled the same bowler for a six over deep square-leg and finished the game off in some style, biffing Hardik Pandya for two sixes. The first one flew over long-on and the second was a delectable upper cut that was also the match-winning hit. At his pomp, he is one of the better timers in world cricket, and it was a delightful knock that wouldn't have compensated for the semi-final innings but would have shored up his confidence a great deal.
[Source:- Indian express]