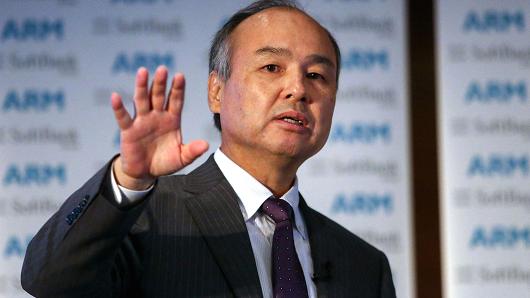 Japan's Softbank has agreed to acquire ARM Holdings, the giant U.K. semiconductor firm that supplies part of the chip design used in Apple iPhones, in a deal worth more than $32 billion, the companies announced on Monday.
ARM, the largest London-listed tech company by market value, is a major presence in mobile processing, with its processor and graphics technology used by Samsung, Huawei, and Apple in their in-house microchips.
Components based on technology licensed by ARM are found in the vast majority of the world's smartphones, and the Cambridge-based group has branched into other connected devices as smartphone growth slows.
As part of its bid to bolster its presence in the growing internet of things (IoT) sector, Softbank will pay £17 per share (about $22.50 a share) for ARM, a 43 percent premium on Friday's closing price, in an all-cash deal. ARM shares rallied over 46 percent in early trade on Monday.
"This is a company I always admired for the last 10 years," Masayoshi Son, chairman and chief executive of SoftBank, told reporters in London Monday. "This is the company I wanted to make part of Softbank. I am so happy"
On whether the deal will face opposition, the CEO said the deal will close quickly because Softbank "does not operate any competitive business against ARM. This will be very straightforward"
ARM has been focusing heavily on improving its IoT semiconductor portfolio. IoT devices can be anything from an internet-connected washing machine to "smart" buildings. Some of these devices do not require the high-powered chips used in smartphones but often smaller and "low-powered" semiconductors which ARM has developed.
IoT connected devices will number 38.5 billion in 2020, up from 13.4 billion in 2015, a rise of over 285 percent, according to Juniper Research, highlighting the interest in this sector from major technology giants. Masayoshi Son described the IoT as a "paradigm shift".
Not just for wearables or smart home appliances, ARM's semiconductors will be used in the increasingly connected car. Earlier this year, ARM Chief Executive Simon Segars told CNBC that the automotive industry could be a big growth driver for chipmakers, a sentiment echoed by Masayoshi Son.
"I would say automobile is becoming smarter and smarter so when automobile becomes so smart it is required to have more and more chips integrated inside the car, especially when it becomes a driverless car. Automotive itself will become a super computer which consists of a bunch of multiple chips so ARM will be going into that market very aggressively," Masayoshi Son said.
ARM 'has legs for years'
Softbank's acquisition of ARM represents one of the biggest takeovers of a European technology business. ARM is based in Cambridge, U.K., a city just north of London and employs around 4,000 people.
The deal comes just weeks after Britain voted to leave the European Union (EU), a move which many believed would have an impact on investment in U.K. technology. But ARM's customer base is global and would be protected from any Brexit fallout.
Softbank said it planned to "preserve the ARM organization," including existing senior management team, brand and culture. ARM's headquarters will remain in Cambridge while Softbank pledged to double the employee headcount in the U.K. over the next five years. The deal is subject to ARM shareholder approval.
"Just three weeks after the referendum decision, it shows that Britain has lost none of its allure to international investors. Britain is open for business – and open to foreign investment," Britain's Treasury said in a statement on Monday.
Masayoshi Son insisted that the deal was not made due to the devaluation of the pound against the Japanese yen, but did admit that he only met with the ARM chairman two weeks ago to make a bid. The Softbank CEO also said that he wants to make the pledge to double ARM's U.K. employee headcount over the next five years "legally binding", meaning a court could take legal action if it's not fulfilled.
"We did not need to do this, it's my way of showing commitment to the U.K.," Masayoshi Son said in a press conference on Monday. The Softbank chairman is travelling to meet ARM's management team in Cambridge, U.K., on Monday afternoon.
On the back of last month's Brexit vote, sterling has weakened significantly, making U.K. mergers and acquisitions more attractive. Analysts said that while investors might be tempted to lock in gains on any potential rise in share price on Monday morning, it might be worth holding ARM shares as further investors might come on board.
"The strategic importance of the ARM technology and model in our view is one which may attract additional suitors. It is not merely a deal reflective of sterling weakness in our view," Neil Campling, head of global TMT research at Northern Trust Securities, wrote in a note Monday.
"ARM is the disruptor in our view. With its dominance in mobile processors at the foundation, all things connected should drive significant growth in its total addressable market – ARM has legs for years."
M&A from Apple, Google?
Softbank is no stranger to making large investments and over the years has built itself into a telecoms and internet giant. The Japanese firm has a majority holding in U.S. mobile carrier Sprint and Yahoo Japan. It also invested in Chinese e-commerce giant Alibaba in 2000 and recently was involved in a $4.5 billion funding round in China's leading taxi app Didi Chuxing.
There has been a lot of acquisition activity in the semiconductor space as technology firms look to get ahead in IoT. Last year, Qualcommbought CSR for $2.4 billion, while Intel splashed $16.7 billion on Altera.
And the Softbank deal could open the doors for other technology giants to consider further acquisitions in the space.
"This move by Softbank will make the Apple and Google's of the world think if they want to counterbid or go after other competing players such as Imagination Tech, NVIDIA, CEVA or others," Neil Shah, research director for devices and ecosystems at Counterpoint Research, told CNBC via email.
Earlier this year, Apple confirmed that it had held takeover talks with U.K. firm Imagination Technologies, in which the U.S. giant owns a small stake, but said it did not plan to make an offer at the time.
[Source:- NBC news]