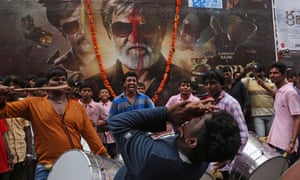 It is the kind of reception Hollywood actors and moguls can only dream of. Workers given days off, jumbo jets repainted and prayer ceremonies held – all in honour of a film.
The release of Kabali, the latest film featuring Indian superstar actor Rajinikanth, has prompted a cinema-going frenzy across India, with the film racking up £20m in film rights sales before it is even released.
Estimates from the first day on Friday said the film brought in a record-breaking 65 crore rupees (£7.3m) from ticket sales around the world.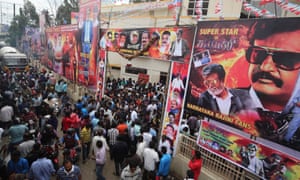 Such is the hype around the film, which is being shown on 12,000 screens across India, that several businesses in the south of the country gave their employees the day off on Friday so they could watch it.
One company in Chennai said it was easier to allow employees the time off to avoid piled up leave requests to the HR department, while another in Bangalore said it wanted to pre-empt the "sick leaves, mobile switch-offs and mass bunks" by workers desperate to see Kabali.
Undoubtedly the most hotly awaited film release of the year, Kabali is described as a gangster revenge movie. Its allure is mainly down to the phenomenon of Rajinikanth, who is one of India's highest paid actors and inspires fanatical devotion among his fans. When the 65-year-old fell ill two years ago, more than 1,000 people shaved their heads in a ceremony praying for his recovery and there are an estimated 50,000 Rajinikanth fan clubs.
The hysteria that has greeted the buildup to Kabali's release was also evident in a plane decorated with Rajinikanth's face and flown from Bangalore to Chennai, serving Rajinikanth's favourite food on board, to bring 100 fans to a "first day first show" screening for the cost of Rs 7,860 (£79).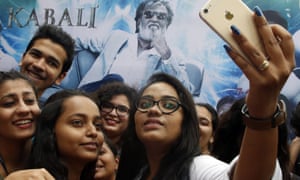 Across southern India, fans have also found less overblown ways to express their excitement. Crowds waited at cinemas overnight on Thursday to get into the first screenings and one self-confessed superfan said he intended to watch 10 screenings back to back on Friday and Saturday.
Rickshaws, buses and cars painted with Kabali imagery have become a common sight on the roads and one car salesman in Tamil Nadu has been offering cars emblazoned with graphics from the film, which are reportedly selling out at speed.
[Source:- The Guardian]