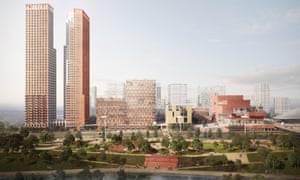 New images have been released showing what the cultural district rising like a brick phoenix from the 2012 London Olympics site will look like.
The London Legacy Development Corporation (LLDC) published the computer-generated images on Wednesday at a conference called Rising in the East to mark the four-year anniversary of the Olympic opening ceremony.
The pictures show a Stratford waterfront, busy with people, plus new spaces for the Victoria and Albert Museum, Sadler's Wells and a campus for the London College of Fashion. A second campus will cater for up to 3,000 University College London students, the largest single expansion of the university since it was founded in 1826.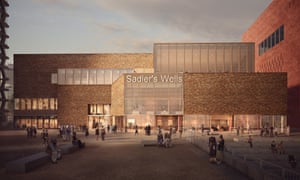 Rosanna Lawes, the executive director of development at the LLDC, said Stratford and east London were changing fast and the new images demonstrated that London was open for business after the EU referendum.
"In a few short years, we will see not only a new cultural and education district in east London, with some of the world's leading institutions sitting in the heart of the park, but new neighbourhoods and business districts and hugely successful sporting venues delivering on the legacy promises made for the 2012 Games," said Lawes. "This is the perfect illustration of how London is open and will remain so."
The V&A is proposing an outpost called V&A East in a red-brick building of 18,000 sq metres. Described as a museum for the digital age, the building would display items from the V&A's vast collections and also stage exhibitions responding to contemporary events.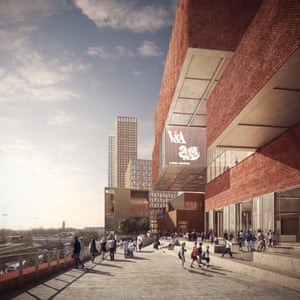 The Smithsonian, the world's biggest museum and research complex, will collaborate with the V&A after abandoning plans to have its own bespoke outpost on the site.
Sadler's Wells is planning a 550-seat auditorium staging contemporary dance performances, which require a smaller venue than its 1,500-seat base in Clerkenwell.
In 2014, the government pledged £141m to the project – called Olympicopolis by former London mayor Boris Johnson – and £180m is being raised from private sources. The total cost has been estimated at £850m, with further money coming from the Greater London Authority and residential land sales.
The designs were produced by architecture and design firm Allies and Morrison, with O'Donnell + Tuomey and Arquitecturia. They will be developed over the coming months before a detailed planning application is submitted at the end of 2016.
The scheme is expected to create 3,000 jobs, attract 1.5 million visitors a year and deliver a £2.8bn boost to the economy of Stratford and the surrounding areas.
[Source:- The Guardian]