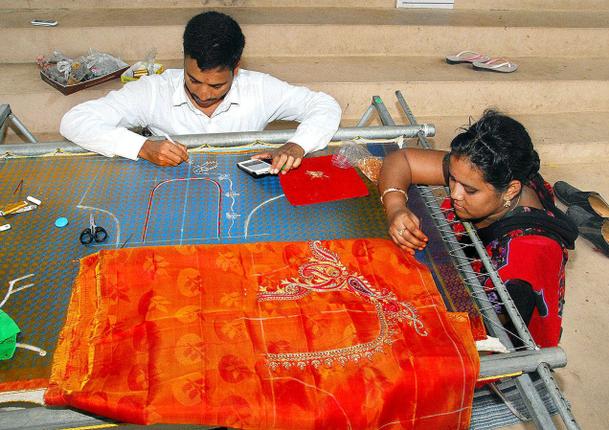 Those who have been working on the maggams in the handloom town of Chirala and other parts of Andhra Pradesh enjoyed a prime place in the past in the world of fashionable dressing.
But over a period, many of them had lost out in the race to machine-made clothes in the era of globalisation.
Yet a section of the makers of fashionable clothing with creative ideas are making a killing by embelleshing works on blouses, saris and other dress materials.
Amazing look
Maggam works are now the in-thing in the world of a fashion as they give an amazing look to any garment, says Nagamalleswari, a maggam work designer while downloading from the Internet new designs to satisfy her ever-demanding customers.
Be it a sari, blouse or Langa Ooni (half sari loosely translated) blouse, intricately done maggam work can make it look very attractive, she explains while giving finishing touch to a silk blouse at her shop near Yenugachettu here.
Most of the artisans are from 24 Parganas in West Bengal and have made Ongole their second home in view of lack of enough patronage in their State, adds A. Suresh of Sai Krishna Maggam works.
Suresh sources attractive beads all the way from Kolkata at cheaper rates compared to the ones available in the State.
It will take about eight hours to put a simple design and two to three days to do maggam work on a bridal blouse, explains Rahul taking time in between his painstaking work to talk to The Hindu .
"We charge a minimum of Rs. 800 for a simple design and Rs. 5,000 for a bridal blouse with intricate maggam design with golden zari and beads," he adds.
Maggam works jell very well with silk material, adds another artisan Sk. Abdullah while doing an intricate design with mirror work on a silk sari.
"We also do floral maggam design in zari and threads to create multi-coloured flowers," adds another middle-aged worker Shaukat Ali, who has been introduced to maggam designs at the age of 10.
[Source:- THE HINDU]