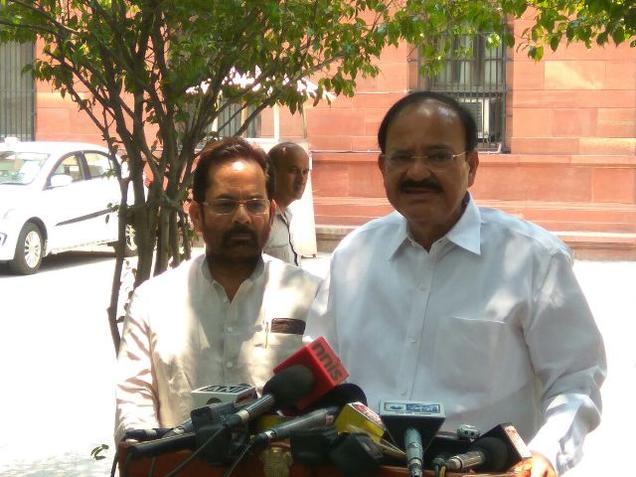 we've got
enough
numbers for the passage of GST
bill
, claims Venkaiah Naidu
The authorities on Wednesday asserted that it has "enough" guide for passage of the GST invoice inside the monsoon consultation of Parliament as a way to start from July 18 until August 12.
After a assembly of the cabinet Committee on Parliamentary Affairs that encouraged the agenda for theconsultation, Parliamentary Affairs Minister M. Venkaiah Naidu informed journalists that the session could also be prolonged or curtailed with the aid of , three days depending on requirement.
Emphasising that the GST invoice is in the larger hobby of the u . s . a ., Mr. Naidu said,"we've a much wider guide and we've sufficient numbers for GST however we would love to have all parties on board as it could have an impact on States."
He said that the government desires to get the bill handed with the aid of consensus and is making efforts in that path but asserted that "we have to get it approved in this consultation."
He stated the vote casting at the bill will be the ultimate choice, suggesting that the government would like to keep away from any trial of electricity on this issue and could try to take all events alongside.
'prepared to keep further discussions'
Replying to questions about whether or not government will step up its efforts to carry the Congress on board, which has been opposing the invoice on a few situations, he stated Finance Minister Arun Jaitley is prepared to keep in addition discussions with all events, together with the Congress.
in the meeting, external Affairs Minister Sushma Swaraj informed Mr. Naidu that she changed into readyfor a dialogue on the recent overseas visits of the top Minister, in view of problems like India's club of the NSG, if the participants desired it.
Rajnath Singh, who chaired the meet, driven for early passage of the Lokpal and Lokayukta (modification)bill at the same time as environment Minister Prakash Javadekar stated there was a need for an early passage of the Compensatory Afforestation Fund invoice. each payments are pending in Parliament.
key phrases: monsoon session of Parliament, M. Venkaiah Naidu, GST invoice