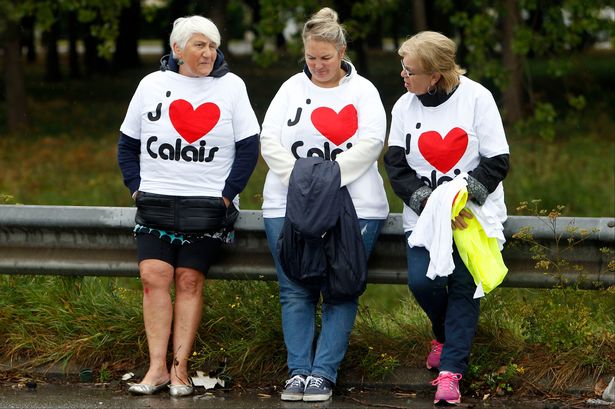 TRAVEL CHAOS WARNING OVER CALAIS PROTEST AGAINST JUNGLE CAMP
French shopkeepers, police, unionists and farmers will today join hauliers in calling for the northern section of the migrant camp at Calais to be demolished.
British cross-Channel travellers face disruption as lorry drivers said they were "in it for the long haul" in their protest about the migrant crisis around the French port town, a trade association warned.
It added that the drivers will stand their ground until they see action to dismantle the Jungle camp.
KEITH VAZ FACES COMPLAINT TO SLEAZE WATCHDOG OVER MALE ESCORT ALLEGATIONS
Keith Vaz is facing a possible investigation by Commons sleaze watchdogs as the fall-out from reports tht he paid two male escorts for their services threatens to overwhelm his career.
The high-profile Labour MP indicated he will stand aside as chairman of the powerful Commons Home Affairs Committee at a meeting on Tuesday after publicly apologising to his wife and children for the "hurt and distress" he caused them.
Mr Vaz met the escorts at a flat he owns near his family home in north London last month, according to reports in the Sunday Mirror.
AUSTRALIAN BREXIT BOOST FOR THERESA MAY AT G20 SUMMIT
Theresa May was promised Australian support as the UK adapts to Brexit as she held talks with counterpart Malcolm Turnbull.
The Australian prime minister said he wants a "very strong" free trade agreement with the UK after it leaves the EU.
The comments come as a boost to Mrs May after US President Barack Obama indicated that a trade deal with the UK would not be a top priority for Washington and Japan published a list of demands to protect its firms based in the UK from the impact of Brexit.
JUNIOR DOCTORS URGED TO 'PAUSE AND CONSIDER' EFFECTS OF STRIKE ACTION
Patients "will suffer" as a result of the impending doctors' strike, the medical regulator has warned as it urged junior doctors to seriously consider whether or not to take part in the action.
In a new guidance for junior doctors ahead of the strike scheduled for next week, the General Medical Council (GMC) said that in order to avoid patient harm "the right option may be not to take action that results in the withdrawal of services".
The rolling action – the first of its kind in the history of the NHS – will see junior medics withdraw labour, including emergency care, for a week each month until the end of the year.
POINTS-BASED POLICY NOT A SILVER BULLET FOR IMMIGRATION ISSUE, SAYS THERESA MAY
The points-based immigration policy championed by Brexit campaigners has been dismissed by Theresa May, who said it was "not a silver bullet" to reduce the numbers coming to the UK.
An Australian-style immigration system was one of the key policy pledges made by Vote Leave campaigners including Boris Johnson during the referendum campaign.
However, Mrs May said there were questions about whether such systems ever worked, but vowed that free movement of European Union citizens could not continue in its present state after Brexit.
MPS TO CONSIDER DEMAND FOR SECOND REFERENDUM ON BREXIT
Demands for a second referendum on Britain's European Union membership will be debated by MPs in Parliament.
A petition calling for the Government to hold a second poll as the turnout on June 23 was below 75% and fewer than 60% of the vote backed Brexit has received 4.1 million signatures, although it was subject to claims it had been hacked.
The House of Commons' Petitions Committee announced an investigation and later denied its site had been hacked after confirming tens of thousands of signatures were "fraudulently" added.
OWEN SMITH WARNS LABOUR COULD BECOME 'AN UNELECTABLE POLITICAL PARTY'
Labour leadership challenger Owen Smith is warning the party faces a battle for credibility.
The Welsh MP insists that another decade of Tory rule will leave Britain in a bleak state.
Mr Smith was saying: "As we move in to the final weeks of this campaign, I wanted to spell out exactly the risks facing our country if Labour continues with Jeremy Corbyn as leader, failing in its duty to offer a powerful opposition to the Tories and not looking like a credible government in waiting."
POLICE PROTECTING THE VULNERABLE 'SHOULD REQUIRE A LICENCE'
Police officers responsible for protecting children, the elderly and domestic abuse victims should require a licence to carry out the role, ministers will be told this week.
The head of the body that represents senior operational police leaders will argue that personnel in charge of keeping the most vulnerable people in society safe should have training and development to an agreed national standard.
Chief Superintendent Gavin Thomas, president of the Police Superintendents' Association of England and Wales, will describe vulnerability as "one of the new volume demands that will define our service and what do we for years to come".
RAIL PASSENGERS PLAN TO FUND REVIEW INTO GOVERNMENT HANDLING OF SOUTHERN RAILWAY
A rail passengers group is planning to fund a legal review of the Government's handling of the Southern Railway franchise amid continuing disruption to services.
The Association of British Commuters announced it will work with Devonshires Solicitors to fund a Judicial Review into the Department for Transport, with "real determination to hold the Government to account".
Services have been disrupted for months because of a long-running dispute over the role of conductors as well as high levels of staff sickness.
NORTH KOREA FIRES THREE BALLISTIC MISSILES IN G20 SHOW OF FORCE, SEOUL SAYS
North Korea has fired three ballistic missiles off its east coast in a show of force timed to coincide with the G20 summit in China, Seoul has said.
North Korea regularly engages in missile and rocket tests, especially when the world's eyes are turned to north-east Asia.
World leaders have gathered for the G20 summit of advanced and emerging economies in the city of Hangzhou in eastern China, which is the North's only major ally.
[Source:-MANCHESTAR EVENING NEWS]