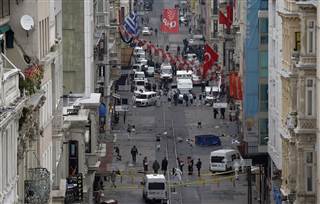 Citing security concerns in the region, the Pentagon and State Department are ordering the dependents of personnel to leave several regions in Turkey—a move which will affect at least 670 people who are mostly at Incirlik Air Base.
Defense officials tell NBC News the decision to order U.S. military dependents to leave Turkey is based on "the changing security environment" and the "potential increase in threats and risks."
The officials add there are currently "no specific threats" against Americans in Turkey that led to this decision and that they have been looking at this option for some time.
The 670 military dependents and 287 personal pets will be flown out of Turkey by U.S. military transports or charter flights.
The timing on when the dependents are required to depart Turkey is yet to be determined, military officials said. Officials said the step — while not permanent — is an effort to "mitigate risk" to members of the military and their families as U.S. forces continue the mission to support operations in Turkey.
The State Department ordered the family members of U.S. government personnel connected to the embassy in Adana and family members of American government civilians in Izmir and Mugla provinces to depart the area and restricted official travel to Turkey to "mission-critical" travel only. The State Department also warned travelers on Tuesday of increased threats from terrorist organizations in the region and advised steering clear of southeastern Turkey.
"The United States and Turkey are united in our common fight against ISIL and Incirlik continues to play a key role in counter-ISIL operations," the Department of Defense said in a statement.
"The decision to move our families and civilians was made in consultation with the Government of Turkey, our State Department, and our Secretary of Defense," said Gen. Philip M. Breedlove, commander of the U.S. European Command. "We understand this is disruptive to our military families, but we must keep them safe and ensure the combat effectiveness of our forces to support our strong Ally Turkey in the fight against terrorism."
The move follows a Department of Defense announcement in early September 2015 that the Pentagon would facilitate the departure of any family members of military personnel at Incirlik Air Base and the U.S. consulate in Adana who wanted to leave Turkey. The moves weren't mandatory.
A Pentagon spokesperson said that 97 people took advantage of that authorized departure.
After this new mandatory departure there will be about 100 American dependents still in the country.
Tuesday's decision will be reviewed in 30 days to determine if the evacuation order can be lifted.
[Source:- NBC News]