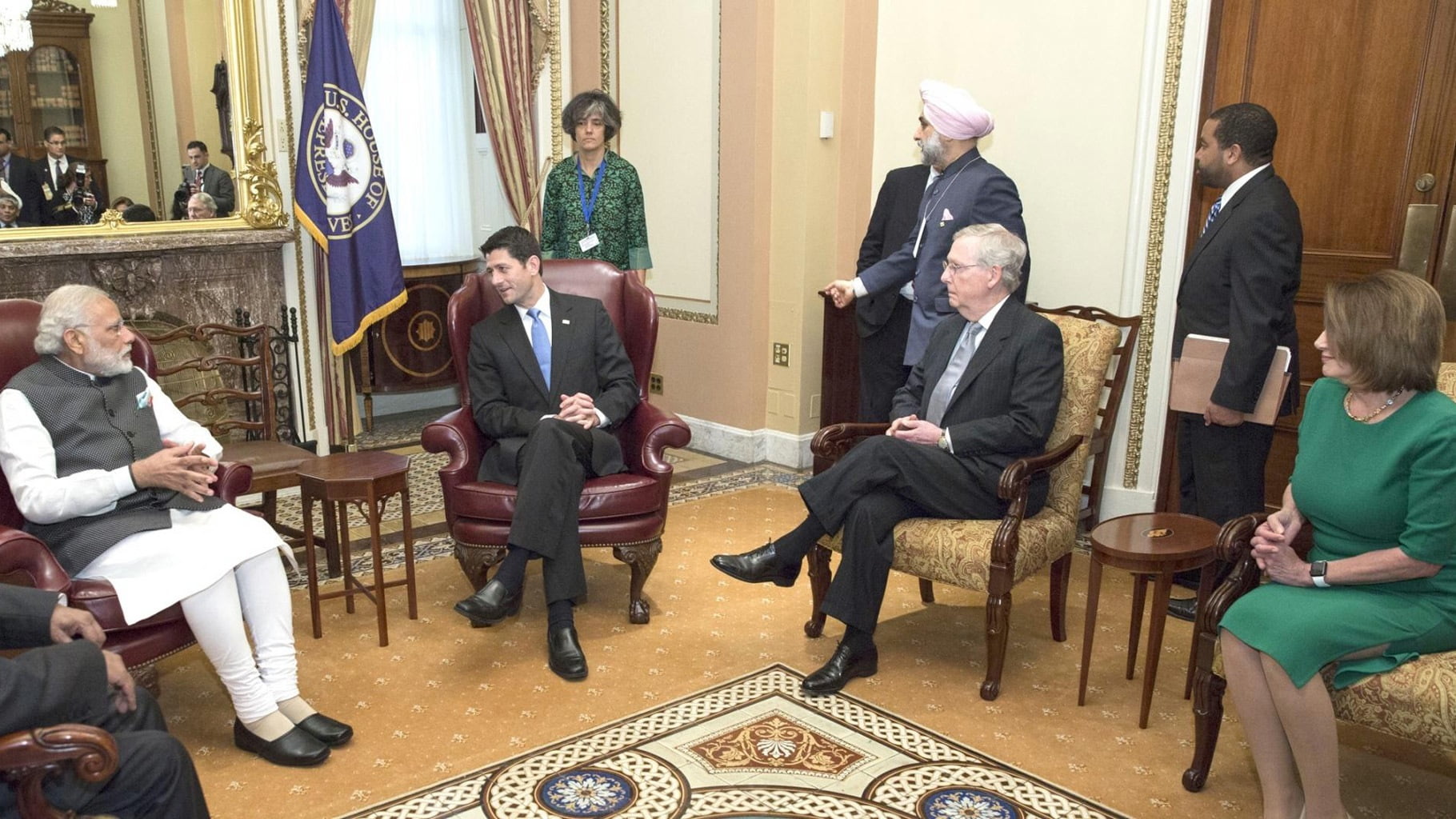 It goes without saying that Narendra Modi has fast become a global icon. The adulation he receives from the Non-Resident Indian (NRI) community is appropriately likened to that of a rock star, and was once more on full display on his recent trip to the United States. The fact that the Indian American community reveres the Prime Minister comes as no surprise. They appreciate his pledge to reverse India's "chalta hai" culture and finally transform the subcontinent into the superpower it has long deserved to be.
Modi's popularity among this high-performing group is inextricably tied to his focus on economic development– a staunch commitment to bring investment into the subcontinent and a promise to rid the country of its hallmark inefficiency and bureaucracy.  Beyond these talking points, his polished image gives the diaspora community reason to be proud.
After putting up with years of lacklustre, low-energy politicians, our latest representative demands respect on the world stage. His personality is assertive yet charismatic, a lethal combination that gives us hope that India will soon be able to take its rightful place among the great powers of the world.
Charismatic Leader
This power and charm were both evident during his historic Congressional address in Washington DC. Although I've undoubtedly been influenced by my Indian-born parents' obsession with Modi, sitting in the Capitol Hill audience made me realise that I was enraptured by the man for an entirely different set of reasons. Born and raised in America, and as a millennial who prioritises social justice issues over fiscal progress, what is it that I admire about him?
His English. My initial reaction was that he delivered a 45-minute speech in a foreign language to a room full of dignitaries with such poise and eloquence. Having attended Modi's first US event in New York City back in 2014, it did not take much perception or recall to note the impressive strides he has made. And it is precisely this commitment to self-improvement that moved me the most.
The reason that the younger generation places so much faith in this particular world leader is because his work ethic and life ethos defy India's historic reputation. In a country long ridiculed for its laziness, complacency, and corruption, his honesty, hard work, and selfless dedication is both recognised and respected.
Why Initiative on Yoga Should be Lauded
Even more exciting is Modi's progressive mindset, which among other things has led to the official recognition of International Yoga Day. Its far-reaching impact is obvious, with practitioners from New York City to Beijing recently showcasing this ancient Indian art in unison. Although many have recognised yoga as our gift to the world, no one has had the influence to commemorate the same on a world stage. His prescient realisation that health promotion and disease prevention will be the way forward gives me hope that our collective reliance on expensive and often ineffective medical intervention will be diminished with time.
Modi often speaks of the younger generation with a sense of awe and hope, and it is clear that the feelings are reciprocated. The sense of discipline that Modi has injected into the political system has started to change the mindset of an entire people. His reformist mindset has invigorated the hopes of Indians both in India and abroad.
[Source:- The Quint]