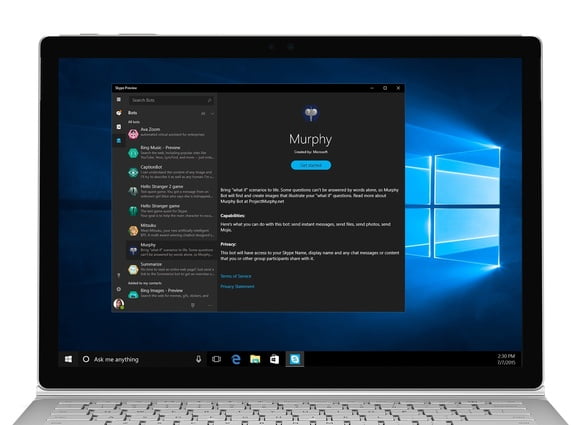 Skype is bringing a new app to smartphones, computers, and tablets running Windows 10 on Monday, ahead of Microsoft's Windows 10 Anniversary Update launch.
People who are beta testing Windows 10 through the Windows Insider Program now get a new version of the Skype Preview App, which will allow them to call mobile and landline phones from their computers, leave and receive voicemails, and put calls on hold.
The new Skype app will replace the existing Skype desktop app, along with calling and messaging apps that were bundled with the original release of Windows 10. It's unclear when the app will be released to all Windows 10 users, but this announcement brings that closer to reality.
In addition to several calling features, Microsoft has also added support for Skype bots into the latest version of the app, meaning users can try talking with automated conversation partners. The new feature comes shortly after the company allowed developers to start building apps that can take part in group chats and respond to inputs from multiple people.
As part of the announcement, Microsoft is also launching a version of the Skype Preview app for Windows 10 Mobile, which gives users of smartphones running the latest version of the operating system access to group video calling with up to 25 people. Group calling on mobile was one of the most-requested features for the app, according to a blog post from the Skype team.
The news comes days after Skype announced the launch of new alpha clients for Chrome OS and Linux, as part of a push to extend its messaging and calling capabilities to a wider set of users.
Skype is in a rough-and-tumble market right now, facing heavy competition from upstart messaging apps like WeChat, Line, WhatsApp, Facebook Messenger, and Google Hangouts.
[Source:- PC World]