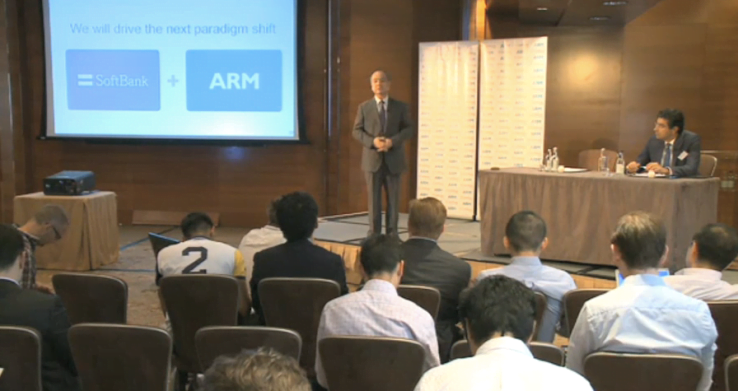 Just after Softbank confirmed plans to acquire UK semiconductor company ARM Holdings for $24.3 billion in cash earlier today, people began to wonder if it was the result of the pound falling in the wake of the Brexit referendum vote. Not so, said Softbank's CEO and founder Masayoshi Son.
In a press conference soon after the news broke, Masayoshi said that he only began acquisition discussions with ARM two weeks ago, yet the price was reached not with consideration for Brexit or the decline in the sterling currency, but Softbank's interest in investing in IoT.
"Brexit did not affect my decision," he said. "Many people many are worried about Brexit and concerned about he complex situation of the country, but good or bad… I did not make the investment because of Brexit."
"It's true that I only met the ARM chairman [Stuart Chambers] only two weeks ago. That was the day I said I was interested in acquiring ARM. That was the first time," he said earlier, adding that he had met with former and current CEOs multiple times talking about joint ventures or a business alliance.
Masayoshi Son said that although the price of the pound declined by about 16% in the past two weeks, ARM's share price went up by about the same amount, meaning they cancelled each other out. And there were other financial factors in play as well: in recent weeks, Softbank sold a chunk of its Alibaba stake and its stake in Supercell, and today it announced a large loan for some $9 billion (¥1 trillion). "This is not opportunistic about the currency," he joked. "I have wanted to do this but was waiting for the cash to come in."
Masayoshi Son has redoubled his hold on Softbank after a surprise announcement in June that the person tipped to take over from him, Nikesh Arora, would step down. You can see this latest acquisition somewhat as his call for how he envisions running things going forward.
Talking about the acquisition today, he made a firm declaration of how he'd like Softbank to be a part of what he sees as the next generation of technology, the Internet of Things.
ARM has made its name as the chip designer that launched a million smartphones — its designs are used by Apple, Samsung, Qualcomm, Mediatek and many more, accounting for 95% of all phones in use today.
But a few years ago, it started to invest in IoT technology with the expectation that this will be the next big growth area as processors are put into cars, home appliances, machines in factories, and a lot of smaller and more mundane objects in our world to connect them.
Masayoshi Son is on the same page, it seems. "I'm not investing in a distressed asset," he said today near the start of a very long monologue about why Softbank was buying ARM Holdings. "I'm investing in a paradigm shift…. that's my passion, and that's my view."
He went on to describe how Softbank was there for the "beginning of the PC internet," which he invested in via Yahoo when it only had 16 employees; and then how that shifted into mobile — an area where Softbank is still trying to make good on an earlier big bet, a stake in Sprint that it's now trying to increase. IoT is the natural progression of that, he said.
As for how the deal might affect partnerships that ARM has with manufacturers and hardware makers, Masayoshi Son seemed confident that this will not be disrupted by the acquisition.
"We could not talk to more than six people so I have not spoken with any partners yet," he said. "However [Apple's] Tim Cook, [Samsung's] Jay Lee, [Qualcomm's] Paul Jacobs and all those guys who are big ARM customers are great friends of mine and have been for many years," he said. "I think that Softbank has no conflict of interest with them. Softbank does not manufacture or buy any chips. We have no conflict with any of ARM's customers. So I expect no resistance or hesitation going forward."
With the deal now in the hands of regulators who will need to approve it before it can be closed, he also said that Softbank has made some investment commitments for the future. Specifically, he said it's entered into a legally binding decision to double employees over the next five years. "We will submit this to the UK takeover panel, so they will have enforcement rights for us to fulfill this commitment." He says that he'll be making his way to ARM's HQ to start meeting with staff to reassure them of their commitments, and to make sure they stay on as part of the acquisition.
"For many it has been a big surprise so I have to reiterate my commitment, passion and drive. I would just hope that they would continue to put their life and passion into the company," he said.
But while he was very clear that this deal was not a firesale, he did acknowledge that this is probably not the case for every potential sale and investment in the UK at the moment.
"There are many very valuable companies in the UK, so if people have reduced their price for these companies because of the situation, this could be a good opportunity for investment into the UK," he said. "Our investment may show confidence to them. They can take a smaller scale investment but we'll bring more confidence.
"I'm one of the few people who is betting with cash. Talking is easy, to say the UK will still be a great country, but I'm proving that with big-sized cash! The multiple is almost 60x of last year's net income. That means this company has to sustain its growth and success for many years to come. I cannot hit and run. I have to believe in the future of the UK, the power of engineers here and so on. This is my big bet."
He also ruled out making any more deals in the UK this year, for now at least: "I would hope so but we don't have any other plans this year."
[Source:- TC]