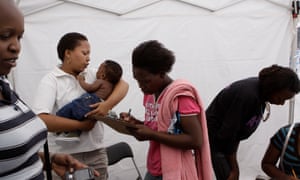 A hole-in-the-wall machine that dispenses antiretroviral drugs to people with HIV will be unveiled in Durban on Monday ahead of a pilot scheme that will see units installed in rural areas miles from the nearest doctor or clinic.
The machine has been developed at the Right to Care project in the Helen Joseph hospital, Johannesburg, and is a prototype of what its South African developers believe could be a game-changer in the fight to contain the Aids pandemic in their country and beyond.
The £63,000 machine – with robotics from Germany teamed with local expertise on software – will be unveiled at the 2016 International Aids Conference, which begins in Durban on Monday.
Fanie Hendriksz, managing director of Right To Care's ePharmacy project, said the pilot would begin immediately afterwards, with four units going into Alexandra, a densely populated Johannesburg suburb where high rates of poverty and lack of education keep infection rates and ignorance about HIV high.
"We hope to have reached six sites this year," said Hendriksz. "They will come with their own power source and have a link via a webcam to a centre where there will be a pharmacist on call if needed – but generally it will be patients scanning in smartcard IDs and accessing their three months' prescription, forgoing the need to come all the way into a hospital or a clinic and wait for hours to access their medication."
To prevent any problems with stigma, the machines won't be identified as HIV-related because other medication will also be available for patients with chronic conditions such as diabetes or TB.
South Africa has the highest number of people in the world living with HIV – 7 million – with half now accessing treatment. Ensuring people stick to their treatment is essential, not only for keeping them healthy and alive, but also making them less infectious, according to experts who say that poor "adherence" to medication is a key challenge.
The Right to Care project, funded by the South African department of health and the Global Fund, has been working hard on those challenges, not only saving lives, ensuring babies of HIV positive mothers are free of the virus, but reducing waiting times so people who can little afford to travel or to take time off work no longer have to spend hours accessing HIV tests and treatment.
Testing is already improving across the continent thanks to the invention of quick, easy tests including one, the Samba, developed by a team at Cambridge
Dr Sello Mashamaite, the medical manager at Helen Joseph, said: "It's all about managing more patients with less.
"A lot of patients miss their visits because they cannot afford to miss work; long queues, transport costs, people waiting hours for their medicines. It means as clinicians that we have to think about improving efficiency to ensure adherence to treatment.
"Before, in our pharmacy, people were waiting five hours here, now it's 20 minutes," says Mashamaite. "Working with technology is the innovation that will save lives."
Jenny Ottenhoff, global health policy director of the One Campaign, said: "The life-saving impact of treatment relies on adherence. We know that when a patient is on medication and taking it correctly, the chance of passing the virus on to a partner is virtually zero. This preventative effect is a game-changer and can help make the end of the Aids epidemic a reality by 2030, but only if we ensure that every person accessing treatment has the support needed to take it correctly every day without fail."
A groundbreaking study in 2011 showed that starting HIV treatment when the patient is positive but still healthy, and strictly adhering to the treatment regimen, reduced HIV transmission to HIV-negative partners by 96%. This has been dubbed "Treatment as Prevention".
Failure to adhere to treatment limits viral suppression, and so thwarts the preventative effect of treatment.
Treatment as prevention dramatically influenced the WHO's current policy to treat everyone who tests HIV positive as soon as they are diagnosed and South Africa plans to start offering treatment immediately following diagnosis before the end of 2016.
But it still needs to get the pills to the people, making innovation like a drug vending machine close to peoples' homes the difference between life and death.
[Source:- The Guardian]