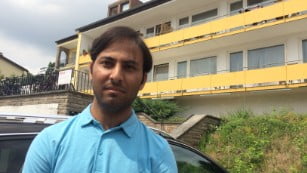 Ansbach, Germany (CNN)The Syrian suicide bomber who injured 15 people in a Sunday night attack on a music festival in Ansbach, Germany, left behind a video pledging allegiance to ISIS leader Abu Bakr al-Baghdadi, Bavarian Interior Minister Joachim Herrmann said Monday.
The ISIS-affiliated media group Amaq claimed the attacker was an ISIS "soldier" in a statement the group's supporters posted online Monday, but there is no evidence he was in contact with ISIS or directed to carry out an attack.
ISIS goes global: 143 attacks, 29 countries, 2,043 deaths
In the video left on a mobile phone, the 27-year-old Syrian announced his threat to carry out an attack "as an act of revenge against Germans, because they obstruct Islam," Herrmann told a press conference. The man said the attack would be committed in the name of Allah as retaliation for the killing of Muslims. The bomber was killed.
The wave of violence has fueled criticism of Chancellor Angela Merkel's welcoming stance toward immigrants, with the hashtag #Merkelsommer, or "Merkel summer," circulating on social media.
What are the rules for asylum seekers in Germany?
Germany accepted more than 1 million asylum seekers last year, and some Germans have expressed fears that terrorists might have entered the country among them, or that disaffected youths among the refugees could be susceptible to radicalization.
A picture is starting to emerge of the attacker, a rejected asylum seeker known for petty criminal offenses who was looking for a job.
He lived in a old hotel that was converted into a refugee shelter. One of his neighbors identified him as Mohammad Daleel.
Daleel had been living in a room in the hostel for about a year, said Mubariz Mahmood, originally from Pakistan.
He was generally a "friendly and happy" person, Mahmood said. He last saw Daleel a few days ago on the balcony of his room, smiling and waving to say hello, he said.
Daleel arrived in Germany two years ago and applied for asylum in 2014, German Interior Minister Thomas de Maiziere said.
He was informed two weeks ago that his application had been denied and that he would be deported to Bulgaria in 30 days, said Hermann, the Bavarian Interior Minister. European Union laws say that asylum seekers must wait out the application process in the country where they arrive in the EU, said Johannes Dimroth, spokesman for Germany's Federal Interior Ministry.
However, the deportation to Bulgaria was temporarily suspended due to medical evaluations, and the man was placed in a psychiatric clinic at some point, de Maiziere said. Officials said he had twice attempted suicide before the bombing.
Neighbor Mahmood said Daleel told him he had been fingerprinted and registered as an asylum seeker in Bulgaria. Daleel was a little worried about being sent back to Bulgaria, Mahmood said, but didn't seem overly concerned or stressed.
Three months ago, Daleel told his neighbors that he had obtained a work permit and was looking for help in applying for jobs. He asked Mahmood for advice on how to get a job at McDonald's.
He seemed eager to work, Mahmood said.
Police searching his home found two mobile phones and multiple SIM cards as well as material to make explosive devices, Herrmann said.
Playing cards flecked with blood
The bombing took place at the final concert of the Ansbach Open music festival Sunday night with about 2,500 in attendance.
Security staff at the concert noticed a suspicious person wearing a backpack pacing up and down around the entrance to the event, a police statement said.
He did not have a ticket and had been denied entry into the concert, according to Herrmann.
The police statement said that the bomber "lingered around in the outdoor seating area of a nearby wine restaurant."
"An explosion took place at around 10:10 p.m. in that area after the young man briefly leaned forward, according to eye witness accounts," it said.
The music festival and surrounding area were then evacuated.
Herrmann said the attacker's backpack contained screws and nails in an apparent bid to inflict widespread damage.
Officials opened the crime scene Monday, revealing beer glasses abandoned at tables, playing cards flecked with blood and a chalk outline of where the bomber's body was found.
Ansbach has a population of about 40,000 and is a major U.S. military garrison town, with around 5,000 members of the military living there along with civilians, contractors and retirees. There are three military installations in the Ansbach area, according to the garrison's website.
String of attacks
The Ansbach bombing is the fourth attack in southern Germany — and the third in the state of Bavaria — in recent days, which also came on the heels of the Bastille Day ISIS attack in Nice, France, that killed 84 people.
Speaking at a press conference Monday, Hermann acknowledged it had been a "very terrible week" in Bavaria.
"Yes, this was also for me personally a very terrible week, as I think it was for most of the people in Bavaria. The attack last Monday on the train in Wurzburg, then the rampage … in Munich Friday night, and now again an attack."
The stabbing attack in Wurzburg, which authorities said appeared motivated by ISIS propaganda, has left four people hospitalized, including one in an induced coma, medical officials said.
The Munich shooting spree was carried out by an 18-year-old German-Iranian with dual nationality, who killed nine people before killing himself in a shopping district.
Police said the gunman was a mentally troubled individual who was obsessed with mass shootings and may have planned the attack for a year. Authorities have not found a link to terror groups.
And on Sunday, hours before the Ansbach attack, a 21-year-old Syrian refugee killed a Polish woman with a machete in the city of Reutlingen.
Germans were shocked by sexual assaults of women blamed on immigrants at New Year's Eve festivities in Cologne and other cities, and three Syrian men were arrested last month on suspicions they were planning to carry out a mass casualty attack in Dusseldorf.
[source:- CNN]