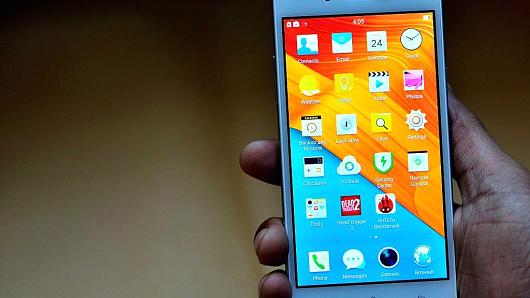 Growth in the global smartphone market is starting to cool after a frenetic few years, but a little-known Chinese smartphone maker, OPPO, is making heads turn.
OPPO shipped 22.6 million smartphones in the April-June quarter, a 136.6 percent increase from a year ago, data from research company International Data Corporation (IDC) released on Thursday showed
Based on the latest IDC numbers, OPPO held a global market share of 6.6 percent at the end of the second quarter, making it the fourth-largest smartphone vendor in the world, ahead of famed brands Xiaomi, and Lenovo, which owns Motorola.
"Technology is so important to us," Michael Tran, director of OPPO Mobile Australia, told CNBC in an exclusive interview on Friday.
"We are listening to our consumers and what they want in the devices, and designing the products based on [that]."
One of OPPO's focus was on the camera technology installed in its phones. For example, one of its popular smartphone models, the "R9", boasts a 16 megapixel front-facing camera, with various light settings and noise-reduction technology, to appeal to users who enjoy taking "selfies."
"We are investing into research and development for our camera technology," said Tran. "We want to be known as the camera phone."
OPPO, along with another little-known Chinese smartphone maker, vivo, pushed both Lenovo and Xiaomi out of IDC's top five smartphone vendors by shipment in the first quarter of 2016. Shipments for vivo grew 80.2 percent on-year in the second quarter to 16.4 million units.
Globally, IDC said smartphone vendors shipped 343.3 million smartphones in the April-June period, up just 0.3 percent on-year. On a quarter-on-quarter basis, however, shipments climbed 3.1 percent.
Aggressive marketing and advertising for OPPO's flagship "R9" phone helped to boost sales in the quarter, IDC said.
[OPPO] continued to leverage its strength in Tier 3 to Tier 5 cities in China, which significantly contributed to growth, according to IDC.
In a separate report released Wednesday, Strategy Analytics said OPPO was also expanding rapidly into foreign geographies in Asia, such as India, and other emerging markets.
Despite its promising prospect, OPPO has a long way to go to catch up with market leader Samsung, which shipped 77 million handsets in the second quarter and had a market share of 22.4 percent, thanks to the popularity of its latest flagship "Galaxy S7" and "S7 edge" models.
Second-placed Apple shipped 40.4 million handsets for the same period, holding 11.8 percent of the market, with users likely delaying their purchase to the next quarter when a new iPhone model is expected to be released.
Huawei, which recently said its smartphone shipments for the first half of the year jumped 25 percent on-year, shipped out 32.1 million units between April-June, according to IDC data, and had a 9.4 percent share of the market.
On a more positive note, Strategy Analytics' Linda Sui said in the Wednesday report there are "emerging signs that the global smartphone market has reached a bottom in the first half of 2016."
"The growth outlook for the second half of this year is brighter due to multiple big new product launches from Samsung, Apple and others," said Sui.
[Source:- CNBC]