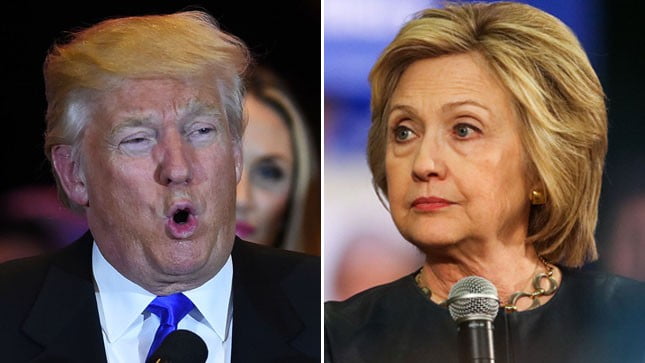 Donald Trump edges out Hillary Clinton by 2 points in a Reuters/Ipsos poll released Tuesday, the first time since May the GOP presidential nominee has led the presumptive Democratic pick.
The new survey, released the same afternoon Clinton was set to become the official nominee, found that Trump leads her 39 to 37 percent, while 24 percent won't vote for either candidate. The former secretary of State led Trump by 3 points on Friday.
Trump has seen a bump in the polls since he officially accepted the GOP nomination at last week's convention in Cleveland. Monday was the first time that Trump has overtaken Clinton in an average of head-to-head national polls since May.
Clinton will make her acceptance speech at the Democratic National Convention in Philadelphia Thursday night.
Back in early May, after Trump became the last man standing in the GOP primary, the real estate mogul led Clinton by a razor-thin margin of 0.3 points.
The Tuesday poll was conducted from July 22 to 26 and surveyed about 962 likely voters via online. The margin of error was 4 percentage points.
[source:- The Hill]