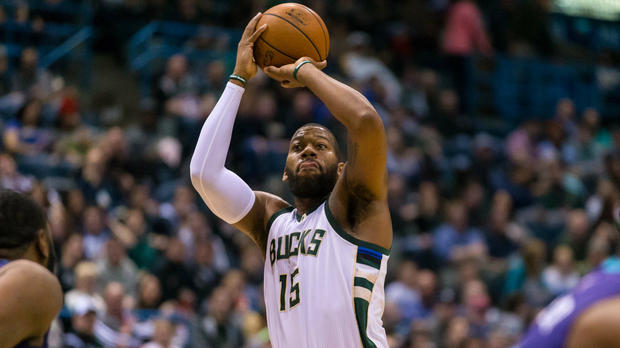 When Greg Monroe signed with the Milwaukee Bucks last summer, it was supposed to be a win for all the small markets — a clear indication that they could now realistically compete for, and ultimately get, the big names on the free-agent market. Monroe, who shunned offers from both the Knicks and Lakers, was seen as a key, if not a star addition to a playoff team on the rise. It was a huge deal for Milwaukee to land him.
Oh how quickly things change in the NBA.
Over the course of the past year, as the Bucks devolved from a team that was a No. 6 seed in 2014-15 to a 33-49 squad that finished nowhere near the playoffs in a vastly improved Eastern Conference, the once-optimistic dialogue around Monroe took a pretty sharp dive as well.
Even though he was more or less the same player last season that he has been throughout his career, the big contract brought a lot more scrutiny to Monroe's game, and suddenly, as the Bucks struggled, critics turned him into a symbol of the type of non-shooting, defensively limited big that just doesn't fit well in the modern NBA. This isn't necessarily a fair evaluation of Monroe's game. It's not necessarily unfair, either. He's a strange case, one of those guys with a lot of the right numbers but some lacking substance.
What we know for sure is he didn't (doesn't) fit particularly well with the Bucks, who began phasing him out of a featured offensive role less than three months into the season. He was pulled from the starting lineup after the All-Star break, and by the end of the season he was averaging less than 30 minutes per game. Despite several reports that Milwaukee would not move Monroe, there were just as many reports that the Bucks were at least discussing trading him before the deadline.
Those reports resurfaced in June, and most recently Marc Stein of ESPN reported on Zach Lowe's podcast that the Bucks had talked to the Pelicans about a potential deal. So really, what kind of a player is Monroe? And why are the Bucks looking to deal him? Let's take a look.
TALENTED BUT REPLACEABLE
Here's the good: Monroe is 6-feet-11, 265 pounds, ambidextrous, and he has tremendous footwork in the post. Last season, Monroe finished with 32 double-doubles, more than LeBron James and Kevin Durant and just one less thanDraymond Green. He also averaged 15.3 rebounds per 100 possessions, which wasgood for 13th best among big men in the league.
Overal, Monroe averaged a healthy 15.3 ppg and just under nine rebounds. He shot 52 percent overall from the field, and according to Synergy Sports, was in the 81st percentile overall offensively, averaging 1 point per posssession for the season.
To put that in context, among players with at least 1,000 offensive possessions, Monroe was ranked 17th-most efficient in the league by this metric, comparable withRyan Anderson and right above Chris (freaking) Paul. That doesn't mean he's a better scorer than Chris Paul, but it does show you just how efficient he was.
Monroe has no major injury issues, and outside of a two-game suspension in 2014 for DUI, he has had no off-court issues. Of the Bucks' top five lineups in net points per 100 possessions, Monroe was in three of them. There's ample evidence that Monroe is a good, gifted player.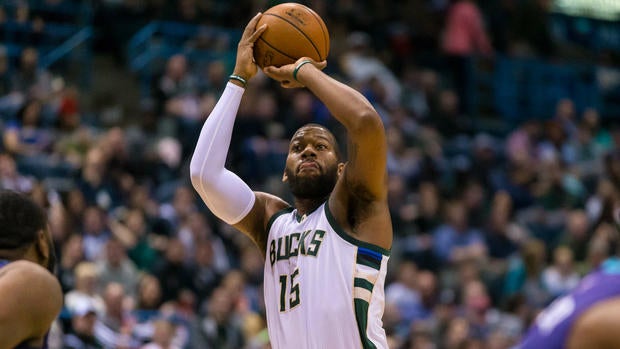 OK, now for the bad: Monroe is a non-shooter — 41 percent on just 17 pick-and-pop attempts last season. For spacing issues alone, it's tough these days to build your team around a limited offensive threat like that, particularly when he's not a guy who's going to command consistent double-teams in the post.
That's really why the Bucks went after Monroe so hard, his deficiencies notwithstanding. They didn't have anyone who could fill that role. But they found out pretty quickly that even with Monroe's scoring impact inside, it didn't open up enough on the perimeter, because even then, Monroe isn't a willing enough passer, though he is a pretty good passer.
Realistically, the only way to have a player like that anchor your team is if you're an elite defensive unit, which, incidentally, Monroe's presence prevents you from being as well. It's not that Monroe is, specifically, the weak point defensively; that burden is on every member of the Bucks, especially the youngsters.
In fact, individually, all of Monroe's defensive numbers are fine. He ranks in the 81st percentile at both defending the pick and roll and in the post. And yet, he just doesn't help a defense.
When Monroe was on the floor, the Bucks gave up 107.5 points per 100 possessions, which is significantly more than they scored. He has poor help instincts, and that's such a huge part of being a defensive center in today's game. Even with Giannis Antetokounmpo at power forward, Monroe just can't contain enough on the perimeter or help enough at the rim to prevent major problems.
Monroe is awful in isolation (30th percentile), which forces the Bucks to send help nearly every time he finds himself on the wrong end of a switch, and the trickle-down effect starts from there. This really sticks out when you go back and watch their tape. Nobody trusts Monroe on his own, so the weak side overreacts in his direction, and the Bucks end up surrendering a ton of open 3-pointers on the reversal.
Additionally, the biggest problem area with the Bucks' defense last season was in transition (ranked 30th by Synergy Sports), and while Monroe iss never going to get the statistical hit for this (because, frankly, he's never going to get down the floor fast enough to be in position to defend a transition play in the first place ) this is the type of eye-test stuff that makes Monroe's numbers appear somewhat deceiving.
To that point of misleading numbers, that aforementioned rebounding rate that was good enough for 13th in the league come with some fine print, too, as the Bucks' rebound percentage (total percentage of available boards grabbed) actually went upwith Monroe on the bench last season. So even though he's getting a lot of rebounds, his presence didn't mean the team rebounded better.
But again, what's interesting is that you can't pinpoint that Monroe as the problem for the Bucks. For example, Giannis Antetokounmpo, considered the cornerstone of the Bucks' future, had a better net rating with Monroe on the floor (minus-2.5 points per 100 possessions) vs. when Monroe was off (minus-3.0 points per 100 possessions).
Going deeper, while the defense with Antetokounmpo on the court and Monroe off did improve by five points, the offense also got worse by six points, so Monroe's presence was still a net gain. As stated above, three of the top five units for Milwaukee in net points per 100 possessions with over 50 minutes played featured Monroe.
Ultimately, the issue is not how Monroe hurts Milwaukee. It's how he doesn't help.He's just sort of there, putting up some nice numbers and doing some nice things without the proportional impact. Basically, he's replaceable. In a lot of ways he's like Carlos Boozer with the Bulls or David Lee with the Warriors. It's not that those players were bad, it's that their alternatives were so much better.
Given his contract, you can understand Milwaukee's motivation to move Monroe. The question is: Who wants him, and what can the Bucks get in return?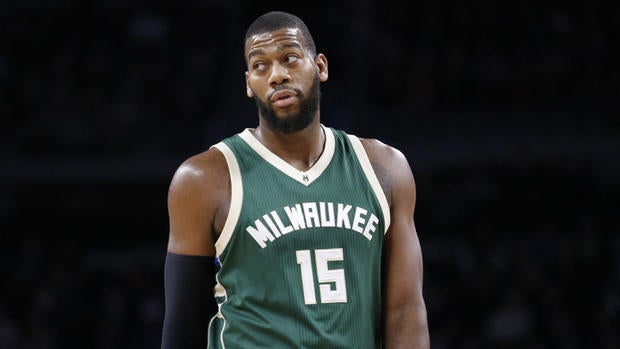 LOOKING AT THE OPTIONS
OK, so we know what kind of player he is, and what his future with the Bucks holds (hint: there isn't one). If he can't help the Bucks, who can he help?
One very big issue with any trade talks for Monroe: He will make $17 million this season, which after the new cap spike puts him in a very affordable range. Evan Turner will make that much per year, for example, on his new deal. However, Monroe has a player option for 2017-2018, and given the cap spike, he's almost certain to exercise it, which means he's basically an expiring contract.
Players of value on these kinds of deals have seen their trade value evaporate under the newest CBA. After all, why trade for them when you can just wait a year and pursue them in free agency?
That's one reason why the market is so stunted for Monroe. However, if he does get moved, here are a few of the candidates that would make sense. These trade targets are speculative, and outside of a history with New York and the Pelicans component, are not based on reported or sourced indications of interest. It's more to give you an idea of Monroe's market and what a trade would look like.
New Orleans Pelicans
As mentioned above, the Pelicans have reportedly been in talks with the Bucks for Monroe. What's interesting is that New Orleans, on the surface, makes the least amount of sense of any team on this list. Alvin Gentry's run-and-gun style is a poor fit with Monroe, and Monroe doesn't work well in any pick-and-roll schemes.
He works fine as a big postup defender to take the more bruising assignments forAnthony Davis, but you're still left with Davis having to clean up his mistakes. Scoring has not been a problem for New Orleans. However, if the Pelicans can get out from under the Omer Asik contract with this deal, it's a genius move.
New York Knicks
The idea of New York, which pursued Monroe in 2015, as a suitor seemingly ended when the Knicks added Joakim Noah on a four-year, $72 million deal. However, everything with the Knicks seems to be very temporary. Derrick Rose's contract expires after this season. If this combination gets off to a bad start and just doesn't work, wouldn't Monroe be a good way to pivot toward an alternative?
The idea of Monroe on a four-year deal may seem scary, but no more so than a deteriorating Noah with three more years at that price. Meanwhile, Milwaukee needs the veteran presence that Noah provides. A Noah-for-Monroe deal couldn't be done until later in the season due to Noah signing this summer, but if this situation drags on, Monroe maintains a good fit in the triangle, even with his passing reticence.
Denver Nuggets
Basically Denver has to be included on any potential trade list, for any player, because it's the only team with the combination of assets and available cap space to absorb any deal. "But wait," you object, "don't they already have Nikola Jokic andJusuf Nurkic (and Kenneth Faried and Joffrey Lauvergne and Darrell Arthur)?"
Sure. But Jokic is the only player the Nuggets are definitely building around. Denver could use an offensive upgrade and with the success that Michael Malone had withDeMarcus Cousins in the post in Sacramento, there's reason to think he could repeat that success with Monroe. The Nuggets could give up any number of quality players, young or old, and have the remaining components to continue building.
The problem? Monroe may not be a good fit next to Jokic, and he may not be an upgrade over Jusuf Nurkic. There are complications, to be sure, but the Nuggets are actively in the market for upgrades.
Washington Wizards
Is Monroe better than incumbent starter Marcin Gortat? Is he better than talented reserve Ian Mahinmi, who they signed in free agency? The answer is probably no, but here's the rub: The Wizards, whether through free agency or rumored trade talk, were attached to multiple centers as targets. For whatever reason, they seem intent on an upgrade.
Gortat would help the Bucks considerably and fit perfectly in a low-usage, high-efficiency defensive role. Monroe, meanwhile, could either start in Washington, givingBradley Beal and John Wall another scoring weapon, or could slide to power forward next to Mahinmi as the Wizards move Markieff Morris to small forward.
Monroe struggled in Detroit next to Andre Drummond, but then, Drummond also struggled next to Monroe. If that pairing works, it could be effective. The Wizards could also trade either Otto Porter or Kelly Oubre to Milwaukee, essentially picking between the two as their future core forward.
Portland Trail Blazers
Hey, if Neil Olshey has shown anything, it's that he's willing to invest resources in players that seem incredibly limited in other settings, and then watch as Terry Stotts makes it work. Stotts' post offense makes a lot of sense for Monroe and could bring out the passing ability he has shown flashes of having but never developed, and the Blazers could send the Bucks the other Plumlee so they have the complete set.
(They also could make this move later this season if Festus Ezeli doesn't thrive right off the bat).
Boston Celtics
The Celtics always want that big-name player without having to actually give up anyone of consequence, and if the Bucks just want to move on, this isn't a bad option. Brad Stevens was able to make Kelly Olynyk into a plus defender last season, and Monroe is at least as talented as Olynyk.
He can play next to Al Horford, who covers up many of his deficiencies, even if rim protection would remain an issue, and the Celtics could land him without giving up "coveted" assets Avery Bradley, Marcus Smart or Jae Crowder (and if they only gave up one of those guards, it's still a good deal).
It's not the sort of player that Boston was hoping for (Jimmy Butler, DeMarcus Cousins, Kevin Durant, etc.) but it is a major upgrade in terms of scoring, which they need, and can be had for what is an acceptable cost.
TO WRAP UP
Monroe is talented, but there are reasons for the Bucks to move on. Whether they're able to do that is a different story, as each team listed above has good reason to pass on a potential trade. Monroe was signed as a shining example of how Milwaukee had turned the corner. Now the Bucks are trying to piece together a new reality on the fly, while also finding a good return on a player they thought would be a key member of their core.
[Source:- NBA]