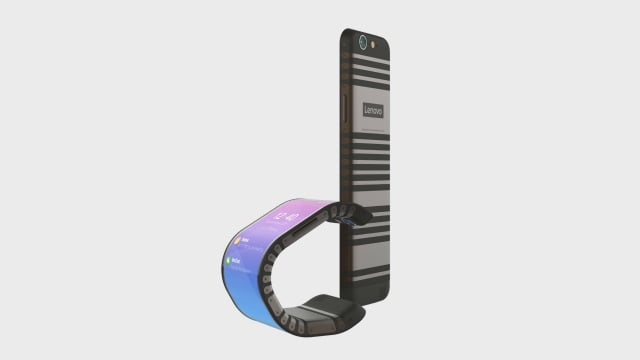 The first bendable smartphones, capable of rolling up around the owner's wrist, could be on the market in five years' time, the Co-President of Lenovo's Mobile Business Group, Aymar de Lencquesaing, said in a recent interview with CNBC. The news comes after the firm demoed a flexible prototype mobile at Lenovo Tech World in June 2016.
At the Lenovo Tech World event in June 2016, the Chinese manufacturer presented two prototype handsets with varying degrees of flexibility. The Lenovo Folio takes the form of an 8-inch tablet that can be folded in two, whereas the Lenovo CPlus is an otherwise regular-looking 4.26-inch smartphone that can be rolled around the owner's wrist like an oversized bangle. Both devices run Google's Android OS.
Note that Lenovo already got the tech world talking this year by bringing Tango augmented reality technology, developed by Google, to its PHAB 2 Pro phablet, scheduled for release in September 2016.
Lenovo isn't the only manufacturer working on projects of the kind, however. South Korean manufacturer Samsung is in the process of developing a smartphone concept with a screen that folds in half, codenamed Project Valley. This original device could initially be sold in Asian markets.
Samsung already previewed its own flexible displays, made from plastic, at the 2011 CES in Las Vegas, USA, as part of a project to build an unbreakable phone. This technology can evidently be rolled out to tablets too. What's more, Samsung, like LG, is also said to be working on transparent displays.
Samsung has suggested 2017 as a probable release date for a first foldable smartphone, although this might be less sophisticated and spectacular than the Lenovo CPlus.
See the Lenovo CPlus and Folio demoed by YouTube vlogger, Meghan McCarthy:
[Source:- DNA]