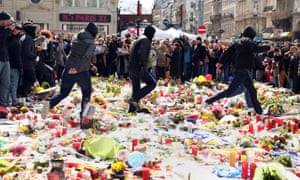 Riot police fired water cannon at far-right demonstrators who invaded a square in the Belgian capital on Sunday, shouting anti-immigrant slogans at the memorial to the victims of the Brussels attacks.
Approximately 200 men wearing black, some of whom were masked, shouted nationalist and anti-immigrant slogans and made Nazi salutes as they moved in on the Place de la Bourse, where people had laid flowers and candles in honour of the 28 people killed and 340 injured in last week's suicide bombings at Brussels airport and metro.
Riot police with shields and water cannon cleared the square and 10 people were arrested. The protestors chanted slogans including "this is our home" as people who had gathered earlier to light candles at the memorial in front of the former Brussels stock exchange shouted back: "No to hatred."
The mayor of Brussels, Yvan Mayeur, said he was "appalled … that such thugs have come to provoke residents at the site of their memorial". The country's prime minister, Charles Michel, condemned the demonstration.
In the grieving Belgian capital, a memorial "march against fear" initially planned for Sunday was called off after authorities said they couldn't divert much-needed police resources away from the investigation into the attacks.
Belgian police were questioning four new suspects over terrorist activities after 13 raids in Brussels and the northern towns of Mechelen and Duffel on Sunday morning. The state prosecutor's office said the raids were linked to a "federal case regarding terrorism" but did not specify whether the suspects were being questioned about the Brussels suicide bombings.
Belgian investigators are continuing DNA analysis to determine the exact role of Fayçal Cheffou, the first man to be charged over the Brussels airport and metro suicide-bomb attacks. Cheffou, 31, a Belgian national, has been charged with terrorist killings.
Belgian authorities have not yet confirmed whether Cheffou is the suspected third bomber at Brussels airport, known as the "man in the hat" after CCTV footage apparently showed him pushing a luggage trolley next to the bombers, Ibrahim el-Bakraoui and Najim Laachraoui. A source close to the inquiry told AFP: "That is a hypothesis the investigators are working on."
Cheffou was known to police. He had served a prison sentence in 2003 when he was 18, for criminal association and complicity to murder, Reuters reported. The Belgian website SudInfo said that in the 2003 case, a weapon found at Cheffou's house by a friend had been involved in an incident in which another friend was killed.
Cheffou had reportedly become increasingly radicalised in recent years and had been flagged up by charities working with asylum seekers in Brussels late last year, after attempting to recruit asylum seekers from a park where they were sheltering in tents. Mayer said authorities had stopped Cheffou several times when he was trying to encourage young men camping in the park to turn to radical extremism. The mayor said he was a dangerous man and had eventually been banned from visiting the park.
Former volunteers who worked with asylum seekers in the park described Cheffou to the Belgian paper Le Soir as "aggressive" and someone who "liked power".
Investigators are also working to determine Cheffou's movements at the time of his arrest in Brussels on Thursday. Cheffou was being tailed in a car by police when he was arrested outside the prosecutor's office in the city centre. This imposing building near the law courts is the headquarters of the state prosecutor who is leading the judicial investigation into the Brussels attacks.
In the past, Cheffou had presented himself as a freelance journalist but it was not clear whether he had ever actually worked as one.
Meanwhile, a man who was shot and arrested at a tram stop in a vast police operation in Schaerbeek in Brussels on Friday has been charged with terrorist activities. He was charged in connection with an alleged foiled terrorist attack in France last week in which a police raid found arms and explosives material in a flat in Argenteuil on the edge of Paris.
An Algerian man, Djamal Eddine Ouali, 40, was arrested in Italy on Saturday at the request of Belgian police. He was wanted over allegedly producing and procuring false documents, which could have been used by members of the network connected to the Brussels attacks and November's Paris attacks.
A 32-year-old French man was arrested by Dutch police in the city of Rotterdam on Sunday night, on suspicion of planning a terror attacks. French authorities requested the man's arrest, although state prosecutors did not mention whether there was any connection to November's Paris terrorist attacks.
Three others, including two men of Algerian background, were detained in the police operations on two streets in the west of Rotterdam.
Amid rows over the state's failure to keep tabs on radicalised criminals, Belgium's interior minister, Jan Jambon, said the government had invested €600m in police and security services over the past two years. But he said neglect over decades had caused deficiencies that had hampered an effective response to violent extremism.
Jambon said errors were made in the run-up to the attacks but argued that new investment needed time before becoming visible. He said hiring counter-terrorism specialists and specialised equipment could not happen in weeks or months.
[Source:- The Guardian ]