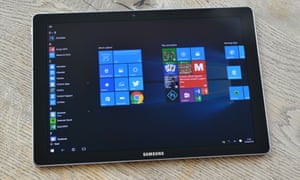 The Windows 10 Anniversary Update – the largest update to the PC operating system since its big revamp in 2015 – began rolling out to consumers on Tuesday.
More than 350m devices have been upgraded since Windows 10 was released in a Microsoft campaign that bombarded computer owners with invitations to get the new version for free, pushed it out to computers automatically and installed it without users realising.
The Anniversary Update sees Microsoft's virtual assistant Cortana become more central, being used as part of any search, while a new feature called Windows Ink enables users to annotate on their screens more freely, and across different apps, with a stylus.
The Microsoft Edge web browser, introduced in Windows 10 to replace Internet Explorer, is also being tweaked so it becomes more power-efficient.
The technology firm said: "We are committed to delivering continuous innovation to you: including features that bring Windows Ink and Cortana to the mainstream; a faster, more accessible and more power-efficient Microsoft Edge browser; advanced security features for consumers and enterprises; new gaming experiences and new tools for the modern classroom.
"Everyone running Windows 10 will get these new features for free."
The advanced security features include facial recognition technology, Windows Hello, being made available to log in to websites and apps.
The Anniversary Update comes days after Microsoft ended a free upgrade programme for users eligible to update to Windows 10, which was released in July 2015. Now, anyone wanting to move to the software from either Windows 7 or 8 must pay for Windows 10 though some users have found workarounds.
[SOURCE:-THE GUARDIAN]