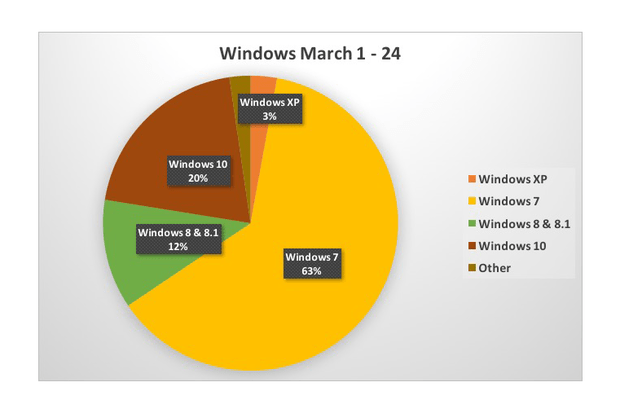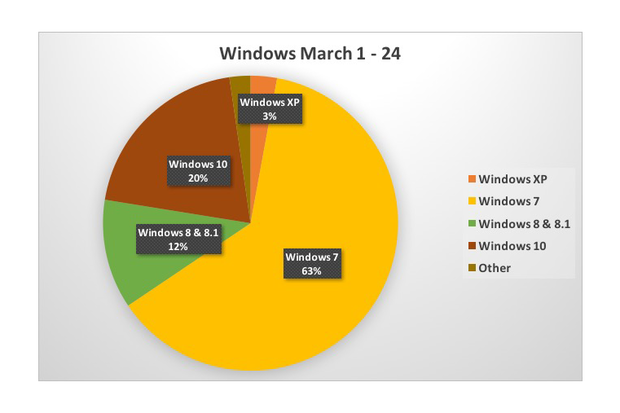 One in five Windows-powered devices steered to a host of U.S. government websites in March ran Windows 10, according to preliminary data.
For the first time, Windows 10 accounted for more than one-fifth of the visits to sites tracked by the Digital Analytics Program (DAP), which mines traffic to more than 4,000 websites on over 400 different domains maintained by U.S. government agencies, such as the Internal Revenue Service and the National Weather Service.
Through Thursday, Windows 10 recorded 20.2% of visits in March by Windows PCs, smartphones and tablets. That was a one-percentage point increase from February and more than two percentage points above January's.
Although Microsoft irregularly trumpets the number of devices running Windows 10 — the last time was nearly three months ago — data from DAP and metrics vendors like Net Applications and StatCounter are the only publicly available sources for monitoring Windows 10 adoption.
But these external measurements are rough at best.
A case in point: Because overall traffic to DAP websites plummets on weekends — total visits by Windows devices on Saturday and Sunday are typically less than half that of a weekday — Windows 10 may be unrepresented, as more Windows PCs used during the work week are business machines, which predominantly run the corporate standard, Windows 7.
Microsoft has just over four months left to boost Windows 10 adoption by pushing the free upgrade to eligible Windows 7 and 8.1 devices. That deal is set to expire July 29, on the one-year anniversary of Windows 10's launch.
Windows 10 adoption growth has slowed each month this year. At the pace of past three months, Windows 10 should account for approximately 26% of DAP's traffic by the end of July. (Other data sources have repeatedly portrayed global adoption of Windows 10 at lower rates than in the U.S.)
Will that match whatever goal Microsoft set when it decided to give away upgrades? Microsoft's not saying, and even if it did, there would be no way to verify any claim.
Some have speculated that Microsoft may extend the free offer to continue to press Windows 10 adoption, the ultimate rationale behind the concept. That's certainly possible: Microsoft has seemingly been flying by the seat of its pants the last year or so, with changes, many of them reversals of decades-long practices, being announced about everything from support to updates. Backtracking on the offer's deadline would be a blip compared to some policies the company has modified since Windows 10's release.
Wes Miller, an analyst at Directions on Microsoft, didn't think Microsoft would do free past July.
"If they extend [the free deal] past July, they might as well as extend it forever," Miller said Friday. "The longer Windows 10 is free, the harder it becomes to end it. Microsoft is cognizant of that."
Miller pointed out that, while Microsoft pledged to give away Windows 10 upgrades to consumers running "Home" versions of Windows 7 and 8.1, and to businesses that rely on the "Professional" or "Pro" versions of those operating systems, it has continued to charge computer makers for licenses, and just as importantly, has not removed the price tag from "Enterprise," the SKU (stock-keeping unit) aimed at corporations.
Prolonging the free upgrade, whether to a later deadline — which would raise questions about the likelihood of another extension — or making Windows 10 upgrades free forever for a subset of the market — would put the paid/not-paid contrast into even starker relief, stressing Microsoft's relationships with its OEM (original equipment manufacturer) partners and enterprise customers. Those are the firm's bread and butter for Windows revenue.
One side effect: Even slower sales for PC manufacturers, which have been affected by the deal, as consumers and small businesses simply hold on to older systems rather than buy new devices.
Microsoft certainly has adoption as Job No. 1 for Windows 10, said Miller. "The end of all this, the most important piece for Microsoft, is adoption of the Universal Windows Platform," Miller acknowledged even as he said there were other considerations Microsoft had to keep in mind. "If OEMs are still paying for licenses, extending the free upgrade is a very odd and very concerning precedent."
[Source:- Computer World]