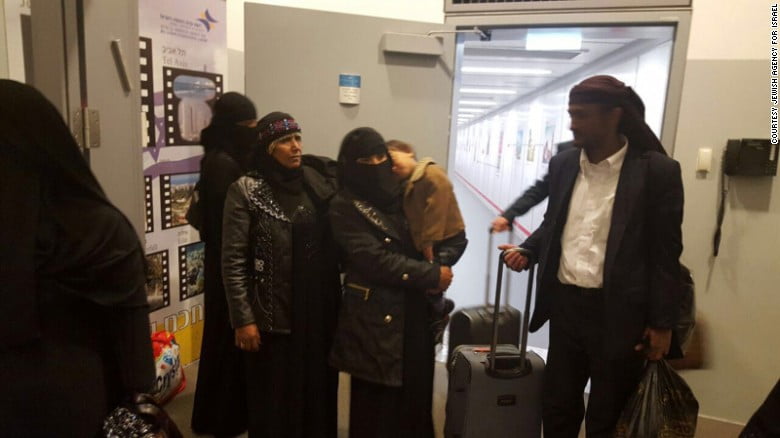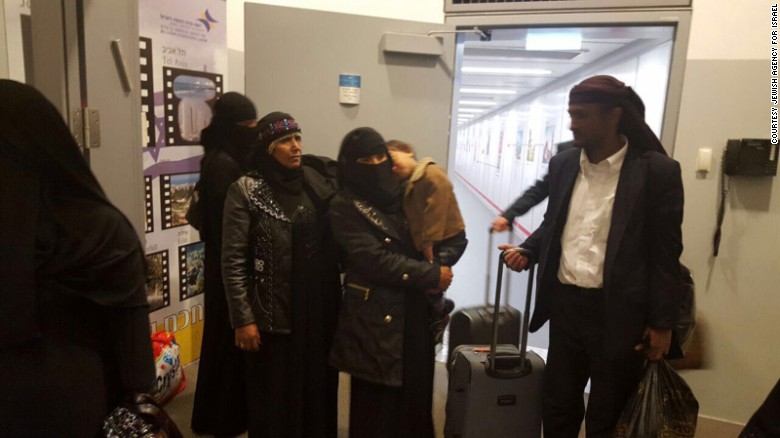 The flight landed in Israelin the dead of night. Its origin was a secret. So were its passengers. Only well after the plane touched down at Tel Aviv's Ben Gurion Airport and the passengers disembarked and made their way to their temporary home did the secret come out.
Seventeen Yemenite Jews were onboard, some of the last of Yemen's dwindling Jewish population escaping the war-torn country. They arrived under cover of darkness, wearing their traditional headscarves and speaking their native Arabic.
They boarded buses to the immigration center in Be'er Sheva in southern Israel, where family members who had already moved to Israel greeted them with a shower of hugs and kisses.
Sulaiman al-Dahari came with his family. His brothers and sisters. His children. His mother. The family lived far away from the civil war, Dahari said, but they escaped Yemen's crumbling economy.
Dozens killed in airstrike in Yemen
"The situation there is mixed between fear and poverty. The economic situation is bad. I feel comfortable here in Israel," Dahari said. Even though he feels at home, he promised his journey has not ended.
"Of course, I will get back to Yemen, because my family and I love Yemen."
Dahari's family left a country that has become increasingly hostile to the small Jewish population in Yemen. Sectarian violence has torn the Gulf nation apart, and the country's Jewish population has fallen from a few hundred to a few dozen in recent years, according to the Jewish Agency for Israel, which tracks immigration to Israel.
Most of the remaining Jews live in a guarded government compound in the heart of rebel-held Sana'a.
"Now it is very, very hard. Very dangerous for them," said Zera Dehari, who left Yemen for the United States years ago. His cousins were among the latest group to leave Yemen. He flew to Israel to meet them.
"They're telling me it's very hard for them in Yemen now. It's not so easy. They can't even sell their houses, so now they are here," Dehari said. "Thank God."
Their journey took them through neighboring countries, said Israeli Deputy Minister Ayoob Kara.
The covert operation to bring them to Israel involved the Prime Minister's Office, the Jewish Agency for Israel and others, he said, including the U.S. State Department. Israel doesn't have full diplomatic relations with any of the Gulf nations, and bringing the immigrants from Yemen to Israel posed a logistical and security challenge.
If the operation were public, groups that view Israel as an enemy state could have targeted the Yemenite Jews. In addition, some Arab countries that have behind-the-scenes relations with Israel do not want to be seen dealing with Israel openly, Prime Minister Benjamin Netanyahu has said. The shortest trip over land would require the Yemenite Jews to travel through Saudi Arabia, which does not have diplomatic relations with Israel.
Historical roots in Yemen
Yemen's Jewish population dates back some 2,300 years, according to some estimates, with most Yemenite Jews living in Sana'a, the ancient capital of Yemen. For centuries, Jews in Yemen lived amongst a Muslim population, maintaining a devout lifestyle.
Most of Yemen's Jewish population fled after the creation of the state of Israel in 1948. In Operation Magic Carpet, Israel airlifted about 50,000 Yemenite Jews from Aden to Israel once the Imam of Yemen allowed Jews to leave.
In the past few years, some 200 Jews have secretly made the journey from Yemen to Israel, according to the Jewish Agency for Israel. The 17 who made the trip Sunday night join two more who arrived late last week. Most of the group come from Raydah, a market town in northwest Yemen; some came from Sana'a. The rabbi from Raydah brought with him a Torah scroll believed to be between 500 and 600 years old. He cradled it gently in his arms has he carried it with him.Israel's religious division run deep, survey finds.
"Praise God. I am very happy that I'm in Israel with my children and grandchildren," said Um Sulaiman, the matriarch of the Dahari family. She did not want us to use her real name.
"Praise God," she repeated. She mispronounces "Israel" when she speaks, unfamiliar with the name of a foreign country that has become her new home.
Not all of the Yemenite Jews were ready to leave the country. About 50 stayed behind, most in Sana'a, the Jewish Agency said, choosing to stay in a country that no longer has a significant Jewish community.
[Source:- CNN]