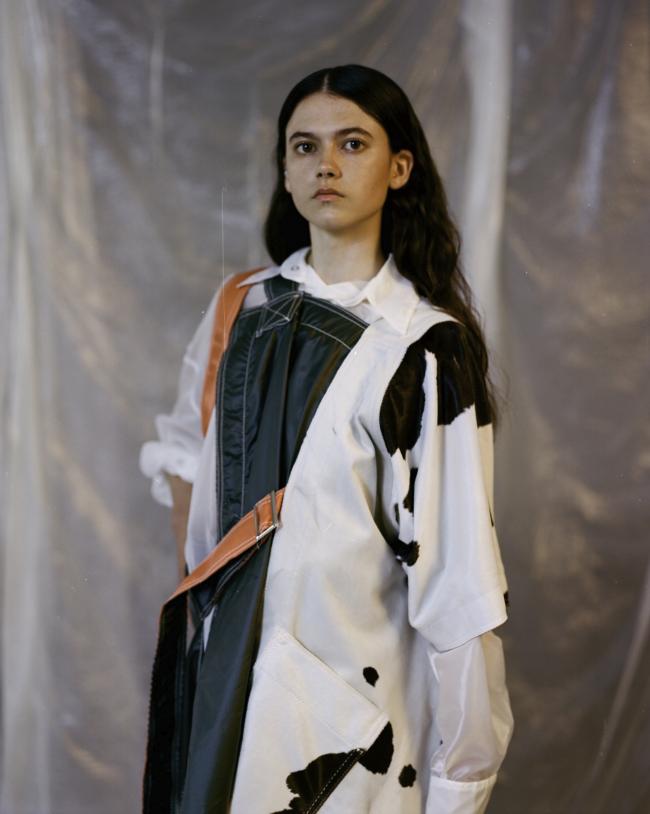 FASHION student Beth Hall has just landed a dream job with a top international brand after taking inspiration from life on her parent's York farm.
Beth, 23, whose parents farm cows at Strensall, has won a coveted prize of 10,000 Euro and a year's contract with top Spanish label Loewe which will see her working with their design teams on the continent from September.
The former St Peter's School pupil has just completed a fashion degree at the University of Westminster and fought off competition from more than 1,000 other international fashion students to win one of the three coveted prizes from LVMH, the French luxury goods giant.
Judges read like a who's who of the fashion world and included Karl Lagerfeld, Marc Jacobs, Nicolas Ghesquière, creative director of Louis Vuitton, and Phoebe Philo, creative director of Céline. They were won over by her final degree collection which features items more likely to be found on a farm than a fashion catwalk.
Beth explains: "My collection was based on growing up on a farm and farming and some of the garments are made from Wellington boots! I cut up the boots and stitched them together again to make garments."
Coincidently, some of the styling in Beth's collection echoed the latest looks coming out of Loewe's stable. This, believes Beth, is what made her work stand out from the competition.
Beth only found out the day before the prize was announced that she had one, and had to hot foot it to Paris for the awards ceremony.
She is still pinching herself at her good fortune. "It means I've good start-off position for my future career. It is nice to have some recognition for my collection."
And it makes up for the fact that Beth, who graduated with a 2:1 degree, did not have her collection selected for her university's press show at the end of term.
Landing a job with one of the leading lights in world fashion is the culmination of years of hard work and ambition.
During her fashion degree she undertook work experience to give her an insight into this seemingly hallowed world. This included internships with Christopher Kane in London and at Chloe in Paris.
"It was really good to see all the different aspects of the industry and to see where I wanted to aim to be in fashion," said Beth.
At Christopher Kane, she worked in the general studio assisting with pattern cutting; at Chloe, she worked in graphic design and textiles.
It all helped underpin her work and help develop her style. "I really like fabrication," she begins. "I always like to pick a fabric that's interesting or one that I can modify myself."
Modification doesn't come much bigger than turning wellies into wearable clothes, which is what Beth did with her prize-winning collection.
Keeping on the farm theme, she used cow hide too and designed smocks to resemble farm tunics.
And it is a homage to Beth's upbringing on the farm at Strensall where her parents Andrew and Beverley still raise cattle.
"I like to juxtapose my two worlds. I love them both equally. It made sense for me to base my collection around it. The farming/country lifestyle is where I have come from and this is where I am going."
And it was just sheer chance, she says, that these designs chimed with what Loewe were producing.
"I think when you compare my work to Loewe's last collection, you can see the similarities in the aesthetic. I reckon I can be a good match for the company."
In the future, Beth's dream is to work her way up through a top label and maybe one day launch out using her own name.
"Who knows. It's a difficult lifestyle being a designer, but it is something I have thought about. Having my own label would be a dream."
[Source:- THE PRESS]