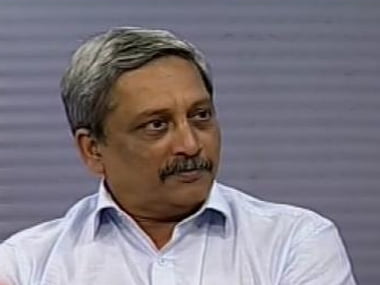 Often accused of being rambunctious and even tawdry, social media has nevertheless completely changed the way we consume news, undercutting the agenda-setting of large media outlets and loosening their tight grip on the flow of information. The importance of this cannot be overstated in an era where mainstream media habitually indulge in cherry-picking facts and using those to spin a discourse or reinforce a dominant narrative.
What happened with Manohar Parrikar following his comments at a book release function on Saturday night is the latest in a long string of such examples. Parrikar fell prey to what appears to be a either a wilful or inadvertent misrepresentation of facts. And had it not been for social media, the Union defence minister would have remained defenceless before a narrative that sought to show him as a tinpot figure who incites cyber mobs to crush dissenting voices.
During the release in Pune on Saturday of the Marathi version of a book on Siachen written by journalist Nitin Gokhale, Parrikar took what seemed to be a veiled jibe at actor Aamir Khan without taking any names. The popular Bollywood actor had last year created quite a furore by voicing "alarm" over "rising intolerance" in the country and had mentioned that his wife was toying with the idea of leaving the country in fear.
According to news agency PTI, Parrikar said: "One actor had said that his wife wants to live out of India. It was an arrogant statement. If I am poor and my house is small, I will still love my house and always dream to make a bungalow out of it."
Speaking in Marathi, Parrikar also said that when the actor had made the statement last year, many people had protested against his remark and even uninstalled the mobile application of an online shopping site he was associated with, while the firm had also pulled out the advertisement featuring him.
Also, in an apparent reference to the sloganeering at JNU earlier this year, the defence minister said those who speak against the nation "need to be taught a lesson by people of this country."
His comments, a large part of which was delivered in Marathi dialect, was also tweeted out by news agency ANI, which seemed to corroborate the PTI version.
The controversy erupted when The Indian Express, covering the same event in Pune, in a report quoted Parrikar as saying that "anyone speaking against the country must be 'taught a lesson' in the same way that an 'actor' and an 'online trading company' were taught.
To quote the newspaper's version:
"I am only trying to point out… if anyone speaks like this, he has to be taught a lesson of his life," Parrikar said at a ceremony to launch the Marathi edition of a book by journalist Nitin Gokhale.

"Actorne jeva hey kela, thehva jya company la toh advertise karat hota… online trading company hoti. Aple log thoda jaste hoshar ahet. Mala mahite ahey there was a team which was working on this… They were telling people you order and return it… The company should learn a lesson, they had to pull out his advertisement… (When the actor did this… then the company which he was endorsing was… an online trading company. Some of our people are very smart, I know. There was a team which was working on this. They were telling people you order and return it… The company should learn a lesson, they had to pull his advertisement)," Parrikar said.
This presents an impression that the minister "admitted" that "our team" went after the e-trading company (presumably Snapdeal) to have Aamir Khan removed as brand ambassador. That would truly be a stunning admission.
Some influential voices certainly interpreted it as such and the outrage quickly spread like wildfire.It was duly picked up by the Congress party, whose spokesperson Randeep Surjewala expressed "shock" at the "scandal" and not unsurprisingly, gave it a minority twist.
Here, two interesting things need to be pointed out.
First, the report does not mention the fact that the minister's remark "such people who speak against the country need to be taught a lesson by the people of this country" was in context of the sloganeering at JNU, not Aamir Khan's statement. This is an important omission.
Second, according to author Nitin Gokhale, at whose event Parrikar was speaking, the defence minister's statements were misconstrued. He never said "our people" had run a campaign to return Snapdeal's goods.
Gokhale quoted Parrikar as saying: "When this actor made this statement, the online trading company for which he used to advertise many people broke relations with the company…many quit and the smart alec ones placed orders and then returned them I know there was a team working on this which was telling people you order and return it…"
News portal opindia.com also came out with an English transcription of the Marathi speech of which a paragraph is reproduced here:
When this actor did this, the company for which he was advertising, was an online trading company. Many people broke relations with that company. Many people quit from the lease, and some over smart people ordered goods and sent them back. There was a team, which I know, was working on this. They were telling people you order and return it, this company should learn a lesson…
Some plebians also seemed to concur.
The hair-splitting is important because the devil lies in the details. In absence of the qualifiers, it does appear as if a senior minister in the Union cabinet had deliberately set the mob upon an e-commerce company and pressurised it to drop the Bollywood actor as brand ambassador.
However, the qualifiers add an altogether different dimension. Taken together, it seems Parrikar was narrating the event that took place last year without endorsing or condemning it. An apparently small shift denotes a big change in the discourse, more so while defining the actions of a government which has been facing charges of majoritarianism from almost the very moment it was sworn in.
There could be arguments about whether or not Parrikar should have refrained from raking up an old topic but the narrative of him being complicit in influencing the e-commerce firm's decision is certainly dubious.
[source:- F.India]