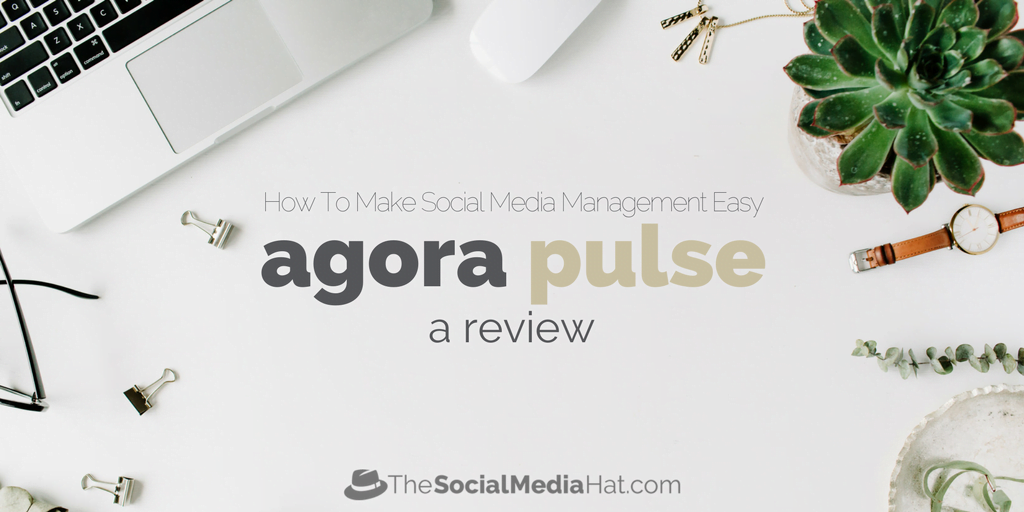 Tired of using 16 different tools to try to manage your social media activity?
Frustrated with the amount of time you're spending without seeing real results?
You're in luck! Today's Agorapulse Review is going to open your eyes to some time-saving possibilities! I'm going to walk you through all of the features and capabilities of Agorapulse, including which networks and network functions are supported. We'll also cover how much Agorapulse costs, who should use it, and perhaps most importantly, my own experiences, unique benefits observed, and the limitations that I've found.
Since not everyone has the same needs and questions, I divide my social media marketing tool reviews into the same logical sections and link to them here so you can skip to what interests you if you wish:
My Personal Experience With Agorapulse
Before we get into the meat of this review, I think it's important to let you know what my experience has been with Agorapulse. Did I just sign up for a free account yesterday? Or have I been using this tool to manage my social profiles for years?
In March of 2016, I was attending Social Media Marketing World in San Diego, CA. During a lunch break with my dear friend Peg Fitzpatrick, we were looking for a table and she saw her friend Emeric sitting by himself at the "International" table, so we joined him. Peg introduced me and then explained to me that Emeric ran a great social media management tool called Agorapulse.
Over the course of the next 45 minutes, Emeric and I got to know each other and he was kind enough to demo his tool for me on his phone. Needless to say, I was impressed, both with the tool and with this charming and approachable CEO.
Immediately after the conference Emeric provided me with a complimentary account "with no expectations." He just wanted me to use the tool but, after trying it out, I couldn't help but to incorporate it into my daily workflow, and of course write about it, many times in fact:
Since that initial meeting, I've had numerous emails, Skype calls and follow-up meetings with Emeric, have been an affiliate, an ambassador, and am now the Brand Evangelist for Agorapulse – which means I am now responsible for all of our ambassador and brand relationships.
As my go-to tool for social media management – in fact, Agorapulse is the one tool that I use each and every day – my experience with Agorapulse is immense. However, I continue to test and evaluate other social media marketing tools, which gives me the knowledge to be able to review & recommend the best possible tool for each unique business situation.
In each of these reviews I will be going over things like network compatibility, specific features and capabilities that are unique to a tool, and any limitations I spotted. These will help you decide if a tool is right for you, and having all of these facts in my head is what allows me to instantly compare tools and offer recommendations based on business requirements.
Who Is Agorapulse For?
This is always a more complicated question to answer than it seems.
On the one hand, the Agorapulse pricing plans, which you'll see below, easily indicate different sizes of businesses that are best suited for each level (Solopreneur, Small Businesses, Agencies, Large Organizations).
On the other hand, usage requirements must be considered.
For instance, if your sole social profile is a Facebook Page, you likely have little need for a social media management tool of any kind. If, however, you want to be able to schedule posts and monitor activity on Facebook, Twitter and Instagram, Agorapulse is uniquely suited for you.
So Agorapulse is for any blogger or business who is active on multiple social networks (full compatibility list below), and is looking for comprehensive scheduling, monitoring and reporting for those networks.
If you haven't already, now is a good time to make note of your known requirements. How many team members need access to Agorapulse? How many profiles do you need to connect? What specific features or capabilities, that you're aware of, are required and which are "nice to have?" Keep that list handy as we walk through the rest of this Agorapulse review.
Background & History of Agorapulse
Agorapulse was first released in 2014. Founded by Emeric Ernoult along with Benoit Hédiard, the successful French company has deftly carved out a niche for itself, particularly among social media experts and agencies.
Over the years, as Agorapulse has transitioned from a focus on Facebook management to more of a complete social presence tool, the features and pricing have adjusted accordingly.
The name, Agora, is Greek for a place where people meet, such as a marketplace or square. And Pulse refers to vibrations of energy. So Agorapulse is where your social energies and vibrations meet and come together.
In time, Agorapulse added support for Twitter, LinkedIn, Google+ and Instagram. In 2017, Agorapulse completely rebuilt their tool from the ground up, adding improvements to the functionality and user interface across the board, as well as paving the way for future enhancements.
Agorapulse is supported by a global team, and maintains an active feedback system giving users easy access to suggest features and comment on upcoming releases. And in recent years Agorapulse has been considered the top rated social media management tool.
Supported Networks & Capabilities
Agorapulse currently supports the following social networks and profiles. (As capabilities are added, this review will be updated.)
FACEBOOK
☐ Personal Profile
☑ Business Page
☑ Group
☐ Event
☑ Advertising
TWITTER
☑ Multiple Profiles
LINKEDIN
☑ Personal Profile
☑ Company Page
☐ Group
PINTEREST
☐ Multiple Profiles
☐ Board
☐ Board Section
INSTAGRAM
☑ Multiple Profiles
☑ Direct Publishing/Scheduling
☑ Story Publishing/Scheduling
☑ Video Publishing/Scheduling
☑ Advertising
YOUTUBE
☑ Multiple Channels
Pricing & True Cost – "How Much Does Agorapulse Cost?"
Agorapulse currently starts at $79/month for "small businesses" and has plans for agencies and enterprise. Here's the plan breakdown:
To calculate your "true cost" to use Agorapulse, consider how many team members you have and how many profiles you want to incorporate. Then look at the available plans and determine if an existing plan will suit you or if you need to add users or profiles.
For instance, imagine if you had a small business with you and someone else managing social, and had 2 Facebook Pages, 2 Twitter profiles, 2 YouTube channels, 1 LinkedIn profile and 1 Company Page, and 2 Instagram profiles. That means you need 2 Team Members and 10 Social Profiles. You could choose the Pro plan for $79/month and add Power Reports for $29 a month, giving you a total cost of just $108/month, paid annually.
Once you know your total monthly (or annual) cost, then consider the savings you will experience through convenience and time saved, as well as the potential of business growth through enhanced social media marketing.
For example, a business that normally spends a lot of time on Facebook and Twitter will generate dozens, perhaps hundreds, of comments, replies and mentions on those platforms. Monitoring and responding to that activity and a growing audience takes time. Time that Agorapulse expertly saves by streamlining that activity into easily-reviewed Inboxes, even including comments on ads that you're running.
Estimate the time that you can save each month, multiply by your hourly rate, then subtract from the Agorapulse total cost you calculated earlier. That's your true cost!
A free trial is available here. (and 2 free months!)
Unique Benefits
First and foremost, Agorapulse offers a comprehensive combination of social network support that's not seen in most tools. If you have profiles on Facebook, Twitter, LinkedIn, Instagram and YouTube, there aren't too many alternatives.
Second, Agorapulse has assembled one of the best scheduling tools, and it continues to improve with each iteration. You can schedule posts to be shared at a specific date and time, of course, but you can also choose to repeat them a number of times, an unlimited number of times, add them to a queue, and see all in calendar or list format.
Third, and perhaps most important, is Agorapulse's Social Inbox. Whether on desktop or the mobile app, Agorapulse merges all of your comments, mentions and messages for a particular platform into one easy-to-use stream of activity. And not only can you quickly review, assign or respond to comments, you can also allow Agorapulse to automatically review and 'hide' activity. This is particularly useful for Twitter Direct Messages as you can easily filter out and never see all of the common Auto DM spam.
Limitations
The one obvious limitation of Agorapulse, like most social media management tools, is missing capability for certain social profiles / networks. If you don't need to schedule activity for, say, Pinterest, then this is not a big deal.
The second limitation I've encountered is a lack of analytics for LinkedIn or Google+ (LinkedIn Reports were added 8/2018, Google+ was deprecated 2019). Again, this may not apply to you if you're not focused on those networks. But if they're important to you, alongside the other networks supported, the lack of built-in analytics means you will need to refer to the network's native reporting or other tools.
["source=thesocialmediahat"]