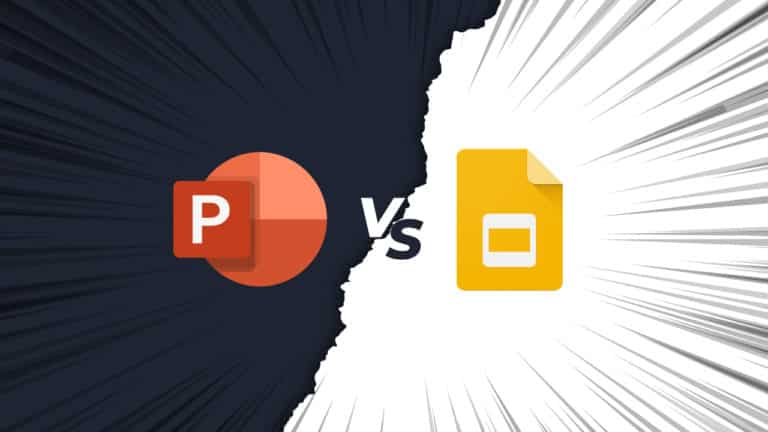 Presentations are a part of most businesses' strategies and often can make or break a potential deal. A good presentation can leave a similar first impression, and anything less can leave your company looking underwhelming.
Microsoft PowerPoint was the original digital-slide presentation software, released in 1990, and still stands strong today. It is not the only software on the market anymore, however, as numerous competitors have emerged.
Namely, Google Slides.
While standalone presentation platforms like Prezi do exist, most businesses utilize either PowerPoint or Slides full-time, and for good reason. Each is a part of Microsoft and Google's respective productivity suites, Microsoft 365 and Google Workspace, and provides the most bang for the buck.
The biggest difference between M365 and Workspace is Microsoft's desktop apps, full of features, compared to Google's smooth, collaborative, web-based offering. These differences extend to PowerPoint and Slides, as well.
In this post, we'll explore the differences between PowerPoint and Slides, and how much style you can sacrifice in the name of collaboration.
Microsoft PowerPoint vs Google Slides: Pricing
Microsoft 365 and Google Workspace are priced per user, per month, with different tiers of pricing, storage, and features.
Microsoft's desktop apps are not available through the company's Business Basic plan ($5/user/month), so users at that level will have to be satisfied with PowerPoint Online.
Meanwhile, every Google Workplace subscription comes with all its web apps. Google does not have downloadable desktop apps, and all must be run out of a web browser. These web apps are all available for free, but with limited features.
Microsoft offers its desktop apps for as low as $8.25/user/month, but users lose out on other functions like Microsoft Teams, SharePoint, and Exchange Online under that plan.
As for how much drive storage is available across all these subscriptions, see the graphic below:
PowerPoint files can be up to a maximum of 100MB in size, so reaching the high end of your cloud storage using only PPTX files would be a feat.
One TB of space on Microsoft's least expensive offering would be more than enough to house all your slideshows and plenty more. With just 30GB on their starter plan, Google's cheapest offering may not be enough, but the others will.
The features across both the entire M365 and Workspace suites could break the tie if you are unsure, but depending on how much you rely on slideshow presentations, what's under the hood of each app could make or break that decision.
Microsoft PowerPoint vs Google Slides: Features
Slide presentations are pretty straightforward in their utility – a linear demonstration of a plan, ideas, or facts. While the content itself is important, the style of your slides can get your point across more concretely.
Both platforms support charts and graphs, printing to PDFs, and linking to outside sources, as well as custom fonts, images, and videos.
While Slides have grown their library of templates, PowerPoint has a much deeper library, most of which are sharper than what Google has to offer. Ultimately, the templates that fit your business are a matter of personal preference, but PowerPoint has many more to choose from.
For comparison, Google Slides' templates:
Both PowerPoint and Slides have third-party templates that are available online.
If you want even more choice, PowerPoint also has options in the way of animations and slide transitions. Microsoft's offering even allows you to customize your transitions and animations with different speeds, angles, and more. You can even draw your own animations.
With an M365 subscription, PowerPoint Designer will use your title text to automatically generate theme suggestions for your presentation.
If you want the best-looking presentations to show to potential clients, your business needs PowerPoint. If your presentations are mostly internal, you can likely get away with using slides for free.
Aside from layouts, PowerPoint has other features that set it apart, like the ability to broadcast a presentation live by sharing a link. Slides also cannot embed audio.
Additionally, PowerPoint integrates perfectly with the other apps within M365 and is perhaps the app with the most to gain from it.
You can easily move your charts from Excel and tables from Word, displaying them proudly on your slides with little effort. The high-level templates offered by PowerPoint also allow for custom variations of the elements you import from your other Microsoft apps.
To integrate Slides with other Workspace apps, you'll need to grab some add-ons.
This is not to say that Slides does not have an advantage over PowerPoint in some respects. The ease-of-access thrives in some areas, like a quick reference guide with keystroke commands that sits at the bottom of your window.
Slides presentations can also be exported to PowerPoint, but PowerPoints cannot be exported to Slides. Though, if you've decided to pay for one, that won't matter too much.
Basic functionality with Google Slides gets businesses where they need to go, so long as they don't mind their presentation not standing out. The style and versatility of PowerPoint allow users to perfect their presentations with the highest possible standards.
Microsoft PowerPoint vs Google Slides: Collaboration
The applications within Microsoft 365 were built as individual, fully formed programs, with the capability of online collaboration added later in their life. Meanwhile, Google Workspace was built with collaboration in mind, leaving some of the heftier features behind.
Both offerings can be edited by multiple people concurrently, saving to the selected drive almost instantaneously.
Slides is certainly smoother in many regards in comparison to PowerPoint when working online. Not only do updates appear closer to real-time on Slides online, but it is also easier to choose who to share with and what permissions they have. PowerPoint takes a few more clicks for both.
While the online version is great, trying to utilize Slides offline through the Google Chrome app is a rough experience. The amount of resources absorbed by the Chrome browser itself makes it difficult to efficiently use Slides while not connect to the internet and causes tremendous lag.
This is where the Microsoft desktop app comes in handy.
The online collaboration of Slides is definitely a tad better than with PowerPoint, and if working together in real-time is a must, this might make Slides worth it in the long run.
Microsoft PowerPoint vs Google Slides: The Verdict
The applications across M365 and Workspace can vary in value for each business. Often, you can pick and choose what matters to you, and figure out your best option.
Perhaps more than any app comparison across these two suites, PowerPoint stands well above its competitor in relative value. If your company leverages slideshow presentations to generate revenue, your slideshows will look their best with Microsoft's offering.
Your content shouldn't stand on its own, and if packaged the best possible way, you can take presentations to the next level. On the contrary, if you are not marketing your efforts via slideshow presentations, neither app may be important to you.
IT Support Guys has leveraged the power of Microsoft 365 since 2008 when it was still called Business Productivity Online Suite (BPOS), and we have continued our partnership until the present day.
["source=itsupportguys"]