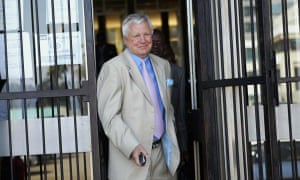 An arms dealer and a mining tycoon who had sanctions imposed on them as alleged cronies of Robert Mugabe were able to continue running their business affairs through offshore companies for years after concerns were first raised about their dealings by the UN and other authorities.
In November 2008, after violent elections during which hundreds of the Zimbabwean president's opponents were imprisoned and murdered, the US acted against those it claimed had provided him with financial and logistical support.
Sanctions were imposed on alleged regime insiders John Bredenkamp and Billy Rautenbach. Bredenkamp had built an estimated £700m fortune from tobacco trading, grey-market arms dealing, sports marketing and diamond mining. His arms brokerage, ACS, counted BAE among its major clients. Rautenbach had business interests in South Africa and investments in Congolese mines.
Europe blacklisted both men in January 2009. Their companies were registered with Panama-based offshore agent Mossack Fonseca and after Europe issued sanctions, the firm's partners quickly agreed to resign and make a report to regulators in the British Virgin Islands, where both Rautenbach and Bredenkamp's companies were incorporated.
But the Panama Papers, a leak of the internal data of Mossack Fonseca, appear to show the firm missed multiple external red flags in the years before the sanctions. Some of these might have prompted an earlier resignation, or more detailed checks on the source of funds. The firm also appears to have been slow to close down some of the companies in question, even after deciding to resign.
The files, obtained by the German newspaper Süddeutsche Zeitung and shared by the International Consortium of Investigative Journalists in Washington with the Guardian and other media outlets, show it took until March 2013 for all 16 offshore companies connected to Bredenkamp to be shut down.
The companies were wound down one after another. Mossack Fonseca said that in some jurisdictions it could take longer to resign from and strike off companies. The firm added: "Sometimes the authorities require the registered agent not to file any resignation in order to prevent obstructing their investigation."
Bredenkamp challenged the imposition of sanctions by way of judicial review proceedings in the high court in London, while Rautenbach also appealed against his listing in the US and in Europe. They were among a large cohort removed from Europe's Zimbabwe sanctions in February 2012, apparently as part of a drive to encourage political reform. The US lifted sanctions against Rautenbach in April 2014, but Bredenkamp remains blacklisted.
In 2001 and 2002, Rautenbach and then Bredenkamp were reported by the UN for their alleged involvement in funnelling profits from mines in the Democratic Republic of the Congo back to Mugabe. The deals were said to be payment for Zimbabwean military support during the DRC leader Laurent Kabila's violent rise to power.
The UN accused Bredenkamp's ACS of procuring equipment for the Congolese armed forces, helping fuel the country's violent civil war. Another of his companies, Tremalt Ltd, was alleged to have acquired mining concessions in Congo at below market price in a profit-sharing agreement between the company and the Zimbabwean and DRC governments.
The multimillionaire, who had a home in Berkshire, rejected the UN's claims, took legal action to clear his name and denied being a Mugabe crony.
Rautenbach fled South Africa in 2000 when a warrant for his arrest was issued on charges of fraud, theft and corruption involving his Hyundai motors distribution business. He later settled the matter with a fine, without admitting liability.
The UN reported that while Rautenbach was chair of DRC's state-owned Gécamines, some of its best cobalt producing areas were transferred to a joint venture between Rautenbach's Ridgepoint Overseas Developments Ltd and a Congolese minister of state.
A BVI company, spelt Ridgepointe Overseas Developments Ltd, and another, Tremalt Ltd, were both on the books of Mossack Fonseca. Ridgepointe was controlled by nominee directors and shareholders, with Rautenbach's lawyer, James Ramsay, referred to in the files as its "authorised representative". Bredenkamp was listed as a director of Tremalt.
In 2006, there was yet another external alert. The UK's Serious Fraud Office raided Bredenkamp's Knightsbridge townhouse and his offices in Berkshire. Investigators were looking for evidence of bribes paid to politicians as part of a deal to sell BAE fighter jets to the South African government.
At the time, Mossack Fonseca was acting for a clutch of companies registered in the BVI, including one called ACS Group Ltd. But the firm maintained the relationship. In 2007, it opened two more companies for Bredenkamp, Santa Carolina Resorts Ltd and Magaruque Resorts Ltd. They are named after two Mozambique islands where he was developing hotels and holiday homes.
In August 2008, it emerged that £40m had been paid by BAE Systems to a Bredenkamp company for which Mossack Fonseca was the agent. Kayswell Services allegedly received the cash from a London bank account belonging to Red Diamond Trading, a BAE subsidiary also registered in the BVI. Bredenkamp denied wrongdoing or any involvement in the BAE South Africa deal and no charges were brought.
Mossack Fonseca did not decide to cut ties until January 2009, following the sanctions. An internal email stated: "The partners approved to present a suspicious report to [the British Virgin Islands regulator] and resign as registered agent of the companies associated to Mr Bredenkamp." The same action was agreed for Rautenbach's Ridgepointe.
But the process was slow. Ridgepointe remained active until May 2009, six months after its US blacklisting. It took until September 2009, 10 months after US sanctions, for most of Bredenkamp's companies to be recorded as inactive. One called Millennium Enterprises Limited, a subsidiary of ACS Group Ltd, was seemingly not struck off until March 2013.
A spokesperson said: "Mr Rautenbach engaged both the US and the EU authorities after he and entities related to him was placed on sanctions. His engagement was successful and the authorities released him and his entities from sanctions. In this process the activities of all his entities were considered before and during the time of the sanctions."
Mossack Fonseca said: "We have never knowingly allowed the use of our companies by individuals having any relationship with North Korea, Zimbabwe,Syria and other countries or individuals sanctioned by the United States or European Union. We routinely resign from client engagements when ongoing due diligence and/or updates to sanctions lists reveals that a party to a company for which we provide services has been either convicted or listed by a sanctioning body.
"Also, sometimes the authorities require the registered agent not to file any resignation in order to prevent obstructing their investigation."
[Source:-  The Guardian]