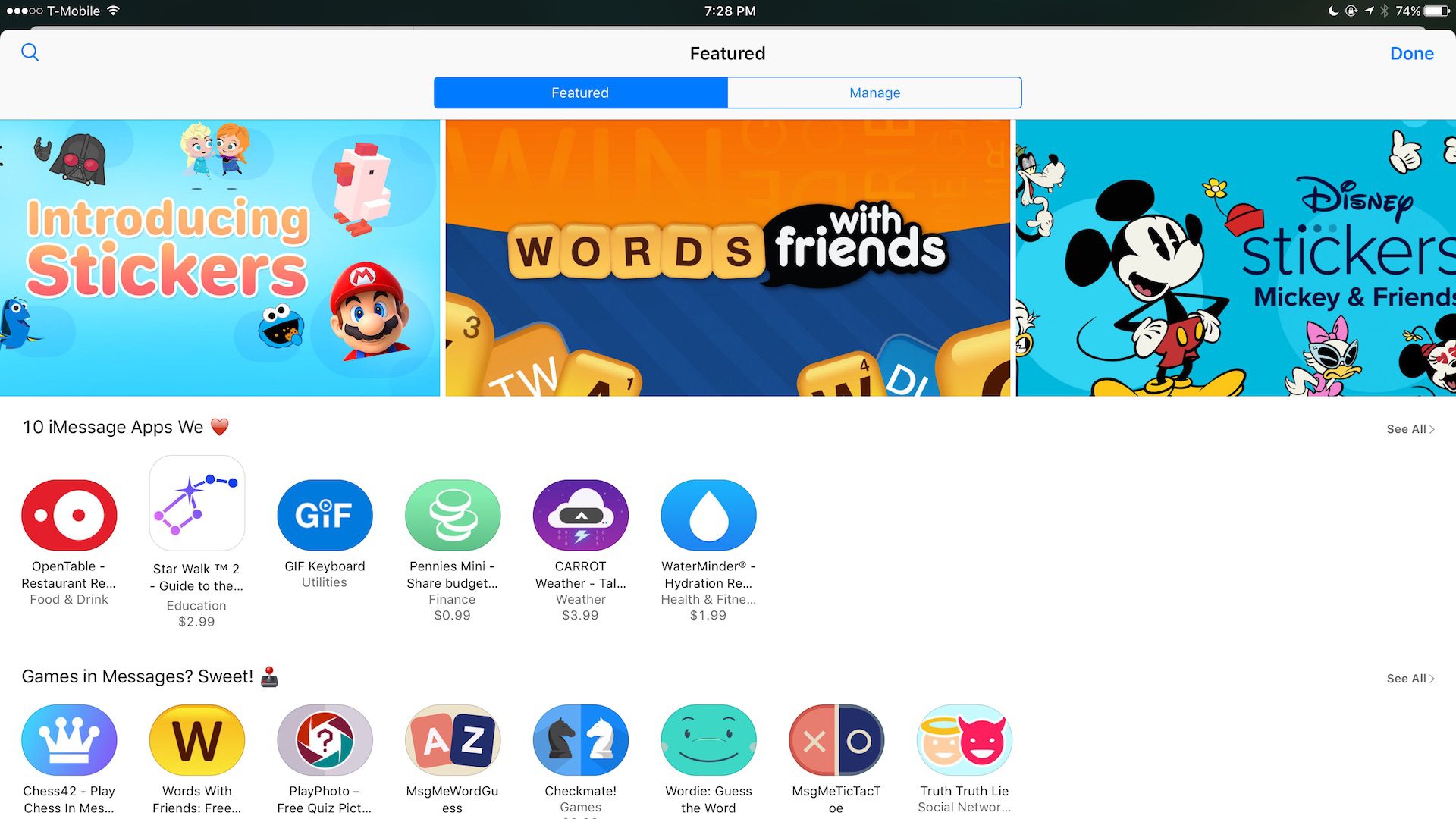 Let the deluge begin… Not long after the Super Mario Run iMessage sticker pack was made available to iOS 10 users, Apple has unleashed the entire iMessage App Store. The iMessage App Store, which is available for iOS 10 users, features sticker packs from companies like Disney, Bandai Namco, Sanrio, and others.
In addition to the sticker packs, the iMessage App Store features full-fledged iMessage apps and games. Several of the apps that were demonstrated during the WWDC 2016 keynote are here, such as Square Cash, OpenTable, and JibJab.
The iMessage App Store is only available for iOS 10 beta users today, but if you're not already on the beta, you'll only need to wait one more day, as iOS 10 is scheduled to go live tomorrow.
Apps and Games
The iMessage App Store appears to be launching with a decent helping of apps and games. We already mentioned a few, like Square Cash and Jib Jab, but there are plenty more to be found.
Some of the apps are standalone iMessage apps, while others are extensions of already existing apps in the main App Store. You can tell which apps are extensions when the regular app is downloaded on your Home screen. Standalone apps have no primary app, and live solely in the iMessage App Store.
Sticker packs can work in a similar manner. There are stickers that are extensions of apps, and standalone stickers that can created without needing to code anything. To differentiate the different types of apps and sticker packs, you'll see an "Only for iMessage" note above the Details tab on the App's description page.
New Disney Stickers
New Disney stickers include the following:
Disney Stickers: Frozen
Disney Stickers: Mickey & Friends
Disney Stickers: Stitch
Disney Stickers: Finding Dory
Disney Stickers: Beauty and the Beast
Disney Stickers: Inside Out
Disney Stickers: The Lion King
…And last but not least, Star Wars Stickers
Each sticker pack is available for $1.99, and despite the price, I can see these becoming ridiculously popular in very short order. Most, if not all, of the Disney packs are animated, and include a nice handful of stickers to choose from. For example, the Star Wars Sticker Pack that I purchased includes 21 high-quality animated stickers that can be peeled and pasted on conversation bubbles or sent as standalone replies. You can even peel and paste stickers directly on photos, as you can see in the vine below:
Unlike the Super Mario Run Sticker pack, it feels like a lot of thought and time went into the creation of these stickers. Not only are the stickers animated, but attention to detail has been paid to things like preserving the alpha channel for transparency.
We'll have much more about iMessage apps and stickers in the coming days. You can be sure that we'll see a lot more apps and stickers begin to roll out after tomorrow's big launch.
[Source:-Mac Rumars]