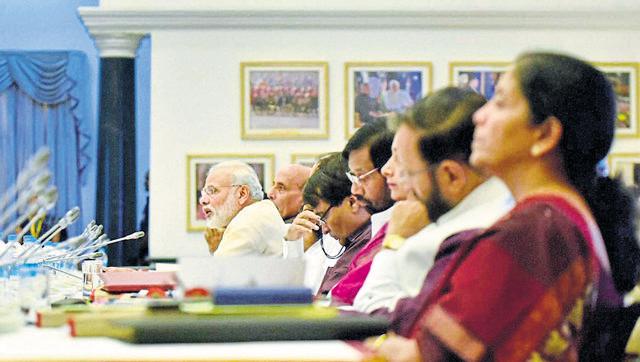 The political crisis in Arunachal Pradesh set off by the governor's recommendation to dismiss the Congress government cast a shadow on Narendra Modi's meeting with CMs on Saturday to discuss Centre-state relations.
As the PM stressed the need for 'cooperative federalism' and regular intelligence sharing among states to effectively counter internal security threats, several chief ministers attending the Inter State Council meeting targeted his government over the dismissal of Opposition-ruled governments.
Nitish Kumar led the charge with a demand to do away with governors, or at least give CMs a say in their appointment if it wasn't possible to entirely do away with the post. Arvind Kejriwal spoke of "anger in the nation" at the way President's rule was imposed in Arunachal and, before that, Uttarakhand.
"The existing federal democratic structure doesn't warrant continuance of the gubernatorial post. But if it is not possible to do away with it, then our opinion is that provisions relating to the appointment of a governor must be clearly defined and made transparent," Nitish said.
He also said the propensity to change governors whenever a new government takes charge must be curbed by making constitutional provisions.
Kejriwal said, "President rule should not be imposed in any state until the government fails to prove majority."
These issues form the subject of the justice MM Punchhi commission report on redefining Centre-state ties. The UPA-era report has been revived by the Modi government and its recommendations were up for discussion by the Inter State Council — set up as a forum for states to discuss issues of common interest but meeting for the first time in 10 years.
The panel, among others, recommends imposition of President's rule on a smaller area affected by internal disturbances rather than on an entire state, removal of governors strictly by impeachment by the assembly and giving the Centre powers to suo motu deploy central forces in states in emergencies.
But Mamata Banerjee resisted any interference in law and order, a state subject, while lamenting, "There is no platform for states to raise concerns. We weren't even consulted on the agenda for this meeting." With no unanimity on the panel's recommendations, PM said discussions would continue.
In other matters, the PM hailed the "near-total acceptance" of Aadhaar, and sought data from states on the extent of savings achieved with post offices turning payment banks.
But the CMs had their concerns. Banerjee said 800 panchayats in her state had no access to banking while Odisha's CM said low penetration of banks remained a major challenge. Late in the evening, there were reports that some CMs from opposition states were asked to leave their mobile phones outside. However, the information could not be independently confirmed.
[Source:- Hindustan Times]