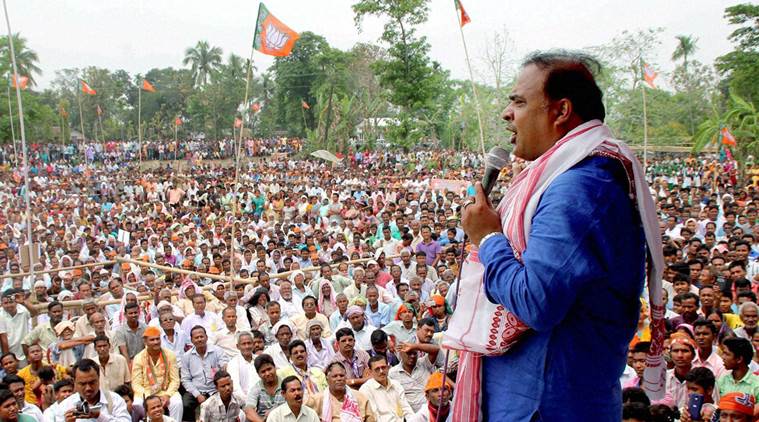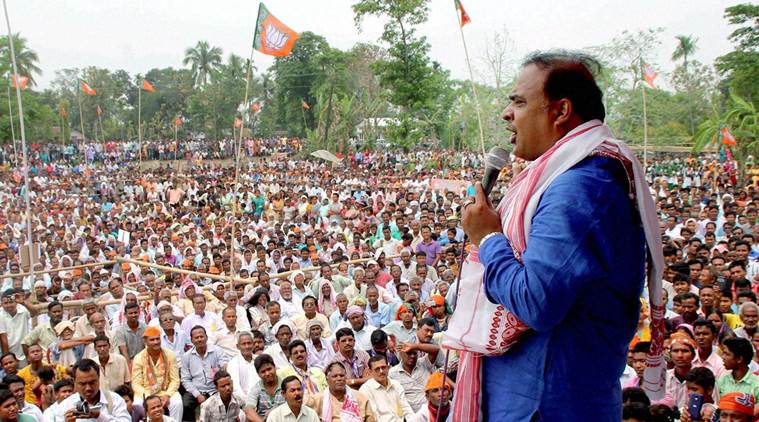 FROM THE airport to Assam's most inaccessible corner, it is Union Sports Minister Sarbananda Sonowal, the BJP's CM candidate in Assam, who smiles down from BJP hoardings and posters. This is the first time since the 2014 Lok Sabha elections that the BJP has chosen to fight a poll battle with a declared CM face, rather than banking on Prime Minister Narendra Modi alone.
On the ground, however, as Assam warms up to BJP's "poriborton" war cry, it is another man — one who appears only occasionally alongside Modi, BJP president Amit Shah and Sonowal — who holds a clear sway over the voters, far more than Sonowal, Shah or, in some cases, even Modi. Himanta Biswa Sarma, till recently a Congress minister and Chief Minister Tarun Gogoi's close aide, is the man every Assamese seems to be talking about. It is not without reason that Sarma is crisscrossing the state in whirlwind campaign mode, spending little time in his own constituency of Jalukbari.
In Jalukbari, Hemen Deka, a BSNL staffer, is confident about a BJP win, not just in the constituency but in the state as well. "I visit many houses for my work, hear people talk. There is a definite mood for change, people are tired of the Congress's middlemen and its government's performance. But Himanta is a different matter. He would have won, whichever party he contested from. More importantly, he is seen as a 'doer', so if he been with the Congress, the party would have had a real chance of a fourth term," he said.
That Sarma has an unassailable hold over his own constituents is something his biggest critic would be reluctant to dispute. And, a day after both Modi and Congress vice-president Rahul Gandhi addressed a string of rallies in the state, as The Sunday Express visited some of the places where they went, it was Sarma's name that came up the most on the last day of campaigning before voting on Monday.
In Nalbari, businessmen Nirmal Kumar Jain and Amar Chand Jain, whose ancestors left Rajasthan and came to Assam many generations ago, were generous in their praise of Sarma. "This time, the wind is clearly in BJP's favour because Assam wants change. But had it not been for Himanta, it would have been difficult. I have never seen a man who works harder or has a greater crowd connect. He has been addressing rallies every day and now has almost lost his voice… This time, the mandate will clearly be for him, and not for either Modi or Sonowal," said Nirmal Kumar Jain.
When it was pointed that the BJP has already announced its CM candidate. Amar Chand Jain replied, "That's for now. Who knows what may happen later."
Rahul addressed a rally in Nalbari earlier this week, but his party seems to have little hope beyond the 43,000-odd Muslim votes. Jayanta Mallah Baruah who won the seat on a Congress ticket last time has joined the BJP along with Sarma, but is not contesting this time.
Off the record, Congress leaders concede that Sarma's exit has been a blow. "That man was a magician when it came to winning elections," was how one leader from Delhi put it.
On Friday, Rahul addressed a rally in Kamalpur while Modi was in neighbouring Rangiya. At a stationery shop in Rangiya, the very mention of the word "vote" elicits excited declarations of a BJP win being imminent. Congress, they say, is only about dynastic politics and corruption.
"Like Sonia Gandhi is promoting her son, Tarun Gogoi is promoting his, and others their own families. There is a lot of money allocated for development. It all goes to the middlemen. In our constituency, it goes to sitting MLA Ghanashyam Kalita's cousin. Himanta is not a part of this, that is why he left the Congress. He wanted to work for the people, but the Congress would not let him," said Goutam Leherkar, a resident.
"We are looking for change and we know Himanta is a performer. But what really gives us confidence is Modi," said Mrinal Kalita.
There is little criticism about Sonowal, no rancour about him being the CM face. But all eyes are clearly on the former state minister, and not the state BJP president.
Rahul's rally does not seem to have swayed too many voters in Kamalpur, where Congress is locked in a battle with AGP's Satyabrata Kalita. There is support for Congress in some Muslim pockets, but the call for change and the inclination to give BJP "one chance" seems to be a greater unifier.
"I did not attend Rahul's rally, but I did go to Rangiya to hear Modi. We have seen the Congress. Even you can see the condition of the roads. What more do they have to offer? BJP deserves a chance, we will give them one. Nothing is permanent. If they do not perform we will change them too," said Mohammed Siraj Ali, a driver.
[Source:- Indian Express]