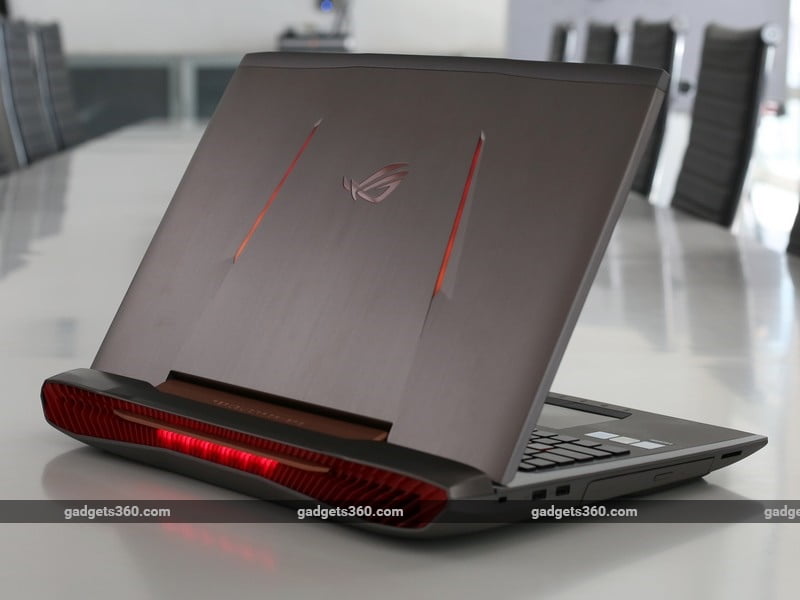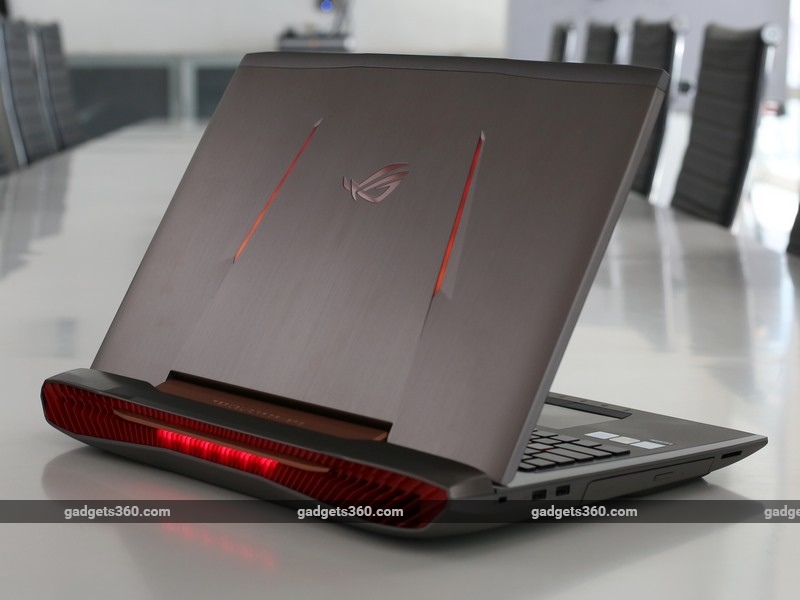 Asus recently updated its gaming arsenal with the launch of several new products in India, and today we'll be reviewing, what's easily, the most exciting of the lot. This is the ROG (Republic of Gamers) G752VY gaming laptop; a top-of-the-line gaming machine that's purpose-built for the most demanding of games.
We recently tested the Acer Predator 15 which is more or less along the same lines as what we have here today. However, the ROG G752VY is a desktop replacement which doesn't care to make compromises for the sake of portability.
Look and feel
Asus has been known to craft some pretty good looking products, and we feel that it's got yet another gem with this one. The ROG G752VY looks stunning from pretty much any angle, It makes you want to take a step back and just admire it. The hairline texture on the metal body coupled with the sharp styling and contrasting orange accents on the exhaust all make for a real head-turner. Build quality is very good and so is the fit and finish of the components. At 4.4kg, it's very heavy but as we mentioned earlier, it's meant to stay put on your desk.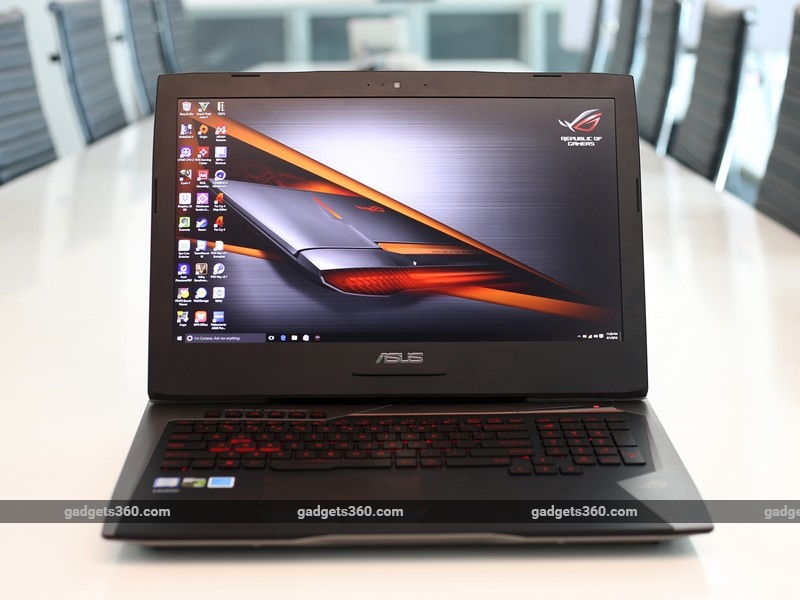 The lid does a good job of protecting the display, and we didn't observe any flex, even with applied pressure. The hinge feels durable and the screen can tilt backwards to about 160 degrees. The 17.3-inch IPS display has a matte finish so reflections aren't much of a problem. The LED backlit panel produces punchy colours and sharp visuals thanks to its full-HD resolution. Due to the larger size of the display, Microsoft Windows doesn't need to bother with scaling so older programs don't have that fuzzy effect that smaller, high-resolution displays tend to result in.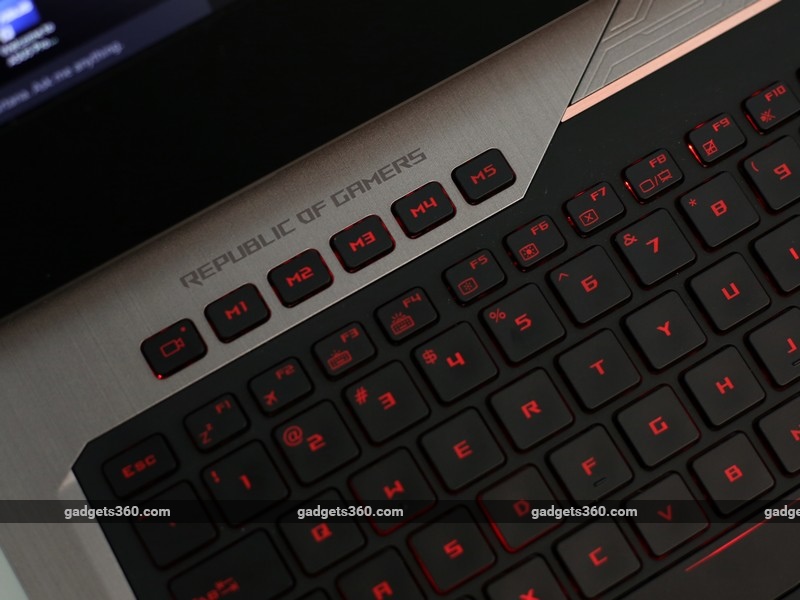 There's ample room for a full-sized keyboard and a generous trackpad. The chiclet keys are fairly comfortable to type and game with thanks to just the right amount of travel. You also get 30-key rollover and three levels of backlighting. You can't change the backlight colour though, so those who don't like red are out of luck. Asus gives you a dedicated ROG key in the Num pad cluster to bring up the Gaming Centre application, which we'll talk about in detail in the next section.
No gaming laptop is complete without macro keys and the G752VY has five of them located above the function keys. These can be used to either launch Windows applications or websites, or trigger macros. The button with the video camera on it fires up the XSplit Gamecaster application for recording and streaming your gameplay. The trackpad offers good control and Asus has even gone with individual left and right mouse buttons.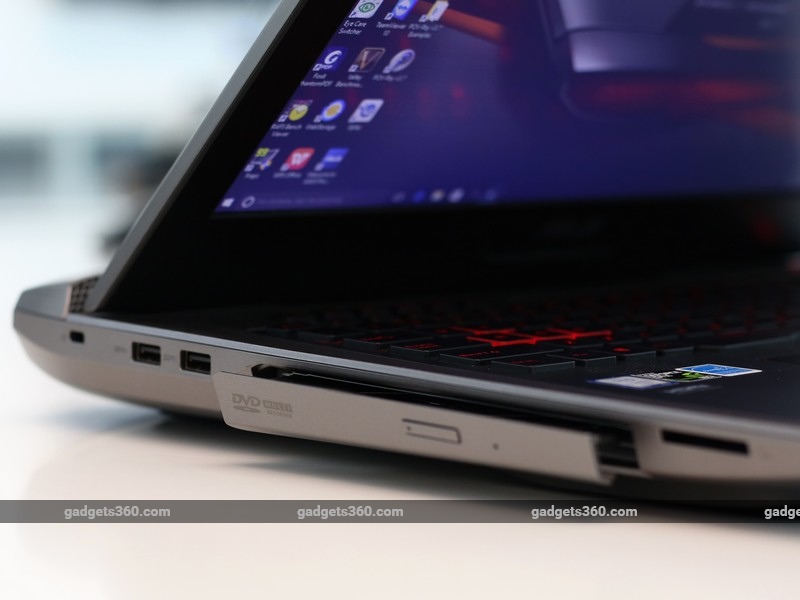 All the ports are placed on the sides of the laptop, and these include a total of four USB 3.0 ports, one USB Type-C (Thunderbolt 3) port, HDMI, Mini-DP, Gigabit Ethernet, microphone-in, headphones/ SPIDF out, and a line-in port. The laptop also gets a DVD writer, an SD card slot, and a 2.1 speaker system with some enhancements from Asus.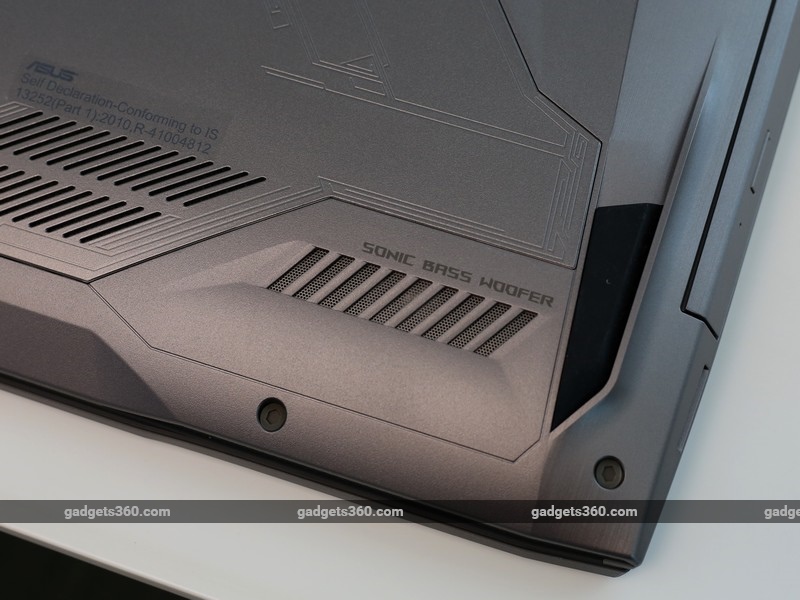 The laptop is propped up by four thick rubber feet, which give it some clearance in order to maintain good airflow. There's a flap on the bottom for access to the RAM, SSD, and hard drive. In the box, you get a charger and a few instruction booklets. Asus is also bundling a ROG gaming mouse, backpack and its Cerberus gaming headset with this laptop.
Specifications and software
There's nothing less than the best when it comes to the specifications. We have an Intel Core i7-6700HQ processor, 16GB of RAM, two Samsung 256GB NVMe SSDs plus a 1TB hard drive, and an Nvidia GTX 980M GPU with 4GB of dedicated GDDR5 RAM. The storage and RAM are easily upgradable thanks to the removable flap on the bottom of the laptop. The integrated display runs at a 75Hz refresh rate which is higher than usual, and supports Nvidia's G-SYNC technology. However, this means you have to forfeit Optimus, and have the discrete GPU running at all times. Other specifications include Wi-Fi b/g/n/ac, Bluetooth 4.1, and an HD webcam.
The ROG G752GV ships with Windows 10 Home 64-bit along with some promotional offers and freeware that we've seen before such as limited-time free space in Dropbox, a one month trial of Office 365, Foxit Phantom PDF viewer, WPS Office, and McAfee.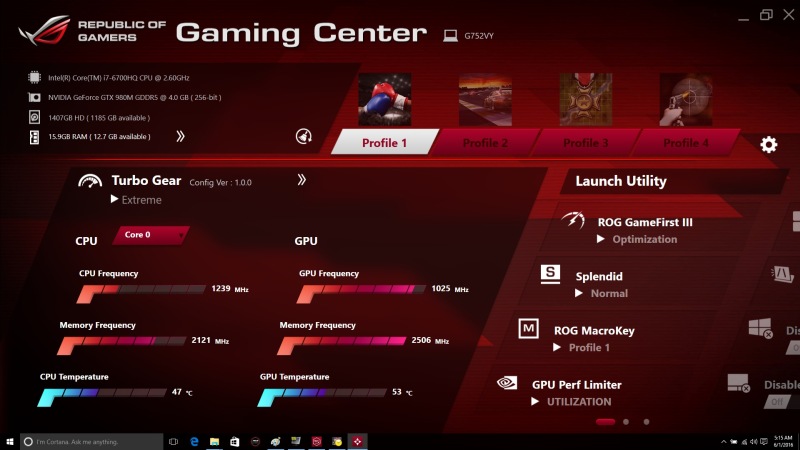 Asus also adds some of its own software applications into the mix, the main one being Gaming Centre. Here, you can view the speeds and temperatures of the CPU and GPU, customise profiles, or simply launch other Asus utilities. The Turbo Gear feature lets you switch between 'Standard', 'Extreme' and 'Manual' modes. The latter mode overclocks the GPU by 100MHz and the memory by 200MHz. Other functions include the ability to switch to 'Hot Zone' lighting which only lights up the WASD area. You can toggle the lighting on the lid, disable the Windows key and trackpad, and switch between different banks of macro keys.
GameFirst III helps prioritise your Internet traffic and Sonic Suite 2 includes Sonic Studio for tweaking the sound and Sonic Radar for helping you detect opponents based on their footsteps and other in-games sounds.
Performance
The Asus ROG G752VY uses one of its SSDs as a boot drive, which means boot speed and general Windows performance is very good. The second SSD really comes in handy for installing games. The laptop also runs fairly silent and doesn't overheat even while gaming. This can be attributed to the vapour chamber cooling system for the GPU and the dual exhaust fans on the back. Just like the Acer Predator 15, the G752VY features a separate vent for expelling built-up dust in the laptop.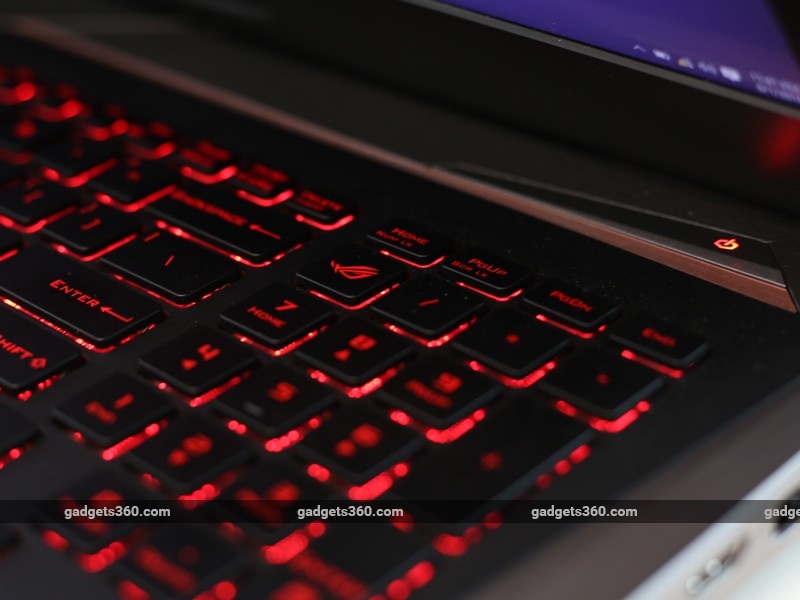 The volume level of the speakers isn't great as we were expecting a much better soundstage. We reached out to Asus regarding this issue, which then sent us another unit to test but the issue still persisted. Updating to the latest version of the Realtek drivers (v6.0.0.7687) helped a bit, but overall, the sound simply wasn"t up to scratch. Tinkering around with Asus's Sonic Studio program didn't seem to do much good either.
For benchmarks, we turned G-SYNC off and had Asus's Turbo Gear set to the Extreme preset. With this, we managed to get some good results. 3DMark Fire Strike returned 8421 points while PCMark 8 gave us 4218 and 3567 points for the Home and Work test suites. The Samsung SSDs also put on a good show with very good read and write bandwidth. We got 2GB/s and 1.18GB/s in the sequential read and write bandwidth tests in SiSoft Sandra 2016.
Switching to games, we begin with Tomb Raider (2013) which we easily maxed out with everything dialled up to 'Ultra' and at the native resolution. The in-game benchmark returned and average of 116fps, however during actual gameplay, we were averaging around 84fps.
Metro Last Light is a taxing game for most GPUs but the ROG G752VY managed a surprisingly good average framerate of 39fps. This is with everything set to Very High, 16x AF and Advanced PhysX turned on.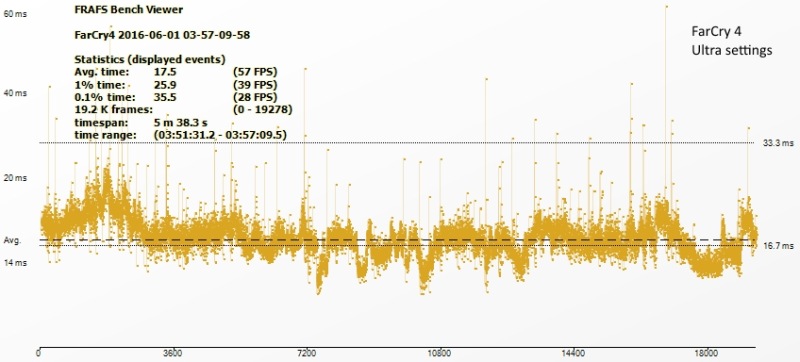 FarCry 4 didn't skip a beat even with all the graphical settings pushed to Ultra. At the native resolution, we averaged around 57fps, which is very good. Gameplay was smooth throughout our benchmark run without any major noticeable dips in the framerate.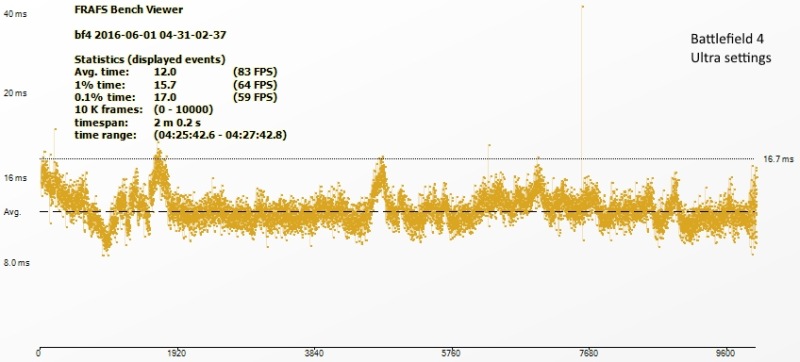 We saw similar performance in Battlefield 4 too as we averaged 83fps with 4x MSAA and all other settings pushed to the limit. Crysis 3 proved to be a bit tougher but even with the textures and system spec set to Very High, we averaged around 33fps. This doesn't seem like much when compared to the other games but it's still playable.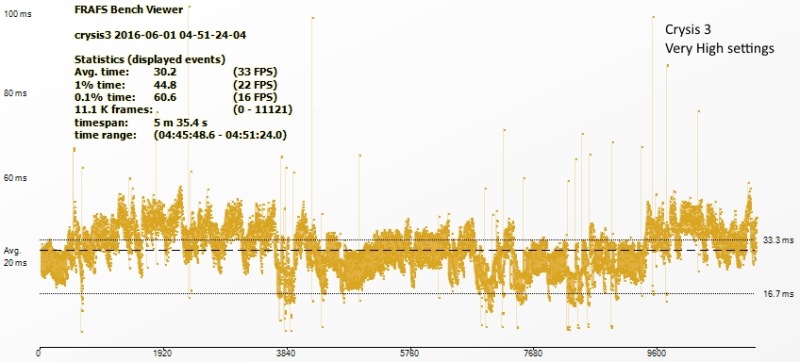 Finally, we come to GTA V which returned an average framerate of 58fps. This is with nearly all the settings maxed out.
Battery life
We weren't expecting great battery life since the Nvidia GPU is always on duty but the 8-cell, 88WHr battery actually managed to push the laptop to 1 hour and 57 minutes, which is very good. With regular usage, we managed to get roughly 4-5 hours of battery life.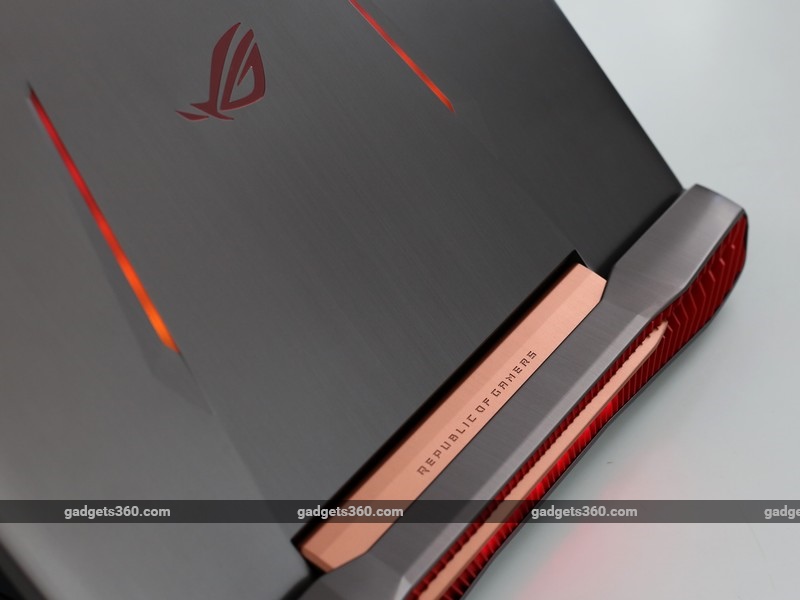 Verdict
The Asus ROG G752VY will set you back by Rs. 1,79,990, which is to be expected from a premium gaming laptop. At this price you get fantastic gaming performance, a superbly designed chassis, a large display, and good headroom for upgrading some of the components. Asus's software suite is also very well designed and functional. However, there are a few things we wish were better like the speakers for instance, which sound underwhelming for a 2.1 setup.
At the same price, you could also consider the Acer Predator 15 which comes in a more portable package. It's just as powerful as the Asus laptop here and even though it doesn't have a second SSD, it somewhat makes up for that with a Blu-ray drive, much better audio performance, and double the RAM for the system and Nvidia GPU.
[Source:- GADget 360]