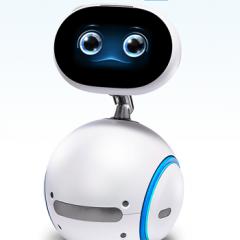 Following ASUS' surprise Zenbo reveal at Computex last month, PCR asks retailers if they think companion robots and helper bots will be a success with customers.
Zenbo is designed to 'provide companionship, assistance and entertainment' to users, by singing songs, managing smart home devices, communicating with its owners and more.
Elsewhere, last week Engage Works showed off the Pepper robot at the Flux Innovation Lounge in London, who can speak 19 languages and understand and react to human emotions.
But when these robots eventually hit the UK (a set date has not yet been announced), will they be a hit with suppliers and retailers in the tech channel?
Yoyotech managing director CK thinks they might.
"I think the ASUS Zenbo is a very ambitious thing and we should all say bring it on," he told PCR. "I think it's about time for robots. They need to come out, so let's see what vendors can produce.
"I can see myself selling robots. It's all about experiences for the end user, it's no longer about keyboard and mouse, it's about changing the user's lifestyle. Robotics will eventually come into play."
Richard Alford from Black Bear Computers added: "I think it's a fantastic toy but I think it's too limited in its uses. I'd imagine it'd only work on a single storey, so how much use is it actually? It's fine as a children's toy or a gimmicky thing in the shop, but why do we need a whole robot?"
Alford also said that robot repairs may not be lucrative, due to the repairs likely being few and far between early on. However, Craig Hume from Utopia Computers believes custom parts will emerge for robots.
"I think there's a brilliant opportunity there and there has to be," Hume said. "There will be a time where Steve Jobs knew a lot about the devices he wanted to bring out, but knew it was too early. And waited until he had something of real value – the same could be said for robots.
"There are ideas out there that can make our lives easier but they don't seem to fit our world very well. There's nothing there [yet] to make my life easier [in terms of robots]."
Chillblast's Ben Miles was also critical of the Zenbo.
"The limit, as usual was with the quality of the voice recognition," Miles said. "Even with a highly scripted exhibit, the Zenbo frequently got confused.
"Until technologies of really reliable voice recognition become available these kinds of products will be niche, early adopter solutions.
"The hardware in the Zenbo was fairly impressive however, and we can see it being useful for those with restricted mobility. How it climbs stairs is also a major question for UK households!"
Mesh Computers purchasing manager Maria Malageac commented: "I wouldn't say the public is prepared for something like that at the moment. I'm not sure it will be something that will be popular."
Of course, on the B2B side, in Asia some companies are introducing robotic or digital receptionists, which could be something for VARs to think about in the future.
What do you think of robots in the tech channel? Will they be a good source of revenue – or just a gimmick? Will they take off?
[Source:- pcr]