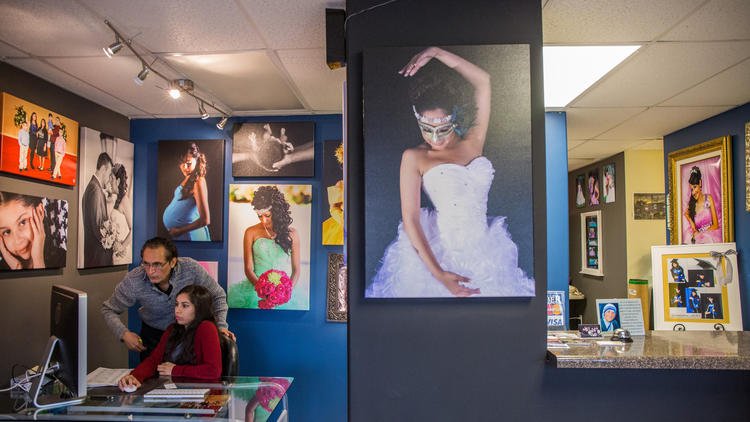 MArio Arzate embodies the type of workforce transformation needed in Chicago and other American cities.
Less than a year ago, the 19-year-old son of Mexican immigrants was wiping counters, frying fish and working the cash register at a fast-food restaurant in the Blue Ridge Mountains' foothills. It was pocket-money work with a manager's job as the only hope for advancement — far from the foundation for a future that Arzate envisioned.
Now Arzate designs sewer routes for a carpet mill and water lines for residential streets for the local utility company. The catalyst for change in his life was Dalton High School, which introduced him to computer-aided design during a series of manufacturing/engineering classes, and helped him to line up an internship with the utility. He's going to college and wants a career in civil engineering.
"I didn't think I'd have a future in engineering because I heard it was extremely tough," he said, "but now I can see it happening."
Arzate may be several states removed from Chicago, but his story is one that this region may want to heed. Chicago's economy once rested on the broad shoulders of steel mills and stockyards. Today it's reinventing itself — it's tech-driven and hungry for skilled workers at ease with the digital age.
But there are growing pains.
Companies complain of an ever-widening skills gap as they struggle to fill increasingly sophisticated jobs. At the same time, the population is becoming more diverse. The Chicago region, which was 71 percent white in 1980, is projected to be minority white by 2030, outpacing a similar shift across the nation. The U.S. is projected to be minority white by 2044. The Latino population, one of the fastest-growing minority groups, is also one of America's most underserved segments when it comes to education and job training.
By 2020, 47 percent of all jobs in the Chicago region will require an associate degree or higher, according to the National Equity Atlas, produced by research group PolicyLink and the University of Southern California's Program for Environmental and Regional Equity. And yet only 29 percent of U.S.-born Latinos and 28 percent of U.S.-born blacks in the area currently get at minimum an associate degree, a level of education increasingly seen as essential for landing a skilled job.
As the city's economic and technological changes converge with dramatic demographic shifts, the Chicago metro area faces daunting challenges that could determine whether the region thrives or falters in coming decades.
Mayor Rahm Emanuel underscored this point at a neighborhood development forum in November as he tied the city's standing as a global city to its ability to produce a workforce with the skills and education necessary for the next generation of jobs.
Emanuel said if he can guarantee to companies the availability of such skilled, educated workers, "we as a city will stay in the top 10 rankings (for global cities). If we can't, we're going to drift."
The country is being forced to examine the ways in which it prepares its students for the working world. Graduating from a four-year college has long been viewed as the surest path to success. Yet many undergraduates are emerging thousands of dollars in debt while still lacking a clear career path.
Schools in the Chicago area have embarked on a smattering of innovative projects. Chicago's City Colleges, for instance, are being recast as a labor pipeline tailored to local industries. Major tech firms helped shape tech-career curricula for five of Chicago's public high schools. Apprenticeship programs are cropping up at community colleges, including Harper in Palatine.
But many of the initiatives are in the early stages — hardly game-changers at this point. The tech-career high schools are "very well-intended," said University of Chicago Urban Labs director Timothy Knowles. "The question is whether it is at a scale that is persuasive."
Meanwhile, other regions are racing ahead with more strategic, coordinated initiatives.
"Right now in Tampa, as well as in Phoenix, Miami and Orlando, the universities and the community colleges and the schools are coming together to create this guided (career) pathway type idea," said Columbia University researcher Davis Jenkins, "but it's across institutions."
Institutions in cities such as San Diego and Dalton, Ga., are succeeding in crafting tech-savvy approaches to education and training. Outside Chicago — and the U.S. — more ideas are being tried out, ideas that might inform this region's approach.
In parts of Europe, vocational education and training programs, in which young people work as apprentices for companies even while in high school, are the norm rather than the exception. In Germany, apprentices make up 3.7 percent of the total labor force, compared with 0.2 percent of the U.S. workforce, according to a 2014 Brookings Institution report. Charlotte, N.C., and the state of South Carolina are among the places pursuing variations of the European model.
"The demographics are changing, and the economy is restructuring at the same time as it's valuing technical skills and work experience and, really, exposure to work," said Bruce Katz, vice president and founding director of the Brookings Institution's Metropolitan Policy Program.
Advanced industries account for just 9 percent of the U.S. workforce, but 60 percent of its exports and 85 percent of its patents, Katz said.
"That's the part of the economy that's really desperate for workers," Katz continued. "For decades we just sort of drifted here. We seemed to literally forget that technology is not just a small group of people in Silicon Valley making apps or designing mobile phones. It undergirds all of the advanced industries in the United States . . . . We don't really prepare people for this. It's just a glaring omission in the system."
The European model: a marriage of classroom and workplace
If you live in Switzerland, you may find a 16-year-old scrutinizing your mortgage application, setting up your mobile communications plan, drawing your blood or distributing your medications. Swiss apprenticeships offer certifications in 230 fields, including information technology, health care, banking, insurance, dance and just about anything else apart from becoming a doctor, lawyer, professor, scientist or mathematician.
Switzerland's vocational education and training (VET) system is seen as the gold standard among vocational education programs, according to a 2015 study by higher education experts Nancy Hoffman and Robert Schwartz. The Swiss program reaches far beyond America's traditional concept of vocational training as a steppingstone to blue collar jobs, giving students more flexibility to shift either among vocations or onto an academic track if they choose.
Seventy percent of Swiss youths participate in the country's VET system, compared with just 25 percent who pursue a strictly academic upper secondary education. That plays a role in the country's economic success — Switzerland has the lowest youth unemployment rate among developed countries, as well as the world's fourth highest per-capita income.
This focus on the mainstream, rather than on people at either the high or low end in terms of academic performance or wealth, is important, said Ursula Renold, former director general of the Swiss system. "You have to start with the big middle," Renold said during a recent Chicago-area visit.
Central to Europe's emphasis on vocational training are apprenticeships, a concept dating back to the Middle Ages in which young people received training from — and often lived with — craftsmen, who in turn benefited from an inexpensive source of labor. In today's European apprenticeships, young people begin to pursue their professional interests in their teens, and wind up splitting time between high school and a workplace where they develop skills that will keep them employed into adulthood.
In Germany's so-called dual system, children start exploring career options as early as age 13. An estimated 60 percent wind up serving as apprentices across more than 340 recognized trades.
Emanuel said the revamp of Chicago's City Colleges system — in which each school specializes in a career track linked to local labor needs and local corporations help design each curriculum — was modeled after the German system.
In Switzerland and Germany, companies drive the participating schools' curricula, identifying the skills needed now and in coming years. The students work at the businesses three or four days a week, learning on high-tech equipment, because it's the companies, not the schools, that are going to invest in such machinery.
Uschi Backes-Gellner, a University of Zurich economics professor and a current visiting Northwestern University professor, says students who complete the program "have zero debt and have a job. That should be an argument that's convincing here (in Chicago)."
Still, applying the Swiss model to Chicago isn't so simple. Switzerland isn't Chicago or the U.S. when it comes to demographics or the involvement of government in industry. And, unlike in Europe, where companies band together to create uniform criteria for vocational certifications, American businesses in a given field are more likely to view themselves in competition — and therefore less likely to collaborate on setting vocational certification standards.
"It's a totally different culture here," Hoffman said.
Also, many American schools and parents resist the idea of setting children onto "tracks" at an early age. "Nobody wants their kid denied the possibility of going to Harvard," said workforce training expert Anthony Carnevale of Georgetown University. "We're not European. We're not going to take kids when they are in 10th grade and decide their futures."
Yet, he added, the result is "we're leaving all these kids behind . . . . They are going nowhere."
Katz debates the notion that the European systems actually track kids. "They give kids exposure to multiple kinds of options, and you get on one track, and from there you can stay with the company or go back to school and get a degree in engineering or computer science, and then you go back into the workforce," he said. "We have this tracking conversation that led us to denigrate vocational education."
Nonetheless, modified versions of the European model now are being tried out across the country. One hub for such programs is metro Charlotte, home to several manufacturing companies, including the American headquarters of the Germany-based Siemens and the Switzerland-based Daetwyler.
These and other area companies work with high schools and Central Piedmont Community College to recruit students for advanced manufacturing programs from which the apprentices emerge with two-year associate degrees. The students gain experience and guaranteed jobs from the companies, which underwrite their education while paying them.
"If you go see the (Central) Piedmont Community College, that's the future of the United States," Katz said.
Taking a break on the Daetwyler floor, machines whirring in the background, Dustin Harmon, 18, said his plan had been to attend North Carolina State University for a four-year mechanical engineering degree, but he took note of his older brother's experience as an Ameritech Die and Mold apprentice who emerged with a job and no college debt. Now Harmon is in the second year of his apprenticeship at Daetwyler, working in the assembly department while also attending classes at Central Piedmont.
"It gives me a head start on most of the kids my age because they're in college right now," Harmon said. "I'm looking at a job, going to college just like them, but I already have hands-on experience ahead of them."
At Siemens, which makes energy-related products in a boxy, sprawling factory, two 21-year-old fourth-year apprentices, Cameron Friday and Joseph DeFreese, do precision lathing work on giant cylinders where one miscalculation would result in a six-figure write-off.
Roger Collins, Siemens' technical training specialist and apprenticeship coordinator, said the need for apprentices became apparent in 2010 when the company moved its turbine manufacturing to Charlotte from Hamilton, Ontario, and had to add about 800 jobs.
"We learned real fast that highly trained, technically minded individuals to fill those slots are very rare, and we realized that we were going to have to start growing our own from the inside," Collins said. "My eventual goal is to have enough apprentices in the program to where we very rarely have to go to the street to hire."
Siemens currently has 21 apprentices. The company spends about $160,000 per apprentice to cover tuition, wages, books, safety shoes and other supplies, Collins said, adding that such upfront costs seem to be a deterrent for American companies that focus largely on the short term.
"There is resistance from American companies that don't really see the return on investment the way European companies do," Collins said.
Neighboring South Carolina has been expanding its apprenticeship programs, offering companies a $1,000 tax credit for every apprentice who remains employed for at least seven months. President Barack Obama is encouraging such efforts — the Department of Labor in September pledged $175 million in grants for public and private entities that create new workforce training programs.
"We would like to have high schools participate in rigorous apprenticeship and pre-apprenticeship programs," said Eric Seleznow, the U.S. Department of Labor's deputy assistant secretary for employment and training. The average apprentice's age here is 27, compared with 17 or 18 in Europe, he said.
"One of the president's goals is to double and diversify apprenticeships," Seleznow said. "When we look at the representation of women and minorities in apprenticeships, I think the country can do a lot better in opportunity and access for those folks."
Department of Labor statistics show that 94 percent of active apprentices in fiscal year 2015 are male and 61 percent are white.
The labor department also wants a wider array of companies offering apprenticeships. It approached the Swiss insurance carrier Zurich, which has its North American headquarters in Schaumburg, about creating the country's first insurance apprenticeship program. In January, 24 apprentices will begin work at Zurich's Schaumburg office while attending newly created insurance-related classes at Harper College.
"The common thread with all these programs — and it certainly was the case with Zurich — is there is a lack of a workforce pool, a talent pool that is available to them," said Maria Coons, Harper College's vice president of workforce and strategic alliances.
Al Crook, Zurich North America's head of human resource business partners, said his company hopes to "create another pipeline of insurance talent" while addressing a broader issue. "I think a big challenge is removing any stigma that might exist if you don't go to college, or that where you go to college is a significant factor in your success in a professional career."
Reinventing the high school experience
Dalton High School in Georgia stands as one example of a high school that embraced changing demographics and engaged its students by letting them dip their toes into the increasingly digitalized work world, said Eugene Bottoms, senior vice president of the Southern Regional Education Board.
In the late 1990s, Dalton, Ga., a civil war battleground, drew waves of immigrants from Mexico, many of them impoverished workers with limited education. They flocked to the town's wooded hills and winding roads to take jobs in the sprawling carpet mills that dominate the local economy.
The local public high school, at one time an elite academy for a predominantly white student body, morphed into an institution where most of the students came from low-income families whose home language was Spanish and whose previous schooling often had not adequately prepared them for high school.
By the early 2000s, about half of Dalton High School's students were dropping out, and the school's staff was alarmed.
"What I saw was some frustration (among) the teachers," said Allene Magill, who was the newly arrived district superintendent. "Part of that . . . was because they weren't talking about the change in population. It was almost like not wanting to admit the population in Dalton had changed so drastically."
Magill launched a massive overhaul to eliminate a two-tier system that relegated struggling students to lower-level programs. Remedial classes were scrapped, the core college prep curriculum was made more rigorous, and old-school vocational classes such as auto shop and home economics were ditched in favor of updated career- and tech-oriented sequences of classes.
Some students now work at internships with local companies, and others take classes at the local technical college. Lagging students get extra academic help, and local employers have pledged to stop hiring dropouts.
Last year, Dalton's graduation rate was more than 90 percent. While graduation rates have been improving in Chicago Public Schools, where Latinos and African-Americans make up 85 percent of the student population, the rate last year was just 69.9 percent, more than 10 percentage points below the national average.
Experts stress no single template exists for reinventing the nation's secondary and postsecondary school system, which dates back to a regimented liberal arts format that took hold in the late 1800s and has waning relevance at a time when information is a click away.
The current system's greatest deficit, said Peterson Institute senior fellow Jacob Kirkegaard, is a lack of attention to well-designed, industry-led vocational training for the 50 percent to 60 percent of the population that will not get a college education.
"That's where I think other countries, with more focus on professional craft schools, vocational education and apprenticeship processes, have a significant advantage," Kirkegaard said.
University of Chicago child development expert James Heckman agrees. "Most acquisition of knowledge is learning by doing . . . . All education that's any good is interaction."
Dalton is among a smattering of innovative career-oriented high school programs cropping up across the country. A small high school in Brooklyn pioneered the "P-Tech" model, in which corporations help develop tech-oriented curricula for a progression that includes four years of high school and two years of community college. The goal is to produce associate-degree holders who can step right into jobs in the digital economy. Chicago launched this type of program at five high schools in 2012.
Across the South, about 90 high schools have adopted advanced career-oriented curricula linked to high-tech fields in their regions, from clean energy to aerospace. The idea is to elevate vocational education to advanced placement status.
And in San Diego, the High Tech High cluster of charter schools is taking a bold, innovative approach: letting teachers and students pursue their personal passions in multidisciplinary team projects that blend liberal arts studies with hands-on technical endeavors.
In Dalton High School's new career and technology wing, many classrooms and labs resemble local workplaces: an advanced manufacturing shop floor, a fully equipped restaurant kitchen, a working greenhouse, a student-run preschool, a video studio.
On an overcast Friday, shortly before the Dalton Catamounts would compete for a regional football championship, senior Kirsten Swafford spent the afternoon at Georgia Northwestern Technical College, where she is taking coursework to become a certified nursing assistant. She also works at a local nursing home to get practical experience.
The training is a foot in the door to the medical world — she has her heart set on becoming a general surgeon.
Her outlook is vastly different than it was about two years ago — a troubled time when she attended a nearby school, had left her mother's house and shuttled between the homes of friends and relatives.
"I was thinking about dropping out," she said. "I was thinking, 'I'm not going to make it in the medical field, or as a teacher. I'm not going to be good, I don't have anything going for me.' "
Her world changed after she transferred to Dalton.
"When I came here, there were so many opportunities and programs I could take," she said. "They sat with you one-on-one and talked with you about it. They gave you hope."
[Source:-  Chicago Tribune]