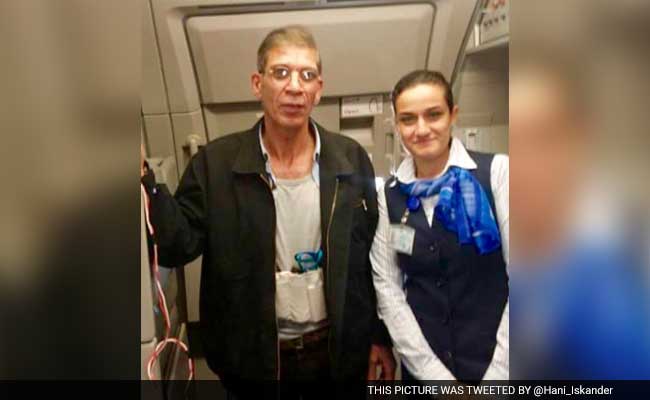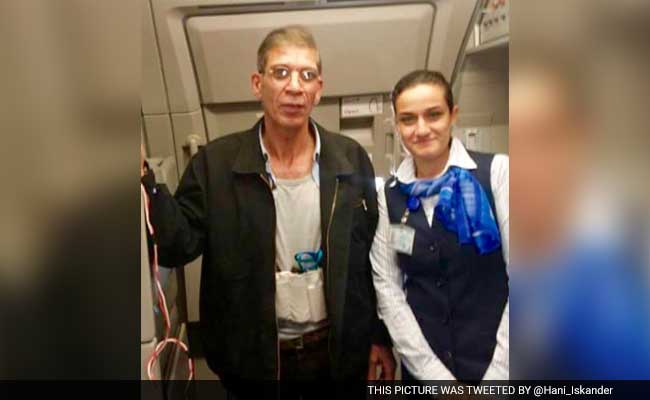 LONDON:  It seems that the Briton who took a cheeky snap with the EgyptAir hijacker was not the only one to do so with another selfie surfacing on social media showing an air stewardess posing with the phoney bomber.
A second 'selfie' has been posted on Facebook showing the stewardess posing with the hijacker of the EgyptAir plane. In the image, the member of the cabin crew, Naira Atef, is seen smiling while posing next to the hijacker during the five-hour stand-off on Tuesday aboard the EgyptAir A320 jet in Cyprus, The Telegraph reported.
The man, 58-year-old Egyptian Seif al-Din Mohamed Mostafa, displays what appears to be a suicide bomb belt, which later turned out to be a fake.
A 26-year-old British man had caused online debate yesterday after having his picture taken with the hijacker, saying that he did it to stay "cheerful" and take a "closer look" at his supposed suicide belt.
Ben Innes posed for a photo grinning next to the hijacker and sent the picture to his friends.
Innes told the Sun: "I'm not sure why I did it – I just threw caution to the wind while trying to stay cheerful in the face of adversity.
"I figured if his bomb was real I'd have nothing to lose anyway, so took a chance to get closer and look at it. So I stood by him and smiled for the camera while a stewardess did the snap. It has to be the best selfie ever," he said.
His mother later told the daily that the picture was "not a selfie".
"You can clearly see that it is not Ben who is taking the picture," she said.
The plane was forced to land in Larnaca, Cyprus, amid fears of a terrorist incident. Cypriot authorities later accused him of diverting the Alexandria-to-Cairo flight. He made several demands, including seeing his Cypriot ex-wife, with whom he has children.
The snap sparked an online debate between those who admired Innes' humour and others who thought that the incident was not a laughing matter.
[Source:- NDTV ]