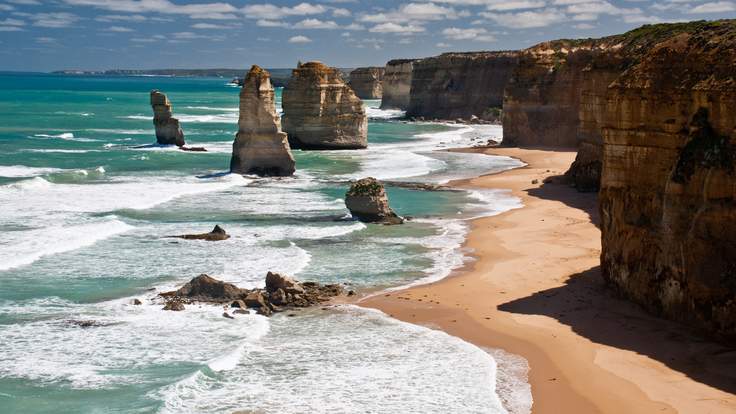 Scientists say they have found five "Drowned Apostles" near Australia's popular Twelve Apostles rock formations.
The limestone stacks were discovered around 3.7 miles (6km) offshore and 164ft (50m) below the surface during sonar mapping of the sea floor off the Victoria state coast.
Researchers from the University of Melbourne were surprised by the find as underwater sea stacks usually erode and collapse as sea levels rise.
Rhiannon Bezore, from the university's geography department, said: "When we did find them, it was quite a shock. They are pretty unique features and we don't expect to find sea stacks that are not eroded.
"The fact that these are preserved at that depth is very unique."
The Twelve Apostles – found in the Southern Ocean off Australia's Great Ocean Road – started forming some 20 million years ago when erosion began whittling away at limestone cliffs.
One of the columns, a 45m rock pillar, collapsed in 2005.
The newly-discovered stacks are thought to date back 60,000 years and were probably formed when sea levels rose very quickly after a glacial period or ice age.
Ms Bezore said: "The reason that they survived is because as the sea level rose after they were formed, it must have been rising at such a fast pace that they were submerged before the waves had the chance to erode them away and they collapse."