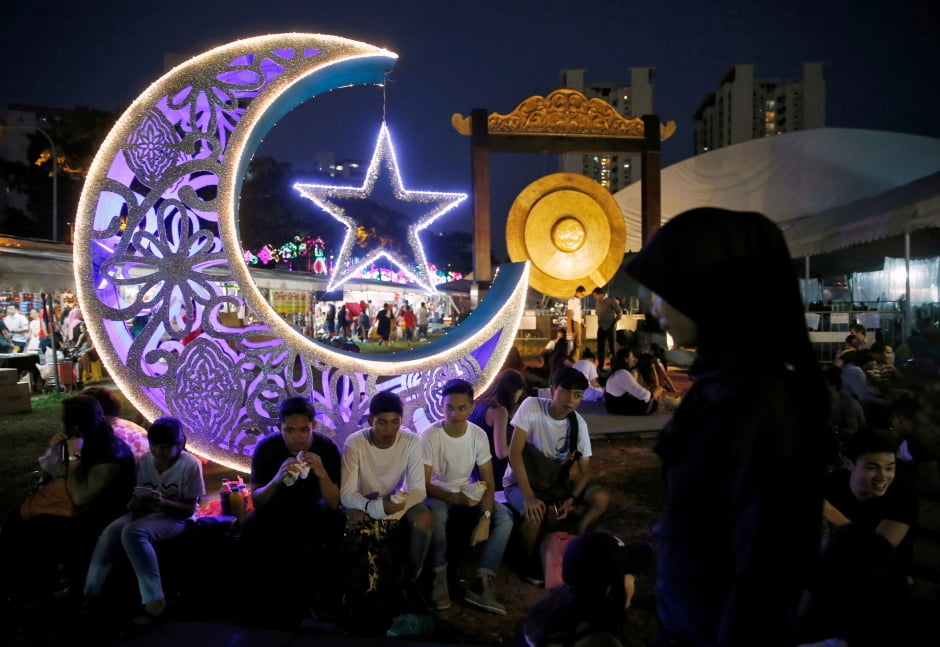 Morning prayers are followed by family visits and feasts.
Like the start of Ramadan, during which believers abstain from eating and drinking during daylight hours, Eid depends on the sighting of the moon and its celebration varies in different countries.
In New York, Muslims marked the end of the holy month with street prayers and a party in Brooklyn.
A 3-day truce was called in Syria for Eid.
For those affected by fighting, like this Syrian boy in the rebel-held Douma neighbourhood of Damascus, this Eid was yet another festival marred by war.
These are treats baked for the special occasion in Kabul, Afghanistan, on Monday. The three-day festival, which begins after the sighting of a new crescent moon, began on Wednesday.
Eid was also being celebrated in Asia and Africa.
In Indonesia, the world's most populous Muslim country, thousands of people attended prayers in the streets of capital Jakarta Wednesday.
In China's capital, Muslims marked Eid with a prayer service at the historic Niujie mosque in Beijing.
People crowded train stations for journeys home ahead of the festival, which will be marked on Thursday, amidst a heightened sense of fear following last week's Islamist attacks on an upscale restaurant in Dhaka in which 20 people were killed.
In Sri Lanka, Muslims left offerings on the first day of Eid at the Galle Face esplanade in Colombo.
Balloons sailed skyward from the roof of a mosque in the Nile Delta city of Mansura, 120 kilometres from Cairo, to mark the start of the religious celebration.
Muslims celebrated in Europe, too.
Morning prayers were held in the Mevlana Mosque in the Dutch city of Rotterdam, while police officers stood watch outside the central mosque in Moscow.
Meanwhile, in Birmingham …
Some 70,000 people gathered in a park in the central English city to celebrate the Muslim holiday with picnics and amusement park rides.
[Source:- CBC News]