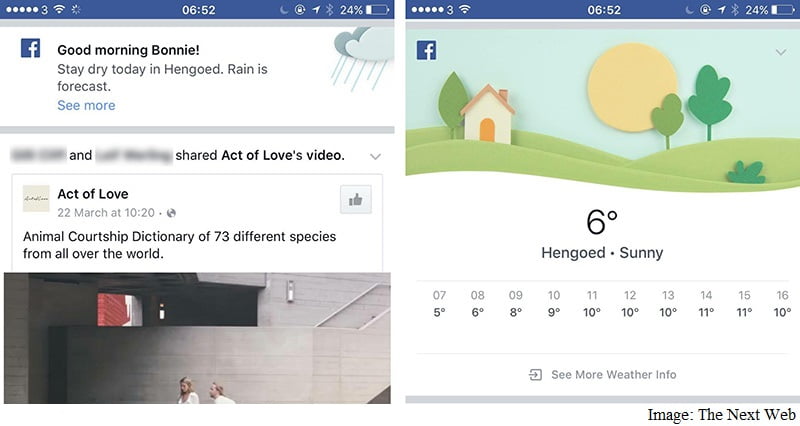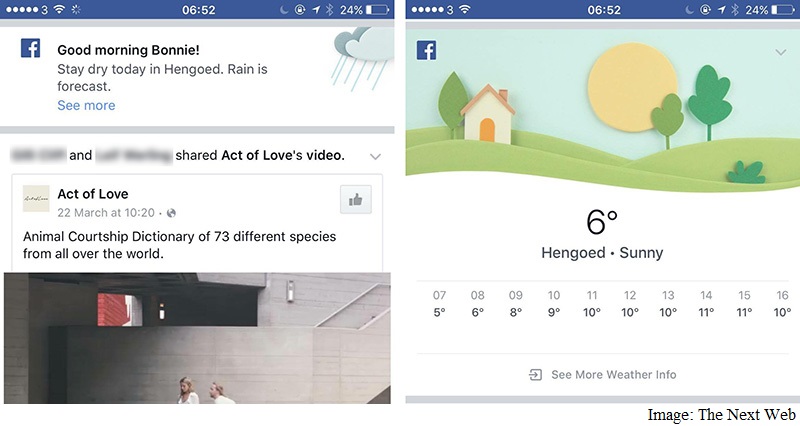 Facebook is not only pioneering in the social media field but is now also diverting itself to offering other services as well. As per some users in the UK, the firm seems to be experimenting with displaying weather updates in News Feeds both in the Android and iOS apps.
Users say the weather updates show up as cards along with a greeting based on the time of the day. The cards give a small description of the weather alongside an animation and a link, clicking on which would give users more information such as current temperature time, and maximum/minimum temperature through the day.
Further, the second link takes users to Weather.com website along with a report for the location where users are, report users (via The Next Web). Facebook has not yet confirmed anything regarding the feature.
Facebook besides testing weather updates has also started listing service providers ranging from plumbing, beauty, home care, pet services, medical, health, financial, and DIY services. Available on facebook.com/services, the page lets users find the best local businesses and organisations based on their reviews and ratings on Facebook, and lists their phone numbers, website, and work timings. Bookings cannot be made through the page yet, and the user is directed to the website, phone number, or email connected to the service.
The rollout of these two features means that Facebook is taking on a host of Indian chat-basedpersonal assistant apps and aggregators of hyperlocal services like Housejoy, Taskbob, LocalOye, andUrbanClap. Facebook had said in December 2015 that more than 1.99 billion interactions have been made between people and the two million small businesses with Facebook Pages in India.
[Source:- Gadget 360]