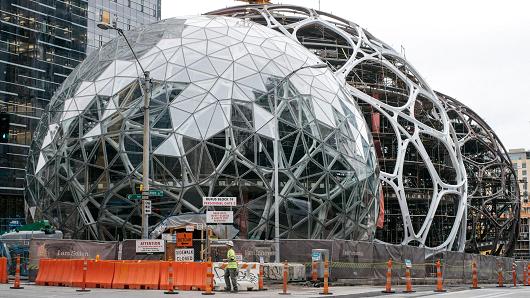 Just off a remote stretch of road here, near wineries, horse stables and farms, Amazon is secretly growing something, but it's not what Jeff Bezos, Amazon's chief executive, calls the "tiny seeds" that could become the company's next big businesses.
No, Amazon is growing actual plants, more than 3,000 species of them spread around a one-acre greenhouse a half-hour's drive from Amazon's headquarters in Seattle. There are carnivorous pitcher plants, exotic philodendrons and orchids from Ecuador that resemble the menacing flora from "Little Shop of Horrors."
"Cinnamon, wax candy and baby powder," said Ron Gagliardo, the Amazon horticulturist who oversees the greenhouse, when asked to describe the mysterious scent of the orchid, called Anguloa virginalis.
Read more from the New York Times:
Adding personal flourishes to 112 square feet of paradise
Facebook to add 'secret conversations' to Messenger app
Seattle CEO who promised $70,000 salaries wins suit filed by brother
Amazon pioneered internet shopping, electronic book reading and cloud computing. Now, as it enters adulthood, it is applying some of that inventiveness to its new home. The company is constructing a collection of high-rise and low-rise buildings in downtown Seattle that will be arrayed around three striking transparent, conjoined structures that Amazon calls spheres. They will act as high-tech greenhouses, the kind of flashy architecture that Amazon shunned for the first 22 years of its life.
"We wanted it to be iconic, a structure that would be similar to another icon in the city, like the Space Needle, for newcomers to Seattle," said John Schoettler, director of Amazon's global real estate and facilities. "It would be a found treasure in the downtown neighborhood."
The real point of the spheres is how Amazon wants to use the nature on the inside to inspire employees. When they open in early 2018, the spheres will be packed with a plant collection worthy of top-notch conservatories, allowing Amazon employees to amble through tree canopies three stories off the ground, meet with colleagues in rooms with walls made from vines and eat kale Caesar salads next to an indoor creek.
Since Amazon decided about a decade ago to stay in downtown Seattle, the company said, it has invested over $4 billion in the construction and development of offices in the city, though it won't disclose the budget for the spheres. The spheres will be accessible to Amazon employees only, but the company may eventually allow public tours.
"The whole idea was to get people to think more creatively, maybe come up with a new idea they wouldn't have if they were just in their office," said Dale Alberda, the lead architect on the project at NBBJ, a firm that has also worked on building projects for Samsung, Google and the Chinese internet company Tencent.
Tech companies have been eager to test ways to make workplaces more conducive to creativity. Some turn their offices into grown-up playgrounds, with beanbag chairs, ball pits and Ping-Pong tables.
The more refined alternative now catching on is to make nature the star of the show. Apple, for example, has hired an arborist, Dave Muffly, tooversee the planting of about 8,000 trees on its new 176-acre campus in Cupertino, Calif., which will surround a spaceship-shaped new building where Apple employees will work. The mostly native trees are intended to restore the natural landscape that once blanketed Silicon Valley.
What makes Amazon's project unusual is its location — in the heart of a city, rather than on a sprawling suburban campus of the sort favored by most other big tech companies. Amazon, the largest private employer in Seattle, has more than 20,000 employees spread out in more than 30 buildings in the city. Its current construction plans will give it the space to more than double its local head count.
Mr. Bezos has said that Amazon is staying put in a city because the kinds of employees it wants are attracted to an urban environment. But the concrete and steel canyons around Amazon's new downtown properties do not have a lot of greenery. That is where the spheres and Mr. Gagliardo, whom Amazon hired to fill them with plants, enter the picture.
Margaret O'Mara, an associate professor of history at the University of Washington, sees the spheres as a kind of Walden Pond under glass. "It's a retreat, a cathedral away from the hubbub of the city," she said.
There was plenty of noise inside the spheres on a recent tour, as workers welded steel, pounded bolts into place and sawed concrete inside the half-built structure. The glass panels that make up the carapace of the spheres were being lowered onto steel supports in eye-catching shapes.
Wearing a hard hat, Mr. Gagliardo dodged power cords and scaffolding, surveying an enormous mass of concrete where a five-story living wall — fabric pockets filled with plants — will eventually be installed. He pointed to where a glass roof panel will be removed and a 45-foot fig tree will be lifted by crane into one of the spheres, one of 40 to 50 trees that will be installed.
"Being able to walk through here, I'm starting to see where things are going to go," he said.
The spheres will have meeting areas called treehouses, and suspension bridges high off the ground that will be just wobbly enough to quicken the pulses of employees who walk over them. "Amazon said, 'Make this fun,'" said Mr. Alberda, the architect.
Amazon's architects had to make the spheres welcoming for both plants and people, a space with the abundance of a conservatory but without the stickiness that will fog MacBook screens and make people sweat.
During the day, Amazon will keep the spheres at 72 degrees and 60 percent humidity, while at night the temperature will average 55 degrees and the humidity 85 percent, which Mr. Gagliardo said would be optimal for the cloud forest plant specimens it has collected.
A growing body of academic research points to the benefits of giving employees access to nature. About a decade ago, Ihab Elzeyadi, an associate professor of architecture at the University of Oregon, conducted a study in which workers who were provided with a view of nature experienced a 20 percent reduction in sick leave from their employer, though it was not clear why that happened.
Dr. Elzeyadi said he was intrigued by Amazon's sphere project, but not convinced it would be as effective as letting workers gaze at plants from their desks.
"You're making a big investment and betting on two big hypotheses," he said. "Will they leave work and go there and, having that kind of nature-bathing maybe once a week, will it really impact their stress levels?"
Any respite from stress could be particularly helpful for a company that has a reputation for a sometimes punishing work environment.
Until plants start moving into the spheres next spring, Mr. Gagliardo, 50, dotes on them in their temporary home in the huge greenhouse Amazon has been leasing for the last couple of years. He will continue to tend to the plants for Amazon after they are planted in the spheres.
He stops by a welwitschia, a Namibian plant with two leaves, proclaiming it the "ugliest plant in the world" and delivering the line with such enthusiasm that it sounds like a compliment. With misters pumping water into the air, he swells with excitement discussing his current love affair with a group of begonias from Southeast Asia.
"Next week I'll be more excited about a different group," he said.
Many of the species Amazon is growing here are endangered or extinct in the wild, acquired from botanical gardens, universities and private growers around the world. Mr. Gagliardo, who previously worked at the Atlanta Botanical Garden and in amphibian conservation, said opportunities to build a plant collection like Amazon's did not come along often.
"I'm a plant curator by heart," he said. "So different plant families, amassing a collection of plants, is totally what I geek out on and go crazy about."
[Source:- CNBC]