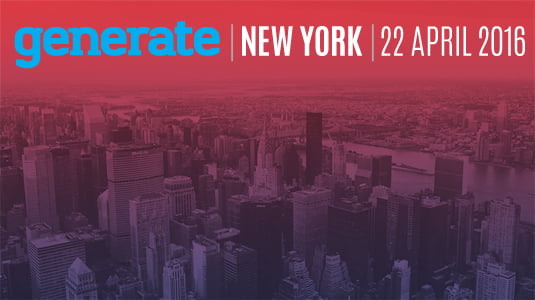 Generate is the conference for web designers and developers, presented by net magazine and Creative Bloq. The next amazing Generate event will take place on 22 April 2016, at the New World Stages in New York. And we're delighted to announce that tickets for Generate New York
Get your Generate ticket today
This year's one day, two-track event features a stellar line-up of speakers, a pre-event party and an after party. Generate also offers an unparalleled opportunity to network and socialise with your fellow makers, designers and developers.
Now in its third year, Generate is an established highlight on the web conference scenes in both New York and London. If you're excited – and we hope you are – make a beeline for the Generate website and grab your ticket now. Here's what you'll get for your money:
Entry to the event
2 tracks of sessions
See some incredible speakers (see below)
Get an amazing lunch
Enjoy free mini workshops in the breaks
Hit the attendee party on 22nd April
Get a goodie bag
Access to videos of all sessions
Last year's New York event played host to Mike Monteiro, Brad Frost,  Val Head and many more. Meanwhile, here's a rundown of the main 2016 speakers booked so far, with many more to come!
Can't get to New York? How about Generate London (21-23 September), Generate San Francisco (15 July) or Generate Sydney (5 September)?
01. Cameron Moll on unified UX
Cameron Moll is the founder of Authentic Jobs, co-founder of Spoken.co, and maker of Structures in Type. He's also the co-author of the best-selling CSS Mastery (2006, 2009) and author of the self-published Mobile Web Design (2007). His Generate presentation will examine what's required to deliver a unified, consistent user experience regardless of where the digital experience begins, continues, and ends.
02. Dan Mall on the proper etiquette of design
Dan Mall is a creative director and advisor from Philly. He's the director of SuperFriendly, a design collaborative that brings exquisite creative direction & design to world's most important and interesting organizations. In this session, Dan Mall will share some stories of tools, methodologies, and non-traditional deliverables that can help you get the buy-in from clients and bosses that you need.
03. Matt D Smith on real-world responsive web design
Matt D. Smith is the owner and design director at Studio Mds, an independent studio in Athens, GA doing work for clients all over the world. He created the Float Label Pattern for input fields, now a standard in Google's Material Design Guidelines. In this session, he'll explain how to do responsive web design in the real world.
04. Marcy Sutton
Marcy Sutton is an accessibility advocate and engineer from Seattle. She is a core contributor to the Angular framework and is passionate about tooling to help developers improve the web for people with disabilities. Her blog, Accessibility Wins, highlights accessible user interfaces and tools, contributing a positive voice to the web development space. Marcy co-organizes the Seattle chapter of Girl Develop It, a nonprofit encouraging women to learn about software.
05. Stephen Gates on design, prototyping and testing
As head of design at Citi, Stephen leads multiple US design studios to create innovative omni-channel, brand experiences across digital, social, mobile, advertising, branding and bank branches. In this Stephen will share the design and prototyping techniques he has learned from leading Citi's global design studios as well as some of the insights he has gained from working with senior design teams at Apple, Google and IDEO.
06. Sarah Drasner on functional animation
Sarah Drasner is a senior UX Engineer at Trulia (Zillow Group). Formerly she was Senior Interaction Designer at Fauna, Inc, a company founded by former lead engineers from Twitter. In this session she'll be examining how animations can be responsive and resolution-independent, and make a site function intuitively. Sarah will cover a myriad of use-cases from both design and technical implementation standpoints.
07. Hannah Donovan on the future of content
Hannah Donovan is a product designer and speaker based in New York City. She's worked at the intersection of design, music and technology for the last decade, and currently leads product design at Drip. Previously, Hannah was VP Product Design at Ripcord (a product incubator funded by MTV), co-founded This Is My Jam with incubation from The Echo Nest, led design at Last.fm in London, and designed for youth-focused brands in Toronto.
In this session she'll examine how today, content companies are adapting to become digital products, and tech companies are learning to make content. How does a product designer navigate this changing landscape? This and more will be answered through case studies, experiments and stories.
08. James White on creative learnings from your childhood
James is a Canadian artist and designer based in Dartmouth, Nova Scotia. He is the one-man wrecking crew behind the Signalnoise Studio where he produces visual artistry for professional and personal projects. He's worked with clients such as Nike, MTV, Google, Wired, VH1, Kevin Smith and more. His talk will examine how much we owe to the children we once were, how we saw the world, and what we can learn from those tiny people in the past whose only goal was to have as much fun as possible.
09. Meg Lewis on finding your design purpose
Meg Lewis is a designer and the founder of Ghostly Ferns, a creative family based in Brooklyn. She specializes in creating emotional connections between businesses and their audience by adding personality to their brand. She's also the 2002 Missouri Pantomime Champion and aspires to be the most fun person who ever lived. In this talk, Meg will share tips for designing personable products through her career, designing for happy companies and even happier users.
10. Tim Kaldec on web technology
Tim is a web technology advocate pushing for a faster web at Akamai. He is also the author of Implementing Responsive Design: Building Sites for an Anywhere, Everywhere Web, and was a contributing author for "Smashing Book #4: New Perspectives on Web Design and Web Performance Daybook Volume 2.
11. Tim Holman on hating the player, not the game
Tim is a sarcastic Australian, with a love for all things strange and quirky online. He spends his time building high powered procrastination tools and messing with forces that shouldn't be meddled with. Join Tim for a sarcastic, yet informative cartwheel through the badlands of designing, developing, and surviving the internet as we know it.
12. Una Kravets on CSS image effects
Una Kravets is a front-end developer on the Cloud Platform team at IBM, working in its Austin design studio. She studied graphic design and computer science in university, spending weekends at hackathons, and became hooked when discovering front end development. Her talk will highlight some popular image effects and go over how CSS filters, blend modes, and gradients work in tangent to make all of that possible.
[Source:-Creative Bloq]