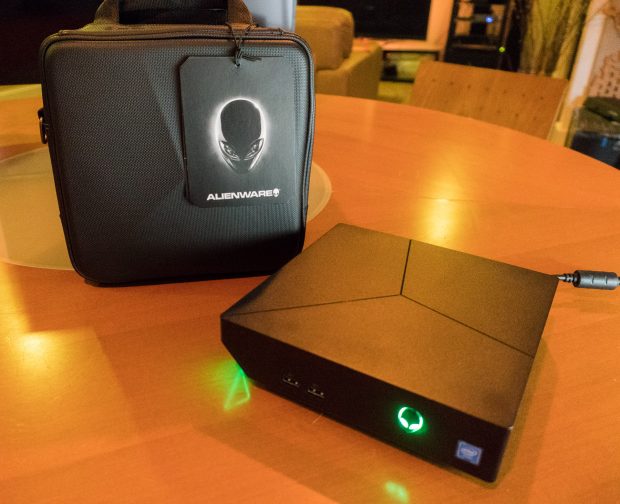 If you've been thinking about investing in a gaming PC, but don't want to spend thousands or take up a bunch of space with agigantic tower system, you'll definitely want to check out the latest generation of the Alienware Alpha – the Alpha R2. This compact PC runs all of the latest Windows 10 games, but is small enough to fit just about anywhere. Measuring just 7.87″ square, 2.17″ high and weighing just 4.4 pounds, it's portable enough to carry with you, and Alienware was kind enough to send me a nifty matching carrying case from the guys at Mobile Edge.
The Alpha first came on the scene back in late 2014, and was a solid little system out of the gate. However, today's games need more and more horsepower, so along came the Alpha R2. The new system gets upgrades across the board, most importantly in the GPU department. You can now get the system with either a 4GB NVIDIA GeForce GTX 960, or a 2GB AMD Radeon R9 M470X graphics processor. Combined with modern Intel Core CPUs, the Alpha can play many modern games at full 1080p resolution at 60fps.
My review system was equipped with a 6th-gen, quad-core Intel Core i7 6700T, with 8MB cache, capable of running at speeds up to 3.6 GHz, along with the aforementioned GTX 960, 8GB of RAM, and a 1TB HDD. With this setup, the system runs incredibly fast for its size. I loaded up a variety of games and graphics tests on the system, and even the latest titles like DOOM ran smoothly with all of the effects cranked up.
Here's a video I shot off-screen of the system running NVidia's Faceworks demo, which originally required one of their $1000+ Titan graphics cards to run smoothly. The GTX 960 made quick work of it, animating an incredibly photorealistic human face in real time, without dropping a single frame:
One of the great things about the Alpha series is that it's also upgradeable, which isn't always the case with small form-factor PCs. The hard drive, CPU, and memory are all user-upgradeable. You can also can go for an even more powerful graphics card, using the available Alienware Graphics Amplifier. This small box adds an external PCI Express bus for upgrading to something like the new Nvidia GTX 1080 series, which supports VR headsets, or 4K gaming.
In terms of connectivity, you get two USB 3.0 ports for controllers up front, a hidden USB 2.0 port on bottom (presumably for an IR remote dongle), and on back there's another pair of USB 3.0 ports, Gigabit ethernet, optical audio, and HDMI 2.0 output and input ports. That last port is designed for passing through the signal from your DVR, Blu-ray player, or other set-top box to be displayed on the same screen as the computer. This makes the system ideal for living room usage.
If you want to tote the system to your friend's living room, you can do that too. Just pick up the matching Alpha carrying case, which offers a padded compartment for the system, and storage for its power brick, mouse and a few other small items.
Speaking of using the Alpha R2 on the big screen, Alienware is currently beta testing their own front-end for the "10-foot experience." This new menu system is called HiveMind and appears to be derived from the Kodi home theater PC interface (formerly known as XBMC). This interface has its pros and its cons. It makes it easy to access all of your content, from games to videos to music to apps, all from a single UI that can be controlled from the comfort of your sofa. It's intuitive enough, though to me, the experience doesn't feel as clean and modern as Steam's big screen UI.
That said, the HiveMind interface aggregates games and programs which may not be available from Steam, and is highly configurable. It works well enough, but it's still rough around the edges. For instance, the media keys on the keyboard don't seem to be supported, but they work fine on the Windows 10 desktop. I also don't like having to logout and back in to switch to said desktop. Hopefully, these issues will get sorted out before HiveMind goes general release.
Regardless, the Alpha R2 works perfectly fine using Windows 10 and any programs that it can run, so whether you spend all your time on the desktop, running Steam, Chrome, or Windows Edge, you'll be right at home.
In terms of raw performance numbers, my review system did quite well. On the GeekBench 3 benchmark, the system scored a not too shabby 3420 in the single-core test, and 13670 in the multi-core. That makes it a hair faster than my 2015 Dell XPS 15 Core i7 laptop, and only about 15% slower than my 2015 Core i7 Retina iMac, both significantly more costly machines.
I'm duly impressed with the capability of the Alpha R2. It's not only quite adept at playing today's graphically intensive PC games, but it's really a powerful enough system to be your main Windows 10 desktop PC.
Pricing for the Alienware Alpha R2 starts at just $599(USD), which gets you a Core™ i3 6100T CPU, a 500GB HDD, 4GB RAM, and a Radeon R9 M470X GPU. My fully-loaded system retails for $949, which is still quite impressive when you consider the speed and upgradeability of this compact system. You can find more information over on the Dell/Alienware website.
[Source:- Technanob]