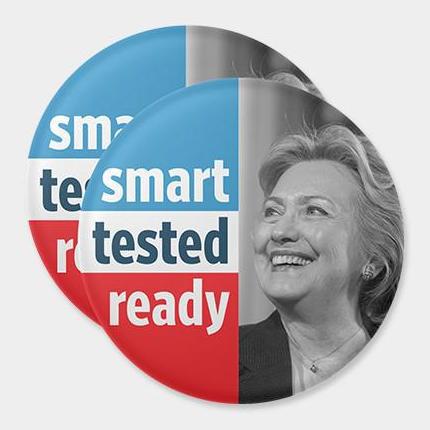 One day after her historic July 28 nomination, Hillary Clinton's campaign unveiled a special set of campaign pins worthy of collecting by aesthetes on both sides of the aisle. The eclectic set of 45 beautiful buttons were created by a veritable who's who of American graphic design, a hint of how the creative class is voting.
The brainchild of the campaign's design director Jennifer Kinon, theThe Forty-Five Pin Project includes an elegant monogram by calligrapher Louise Fili and Nicholas Misani; a peppy trio of arrows by Pentagram partner Paula Scher; a charming series highlighting countries with female commanders-in-chief by Kiss Me I'm Polish studio founder Agnieszka Gasparska and a handsome, legible design by Tobias Frere-Jones.
"It was a chance to take one small swing in a fight that absolutely must be won," says Frere-Jones of his contribution.The 45-year old type designer created the now ubiquitous typeface Gotham, used extensively in president Barack Obama's presidential campaign.
New York designer Michael Bierut, the mastermind behind Clinton's polarizing campaign logo, also created a button showcasing his trademark wit and graphic efficiency. The button was designed to calm nerves frayed by a vicious run-up to the nomination.
"The emotions have been running high in this election, and I wanted a message that could, if possible, dial down the tension," explains Bierut to Quartz. "I gambled that just the first few letters of the candidate's name, set in the national colors, could stand for the whole," he explains describing his genial design.
"Also, the campaign's Twitter game has been first rate, and I was reminded of one of my favorite tweets," adds Bierut.
The pins, which are being sold at $5 apiece or $100 for the complete set, is the latest addition in the growing catalogue of limited edition high-design swag on Clinton's campaign website. In a collection called Made for History, fashion designers such as Marc Jacobs, Diane von Furstenburg, Tory Burch, and Prabal Gurung do their best to create stylish Hillary wear.
In comparison, Republican candidate Donald Trump's campaign store shills generic corporate-giveaway campaign swag with little evidence of a designer's hand. Quartz reached out to the Trump campaign for comment but did not hear back.
Revenue from the sale of election-themed goods is counted as campaign contributions, and count towards the $2,700 legal limit per individual. Only US citizens are allowed to purchase campaign-branded gear, per the rules of the Federal Election Committee.
For a sport, becoming part of the Olympics is a Herculean t
This week, even before Rio starts, the International Olympic Committee (IOC) considers which sports will be at the next Olympic Games in Tokyo in 2020. Skateboarding, for one, is "optimistic" about its inclusion.
Golf went through this process four years ago and for its athletes, the Rio Olympics should be a sight for sore eyes.
After a 112-year absence, the sport will return to the Olympic stage. Yet what should be a momentous occasion has turned into a spectacle of a different kind with top players dropping out amid flimsy excuses and awkward questions over why the multi-billion dollar sport is there in the first place.
Many sports have tried and failed to get into the Olympics, a feat that is expensive, convoluted, and a political minefield. Yet it is a long and difficult process that many enter willingly and repeatedly—despite multiple setbacks.
Fill out this application form
Only five sports—athletics, cycling, fencing, gymnastics, and swimming—have been staged at every Olympic Games since the first in 1896, although the "disciplines" and "events" (think athletics > sprinting > 200m) within the sports themselves have been tweaked.
Since 1948, it's become harder for a new sport to get picked up, easy to get dropped—but also seemingly easier to get back in if you've been there before, as this chart shows:
Between 1992 and 2012, the number of sports in the Olympics was limited to 26, then expanded to 28 for 2016. That maximum number has since been dropped—giving way to a general, more flexible, limit of 10,500 athletes and 310 events. This might allow wackier events to enter the fray. (Good luck for 2020, jousting.)
To be considered for the Olympics, a sport must first be recognized by the International Olympic Committee (IOC). To do that, it has to have an international federation overseeing it and adhere to the World Anti-Doping Code. Only then can a sport's federation apply for IOC recognition.
Campaigning is long, hard, and can cost as much as £500,000 ($650,000) per campaign. "You have to produce bid films, you have to physically bid—in the last bid cycle we made four personal presentations in front of the IOC," Andrew Shelly, CEO of the World Squash Federation, tells Quartz. "Our president travels to events, you produce booklets, and so it goes on. You're talking about a very extensive sum of money."
Until 1992, demonstration sports were a stepping stone toward full status, often allowing a host city to showcase a national sport—likeglima (Icelandic wrestling) in Stockholm in 1912 or baseball at Los Angeles 1984. But that largely ended after the Barcelona Games of 1992, when it became apparent that the host cities and authorities had more than enough on their plate organizing official events—an exception was made for Beijing to showcase wushu in 2008.
The Olympic program is reviewed after each Games by the Olympic Programme Commission, made up of IOC members and representatives of the National Olympic Committees, international federations, and athletes. This body evaluates each sport's "value" to the Olympic brand and mission. It then does the same for any IOC recognized sports that are campaigning for inclusion.
The Committee makes its recommendations to the IOC, whose members vote on whether to action them during its general meetings. It's here that Olympic dreams are ignited, extinguished, or indeed rekindled.
In 2013, the Commission recommended dropping wrestling from the 2020 and 2024 Olympic Games—only for the subsequent vote to keep it in. That initial recommendation had pushed wrestling into a dogfight with seven other sports vying for inclusion—baseball/softball, squash, karate, climbing, wakeboarding, wushu, and roller sports. Only baseball and softball had ever been an Olympic sport before.
Those two sports teamed up in 2011 to make a stronger joint bid, and although they failed to make the cut for 2016, the Committee has recommended their inclusion for the Tokyo Games in 2020, unsurprising given baseball's enormous popularity—and existing stadia— in Japan and the lucrative US professional league.
It still has to survive the official vote—taking place in August after the Rio Olympics—but the viewership and sponsorship it attracts make a compelling case for the "added value" the IOC seeks, much as golf before it.
 squashed
For a sport to enter, another sport has to fail to make the cut. Spare a thought, then, for squash—three times the bridesmaid but never the bride.
Its athletes have campaigned for 15 years, saying that Olympic participation would represent "the pinnacle of the sport." Squash made several changes, mainly to make the sport's professional tournaments more telegenic and thus more lucrative, but which had the knock-on effect of also being attractive to the IOC.
These spectator-friendly changes include using all-glass courts and even moving the entrance to the courts away from the back wall, where it's traditionally located, on to a side-wall.
"You can never underestimate the exposure for a sport being part of the Olympic games where so many people who don't actually follow the sport watch it for that two-week period," says Shelly, adding that there are requisite rises in funding that come with such status that would have profound effects. "National committees target sports that are in the Games, therefore there is more money to support training and preparation and everything else."
Squash's campaigning put it in a great position for 2016 consideration, but having impressed the IOC enough to get shortlisted, its failure to make the cut meant nothing when the next chance came around. For the 2020 Games, squash found itself behind other sports that the Tokyo Olympic Committee had themselves put forward—some, like karate, which had been dropped from previous programmes.
In the end, squash didn't even make the shortlist for Tokyo. "It's difficult for the players and the squash community to understand that," Shelly says.
The squash community remains desperate to be a part of the Olympics.Some argue that the point of the Olympics is to champion the amateur sportsman and give the spotlight to those that aren't already rolling in professional money.
"Some sports, and the personalities who front them, exist in completely different stratospheres to the rest of us," said James Willstrop, a British squash player, in reaction to all the golfers refusing to play in Rio. "The Olympics barely registers as an exhibition tournament for the top golfers, but we would give our other arms to be in Rio, something we have repeatedly uttered to anyone who listens."
The flames of this debate outlast even the Olympic torch.
[source:- Quartz]